I recently reviewed Emmy the Great's Boston show, and did an insightful interview with her, so you probably should realize that I'd recommend her new album, Second Love, but I'm writing this anyway, just in case it wasn't so obvious, and in case you forgot that the album was coming out today.  Besides, I'm getting out of practice with writing reviews now that Love is Pop is all about the art of the interview.
Emma-Lee Moss is the singer/songwriter's actual name and she referred to herself as Emma during the show, so that's what I'm going to refer to her as here.  To that end, back when she released her debut, First Love, at the age of 24, she called herself Emmy the Great more or less as a joke.  I was always aware of that when I listened to First Love and her follow-up, Virtue, but it slipped my mind at some point while listening to her new album, Second Love.  Perhaps that's due to my poor memory, but it's more likely has something to do with the fact that she truly is great now.  I would say that she always was, yes, but before she was great in a quirky way.  Her music could be thought provoking, but it was mostly in some funny manner.  On Second Love, her sense of humor is all over the place but she's wiser now and, having matured, I don't think of her as quirky so much anymore, I just see her as I would any great indie pop artist. (Although terrific is the word that I'd use.)  To that end, if you didn't quite care for her before, I should think that you should give her a second chance and listen to Second Love.  And if you have been a fan all along I think you'll find that she's still the Emma you know and love, just an evolved, older and wiser Emma.  Not a bad thing at all.The album opens with "Swimming Pool," featuring Tom Fleming of Wild Beasts.  From the first time I heard it on her S EP last year, it's a song that's reminded me of the novels by Bret Easton Ellis.  It just has that icy glare about it as she and Fleming sing about love in an almost sterile manner. (The mention of a rich kid helps, too.)  That's not to say the song is without heart, but it's coming from someone who's apparently just experiencing it when she never thought it was something she could ever feel.  It allows the listener to temporarily distance themselves from their heart and look at love from the perspective of someone who's gotten on just fine without one… until now.
"So I guess that I'm the comedian when I say what's the deal with all of these games we play," begins the following track, "Less Than Three."  She might as well be talking about her former self, how people often simply saw her as funny when she sang about love troubles.  She's addressing a suitor here, singing, "Take it slow like a heart beat / I lose control of my heart beat."  She wants love, but she doesn't want to rush into things.  She knows she can only handle so much so fast.  Something many people can surely relate to.  The title, by the way, is less than three because that's how you make a heart on the computer: <3
One especially interesting thing about the songs is that they're not necessarily describing how Emma feels right now.  It's as though she's writing about characters, who are all in different places where matters of the heart are.  So, where her previous albums focused largely on first person songs about her experiences, now she's arguably writing short stories instead of journal entries.  She looks at love in so many different ways that by the time you're done listening to the album, you feel like you've just been walked through a map of the human heart, like you've seen it from every direction possible.On "Algorithm," she's playing the part of a character who's looking at love as though it's an algorithm.  Not in the way that Facebook or Spotify tell you what you should like or listen to next, but in the way that a math geek would analyze emotions, telling themselves that love is just a rush of dopamine and things of that nature.  But her character wants to look at love the way others look at love, especially in regard to the person she's singing to.  She wants her brain to just shut up and let her heart do the talking.
The only other of the 4 tracks on the S EP to make the album is called "Social Halo" and has a similar theme as "Swimming Pool."  Where the latter is looking at love from the outside, "Social Halo" is looking at popularity from the outside.  Until now, the protagonist has lived on the fringe, not been wrapped up in any social circle, but now people are starting to take interest in her.  She's skeptical, but she's slowly warming up to the idea of having a life where others not only accept but embrace her.
"Dance w Me" is one of the bouncier tracks on the album with its thumping beat and would likely make for some fabulous remixes.  "Darling you should / Darling you should / Darling you should," she sings, wanting someone to dance with her.  She's referring to a particular person, who could be the love of her life or the love interest of a character.  I think this one is personal though.  She sounds more like the Emma of her first two albums on this one, pondering her feelings, laying it all out there.
I should also mention the album's fantastic production.  These songs are meticulously done with many layers and nuances.  Working with organic instruments and electronic elements, you get the best of both worlds.  It results in a lush soundscape that can brim with emotions and feel sterile from moment to moment.  It's the gorgeous background scenery on a film shot by one of the greats.  The stars, of course, are Emma and her characters.  Trying to separate her from them might be impossible, but that only helps to make the album mysterious, to keep you guessing.  It's part of what makes it so brilliant.  It's as perfect as any album you'll hear this year.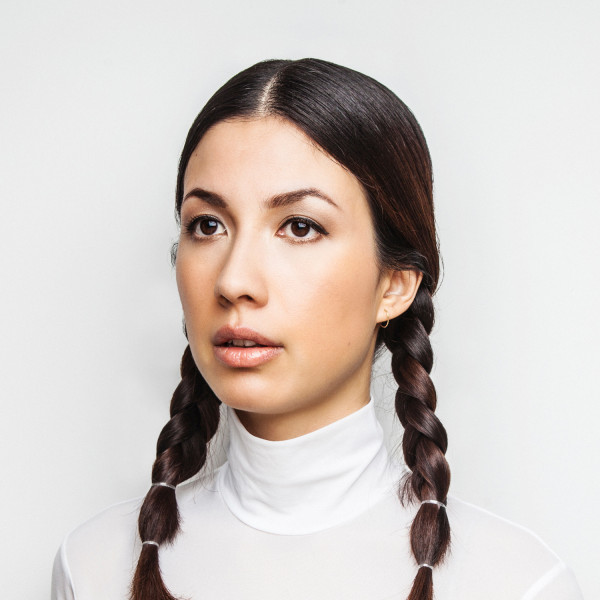 released: 3/11/16
label: Bella Union