review by Michael McCarthy
all photos by Joshua Bernard and may not be reproduced without his permission
Last night our resident Love is Pop photographer, Joshua Bernard, and I headed into Beantown (that's Boston) to catch Emmy The Great's show at Cafe 939 at Berklee (the famous music college).  It proved to be an interesting venue for a couple of reasons.  First of all, the cafe part of the venue looks like a genuine cafe, but apparently when they called themselves a cafe they meant cafe as in cafeteria because they served Mexican food and did not have an espresso bar.  (I didn't even see plain old drip coffee on their menu.)  But it was a cozy enough spot to wait for doors to the adjacent music hall to open for the show.  We sat in the back of the cafe, which has brickwork and an old fireplace in it, which was nice and atmospheric.  The second reason why it was an unusual place was that the music hall not only did not serve alcohol but did not serve anything; they weren't even selling soda or bottled water.  I saw two people bring in cans of Coke, presumably from the cafeteria side, but those were the only people drinking anything in the house.  I'm not complaining, mind you.  It was just different from anywhere I'd ever seen a concert in that respect.  It was a nice little venue though.  Very intimate with comfortable couches along two of the walls and, it turned out, great acoustics.  From the moment Emma — that's what she called herself — took the stage with guitarist Danny Markham and drummer/keyboardist Danica the sound was excellent. (Emma herself sometimes played keyboards, sometimes played electric guitar and sometimes played both at the same time.)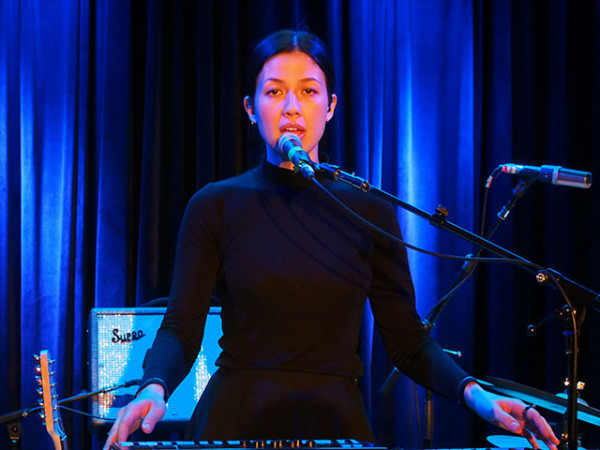 The set opened with "Algorithm," a catchy new song from her spectacular new album, Second Love. To that end, it's a song about love, and finding a place for it within you (if I'm interpreting it correctly), not about math or how streaming services decide what you should listen to.  After the song was over, Emma — I feel like I should call her that now — apologized for the fact that people haven't heard the new album yet, since it doesn't come out until March 11th.  Then she said, "I'm going to do a spoiler though.  I'm going to tell you the ending of Star Wars The Force Awakens."  Of course she was kidding, and she added, "No, I would never do that to you.  But I will tell you that at the end I am going to go offstage and I will come back even if you don't clap for me."  That got a lot of laughs from the audience, as did many other humorous things she said during the show, which happened to be the very first show on her tour in support of her new album.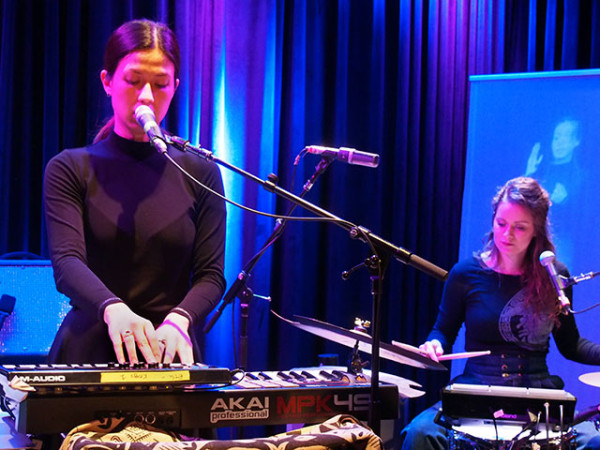 Before the second song, "Social Halo," she asked the audience if she should sing it in Chinese.  It seemed like a lot of people thought that she was just joking again but then she explained that her mother is Chinese and she lived in Hong Kong when she was young. At that point the audience appeared to be divided, some people encouraging her to sing it in Chinese and others not doing much of anything.  So, she finally decided that she would sing the first half in English and the second half in Chinese.  The song, which is on the new album along with her previously released EP entitled S, went over very well.  Lots of applauding.  Then again, every song generated a lot of applauding, not to mention smiling.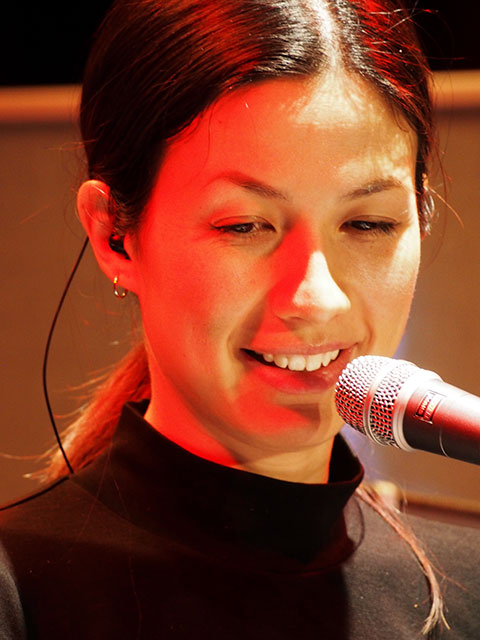 I had wondered how the new songs were going to sound live, since they have many layers to them and a lot of electronic elements.  Between the two guitars, two keyboards and drums, and some occasional samples of the parts they couldn't play live, everything sounded perfect.  I even thought that the third song, "Part of Me," sounded even better live than it does on the album, since the drums were louder, giving it a rock vibe. "We Almost Had a Baby" followed and sounded much more lively than it does on Emmy The Great's debut album First Love.  That said, it sounds fine on the album; I just felt like the live performance breathed new life into it.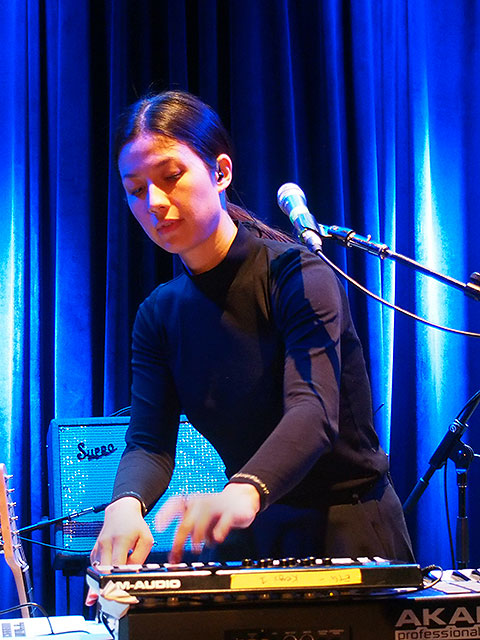 There were two long-ish video screens on opposite sides of the stage that showed different things at different parts of the concert.  During many of the songs it showed a ghost-like black and white Emma, who appeared to be trying to communicate with the audience.  It reminded me of the hologram of Princess Leia in Star Wars.  At other times, it showed flickering lights, clips from the "Swimming Pool" video and the buildings you see as you ride a particular public transport escalator in Hong Kong, which Emma said is her "favorite thing to do" there.
A few songs later, just after "Dinosaur Sex" from her sophomore album, Virtue, she performed "Phoenixes" from the new album.  But before she began playing it, she explained how "it's about when I was growing up in Hong Kong," yet people from all over seem to think it's about them.  "People would be like, oh, I know the people you were singing about," she said as the audience laughed.  But I think that it's a good thing that people identify with the song, as it's evidence that her new album is her most accessible music to date.  Personally, I've found myself relating to just about every track on the record in some way or another.  And I must add that it's also accessible because the music is enchanting, casting a spell on you that immediately makes you want to listen to it again and again.
Several other new songs were also played, such as "Less Than Three," "Hyperlink," "Constantly," and "Dance With Me."  Looking at the faces in the crowd as she did those, I got the feeling that the people would have been singing along if they were already familiar with the songs.  But, as I stated above, the album isn't out yet; it hasn't even leaked.  I was very familiar with the songs though, but I was afraid to sing, fearful that the crowd would resent me upon realizing that I already knew the songs.  But when she got to "Swimming Pool" about two-thirds through the set, everyone seemed to know that one, since it's on the S EP, which has been out for months, and so I was finally able to sing without making people hate me.
After another new track, "Shadowlawns," Emma, Danny and Danica left the stage as promised.  After some clapping and cheering, she came back out and performed a few songs solo for the encore.  (And I will admit that I didn't know any of the three.)  The first one was "Canopies and Drapes," a humorous song that makes fun of a lot of things and almost flows like a rap song.  At one point Emma lost her place and asked the audience, "What happens with New Kids On The Block?"  Then after a very short pause she answered her own question, "They go to rehab."  That got a lot of laughs, being that New Kids On The Block are from Boston, which I'm certain she was aware of.
The second encore song was called "Edward is Dedward," according to setlistfm.  It was also somewhat amusing as she sang things like "I sat with death / We drank some beer" and "I won't be blamed / I will pour whiskey on your grave."  Sure sounds like she was happy when Edward died.  Perhaps the song is a revenge fantasy?  Or it could be purely amusing fiction.  Suffice to say it was very entertaining.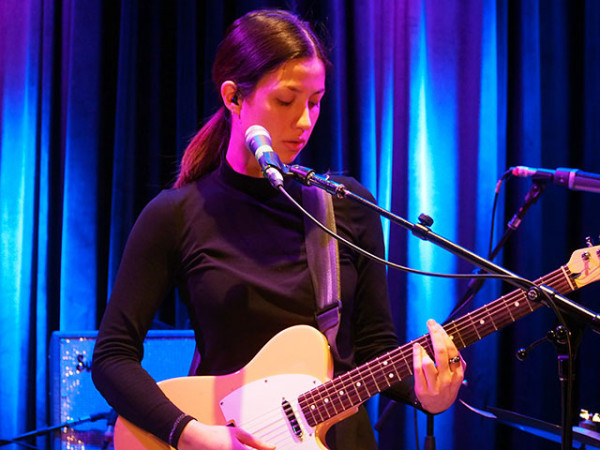 Finally, Emma asked the audience if she could do a cover and people cheered, so that's what she did.  I didn't know the song, but I enjoyed it nevertheless.  And while I was digging it, I looked at the faces in the crowd and people looked mighty perplexed, clearly trying to figure out who the song is by or what it's called.  When it was over she asked people how they liked it and there was lots of clapping but nobody was asking the obvious question, so I shouted out, "Who was the song originally by?"  Her response: "It's called 'We Are Vanished' and it's by a band called We Are Vanished."  (I think I'll go look it up on Spotify in a moment.)
Soon after finishing her set, Emma made her way over to the merch table where she was in charge of selling her goodies and, best of all, meeting fans.  And, of course, I was the first one there and introduced myself, telling her I'm the guy from Love is Pop who wrote the questions for the email interview she did.  She said she loved doing the interview but said, "It was so long!  It took me four days to finish it!"  She didn't seem bothered by that at all though; I bought the S 12″ vinyl and asked her to sign it and above her autograph she wrote:
Love is Pop
straight real talk
So, there you have it, Emma put on a fantastic concert and stuck around to meet fans afterwards.  If you've ever liked her, or if you're simply a fan of brilliant singer/songwriters, you simply must get out and see her.  Check out the S EP on Spotify here: https://open.spotify.com/album/5O9JWaxxDT7C4TNezhiF6F
US Tour Dates
Feb 24 – Brooklyn, NY – Baby's All Right
Feb 26 – Philadelphia, PA – Boot and Saddle
Feb 27 – Washington, DC – DC9
Mar 1 – Portland, OR – Bunk Bar
Mar 2 – Seattle, WA – Barbosa
Mar 4 – San Francisco, CA – The Chapel
Mar 5 – Los Angeles, CA – Bootleg Bar
UK Tour Dates
MARCH
11th – Oxford Academy 2
12th – Nottingham Bodega
13th – Newcastle Cluny
15th – Glasgow Stereo
16th – Leeds Belgrave Music Hall
18th – Bristol Thekla
19th – Birmingham Temple
20th – Manchester Band On the Wall
22nd – Norwich Arts Centre
23rd – Southampton Joiners
24th – London Islington Assembly Halls
Second Love will be released on vinyl on March 4th.  The digital and CD release date is March 11.
Read our in-depth, exclusive interview with Emmy here: https://loveispop.com/interviews/emmy-the-great-exclusive-interview-2016/