WHAT I'VE BEEN LISTENING TO LATELY
These album picks are in order, one being the album I've been listening to the most.
1. Mylène Farmer – Désobéissance, her new album, which is full of punchy electro-pop cuts. She continues to sound fabulous. And, by the way, this album is in French.
2. Valerie Renay – Your Own Shadow, which splits the difference between trip-hop and dark R&B perfectly. Truly intoxicating songs.
3. Enuff Z'Nuff – Diamond Boy, their first LP with Chip Z'Nuff as the lead singer is much better than Donnie Vie fans might expect. Walks the fine line between power pop and old school heavy metal – without a net.
4. Jake Shears – Jake Shears – The Scissor Sister's main man's solo debut features some funky pop songs on par with the Scissor Sister's catalog. It might even be better, actually.
5. Jann Klose – In Tandem – A singer/songwriter who I'd rank up right up there with Paul McCartney and Elvis Costello. A great up-tempo LP that never fails to lift my spirits.
6. Larkin Poe – Venom & Faith – Another stellar album from this sister act. Has a raw but clear, in-your-face sound that calls to mind producer Rick Rubin's best work. Is it blues, roots, rock, Americana or country? Those are the genres that spice it up, but the unique recipe is all the sister's own.
7. Crazy Lixx – Frontiers Records, the savior of hard rock, heavy metal and AOR just released three killer albums by these guys. If you like Skid Row and BulletBoys, you should love 'em.
8. St. Lucia – Hyperion – A fun, alt-pop record. I'm ga-ga over their precious mix of live instruments and programmed beats. "Bigger" and "Tokyo" alone make it worth buying/streaming.
9. Émilie Clepper – Émilie Clepper et la grande migration – Reminds me of a young Edith Piaf, who I think we can assume is her biggest influence. Like a gothic Patricia Kaas. Another French LP. Good music for listening to at night. I think it would pair well with a glass of wine and candle light.
10. Black Honey – Black Honey – Came across their song "Bad Friends" on a Spotify playlist. Had to add it to one of my morning playlists I play when I exercise. The whole album is fantastic. Blondie meets The Mynabirds.
LETTER FROM THE EDITOR
Hi Everyone,
For the past few weeks, I've been awfully busy working on my new novel Book of Shadows 4: In Memoriam. First, I was going through the book one last time, making my final set of edits. That took longer than expected. Then I sent it to some of my readers who offered to proofread it for me, and they found plenty of typos and pointed out a few inconsistencies, so then I had to edit the book again and rewrite significant parts of some chapters. Once that was done, I had to make the epub and mobi files, which took an entire day, and upload those files to Book Funnel to give out ARCs — advance reader copies — and then I had to upload the final version of the book onto Amazon. These things sucked up nearly a month of my life, which is why there haven't been many posts here lately. Honestly, I've meant to write a letter from the editor to explain my little hiatus a hundred times, but there was just no time. Along with everything I've just wrote, I had to send several newsletters to my readers keeping them in the loop. Bottom line? Getting a book out — even when self-publishing — is a grueling process. Currently, it's available for pre-order on Amazon. The release date is this coming Wednesday, 10/3.
Here's the blurb for Book of Shadows 4: In Memoriam:
Following Book of Shadows 3's harrowing battle with an evil witch who wanted to kill them for their magick, 16-year-old witches Emma, Lia, Shar and friends finally believe the worst is behind them. Until they start at a new school the very next day and discover that half the students think they're murderers following the devastating events at their last school.
Meanwhile, Emma starts to feel like she's losing her mind as her thoughts turn darker and darker. It could be that it's the black magick she absorbed in book three or it could be something far more sinister.
Book of Shadows 4: In Memoriam takes place during the days leading up to the memorial for a friend who met an untimely death in volume three. Emma and the group are worried that they'll be blamed for their death until they receive signs that something much worse is about to happen. Read Book of Shadows 4 today and find out what happens when all hell breaks loose!
The book is 122,000 words, which is longer than your average young adult novel since those are usually 85,000 words. So, it's like a novel and a half. And all I'm asking is $2.99, which is two bucks less than what most of my peers charge for the fourth book in a series. I hope people will buy it because most of my readers received Book of Shadows volumes 1 – 3 for free, along with getting my novel Reckoning Daze for free. So, for most of my readers, this will be the first time I'm asking them to buy a book.
Unless you've read the previous Book of Shadows novels, you'll probably want to avoid volume 4, especially since the novels all take place back to back, going from one day to the next to the next and so on. It's almost like it's written in real time in that sense. Still, if you want to look at buying it like giving me a donation to thank me for all my hard work with Love is Pop, I'm certainly not going to tell you not to do that. Ha, ha.
Click here to pre-order Book of Shadows 4: In Memoriam on Amazon. Or to just plain buy it if the date is 10/3/18 or later.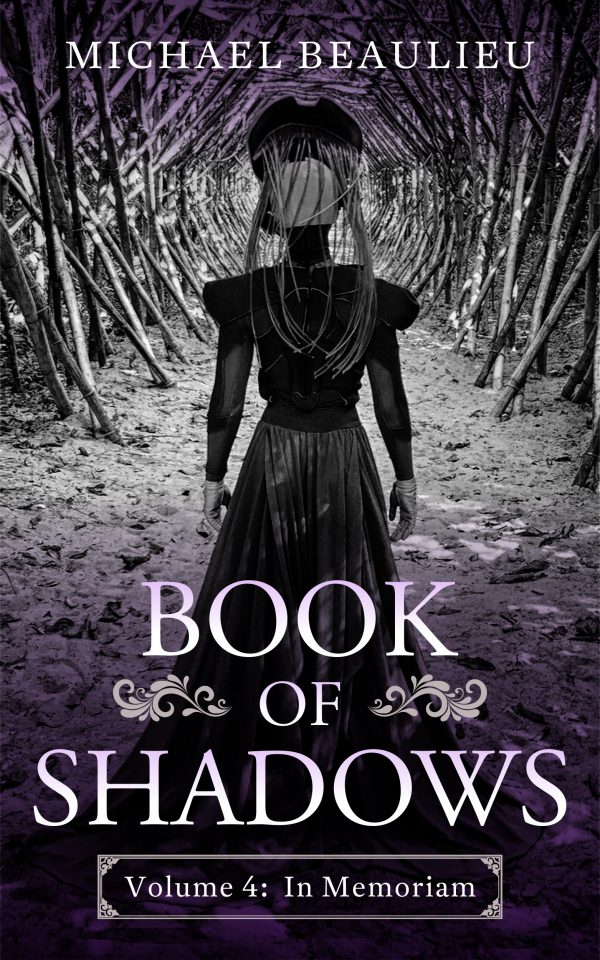 So, I will be back doing Love is Pop starting Wednesday.
Looks like the first interview will be with Larkin Poe, the lovely sister duo who made the list above. Other interviews that should happen soon enough are with Terra Naomi and Jann Klose. Hopefully, I haven't jinxed things by telling you this.
Normally, I don't reveal who I've interviewed until after the interview has been done because sometimes people change their mind or their publicist's change it for them. Or management tells them not to do it even after the publicist had said yes. There are all kinds of scenarios where plans can get derailed. So, I'm hoping to bring you those three within the next few weeks. What I'm going to try to do, going forward, is interview one person per week. I was doing two or three a week for a while there and I kept getting burned out. Plus, I was so busy with Love is Pop duties that I wasn't getting much writing done or putting the time into the self-promotion that an indie author has to do in order to become successful. And I want to be an author full-time. I'd still do Love is Pop, though. Maybe just a couple of interviews a month, but if I become one of these self-published sensations then I might just do a couple interviews per month, but I'd be able to get access to plenty of people I wouldn't get interviews with right now so that's pretty cool. I'd always continue to feature the types of artists I've covered on Love is Pop. But, sure, I've love to interview everyone from Slayer to Selena Gomez.
Finally, I'll leave you with a mix I made recently. It's the Soundtrack to Book of Shadows. Volumes 1 – 3. The songs are actually arranged in the order that I imagine they would appear in movies based on the books. Most of the songs are about witchcraft and magic, which should make it perfect for Halloween listening. There are only 2 or 3 songs that fit with the books that didn't have that theme so you might want to copy the songs onto a playlist of your own and delete those if you're purely looking for Halloween listening. "Medication" by Garbage, for example, has nothing to do with witches or horror, so that's one you'd want to nix right there. Same goes for "Tea Party" by Kerli. Anyway, give it a listen. It's very eclectic so it should have something for almost everyone. Unfortunately, I think they only let you listen to a small number of songs if you're not a Spotify subscriber, but I have a feeling that most of you are Spotify subscribers like myself. Anyway, be well and stay tuned!
Yours in music,
Michael McCarthy
9/30/18