Sunday September 7, 2014 – Boston, Massachusetts:
It's no secret that I have fibromyalgia and one of the most important things when you have it is getting enough sleep. To that end, I slept in a bit on Sunday, missing the 11 o'clock train from Lowell to Boston, which meant I needed to wait for the next train at 1 o'clock. By the time I arrived at the festival, White Denim were just finishing their set. I wasn't able to form much of an opinion, but they certainly seemed to have caught the audience's attention and their sound struck me as jazz influenced rock, which was certainly something different for the festival.
The two bands I missed entirely by being late were Gentlemen Hall and San Fermin. My new friend Justin had a few things to say about Boston's Gentlemen Hall though. First of all, he said that they had made line up changes since he last saw them. He explained that they have two lead singers and that they'd lost one and, unfortunately, it was the one he thought was better. He also said that they didn't do any of their more popular songs.
THE WAR ON DRUGS
Hailing from Philadelphia, Pennsylvania, The War on Drugs have become a rather popular indie rock band of late.  The band was formed by multi-instrumentalist Adam Granduciel and guitarist Kurt Vile in 2005 but Vile left the band shortly after the release of their debut album Wagonwheel Blues in order to focus on his solo career.  Their appearance at Boston Calling was in promotion of their trippy new 2014 album Lost In The Dream. Although I can see why people would call them indie rock, to my ears their performance at the festival sounded more like a cross between shoegaze and psychedelic rock. Not a bad thing at all. Quite the contrary, they delivered one of the festival's most memorable sets with their seven song performance that began with "An Ocean in Between the Waves," which found vocalist and multi-instrumentalist Adam Granduciel singing, "I'm in my finest hour / Can I be more than just a fool?" Well, I should think their Boston Calling set was indeed their finest hour and, yes, he's much more than a fool. During closer "Lost in the Dream," he sang, "Love's the key to the games that we play / But don't mind losing," and there sure was a lot of love for his band at the festival.
LAKE STREET DIVE
Lake Street Dive is a premium indie soul and jazz band formed in Boston in 2004 and its members are Rachael Price (lead vocals), Mike "McDuck" Olson (trumpet, guitar), Bridget Kearney (upright bass), and Mike Calabrese (drums).  They all met while attending the New England Conservatory of Music in Boston, but they're named after a street with a large number dive bars in Olson's hometown of Minneapolis.  These days, they're based out of Brooklyn, but Bostonians still consider them a Boston band and their set at Boston Calling was like one great big homecoming party. I'm currently in love with their new sophomore album Bad Self Portraits, but I must say that they were even better live at the festival, where they were one of the most unique offerings. Songs like the Carole King-esque title track and the funky "Bobby Tanqueray" just jumped out at you, sprightly and super soulful. "People think we're full of debauchery, but we're dorks. We go to bed early on the tour bus," said Price, who smiled from ear to ear throughout their fourteen track set, which included the premiere of a pair of two stimulating new tunes.
TWENTY-ONE PILOTS
Twenty One Pilots — stylized twenty | one | pilots — is a duo from Columbus, Ohio consisting of Tyler Joseph (lead vocals, piano, keyboards, ukulele, keytar, synthesizer) and Josh Dun (drums).  Their name is taken from the play All My Sons by Arthur Miller.  Their highly infectious studio debut, Vessel, was released by Atlantic subsidiary label Fueled by Ramen in 2013.  They have a very unique sound as Joseph regularly bounces from singing to rapping and he's equally gifted in both modes. If The Killers were slightly more pop and Brandon Flowers could rap, they might sound something like Twenty-One Pilots did during their cool as a cucumber Boston Calling set. In spite of the heat – Sunday was the festival's hottest day – they began their set wearing masks that looked like a cross between Spider-Man and luchadores. Of course, it wasn't long before the masks came off, but by then they'd already served their purpose and caught people's attention. They also grabbed people's focus when they started the second song of their set, "Migraine," and Tyler started rapping; there was no rapping during opener "Guns for Hands," so it totally caught everyone off guard, including myself. At first nobody knew what to make of it, but soon it was obvious that Tyler could rap as well as he sings, which is very, very well. Their uber-fun set was also noteworthy for a pair of covers. First, they did a tender rendition of the Elvis staple "Can't Help Falling In Love," which Tyler played on ukulele. Later, they had everyone at the festival singing along to Lana Del Rey's "Summertime Sadness," which they only performed half of, although they did an extended instrumental part post-chorus. Speaking of instrumentals, their eclectic set also included a dubstep interlude. Clearly, there isn't anything these guys can't do when they put their minds to it and they do it all contagiously.
THE 1975
The 1975 is an English rock band formed and based in Manchester.  Its members are Matt Healy (vocals, guitar), Adam Hann (guitar), Ross MacDonald (bass) and George Daniel (drums, backing vocals).  To my ears, they're one of the most energetic and invigorating rock bands to emerge during the past few years.   What makes them especially interesting is the fact that they're influenced not only by rock bands but by electronic music and even R&B.  And they let all of these influences show in songs like "M.O.N.E.Y." and "Milk," both highlights of their twelve track Boston Calling set.  In my opinion they were the best band of the day and Healy the most captivating frontman; there really wasn't an artist with more sex appeal than he had as he repeatedly tossed his sweaty hair over his face, unlike other singers who constantly try to keep their hair out of their face. Also, there were plenty of rock bands over the weekend, but The 1975 seemed the most like rock stars as they performed hits like "The City" and "Chocolate" fervently. When they first hit the stage, the large crowd waiting for them probably consisted of people who were already big fans, but by the time they'd finished their second song almost everyone in attendance had swarmed the stage and they had everyone cheering them on by the time they finished with their biggest hit, "Sex."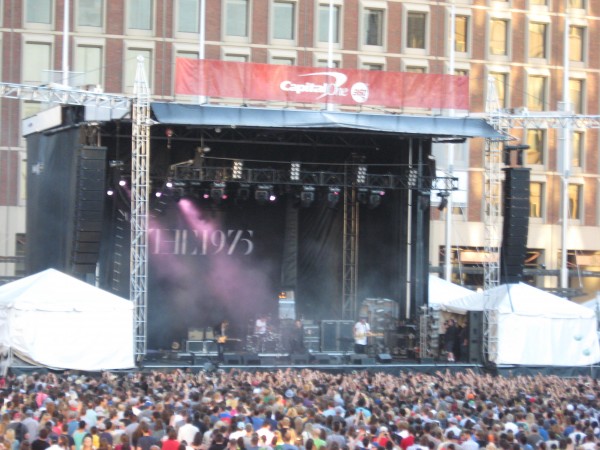 SPOON
Formed in Austin, Texas, Spoon are one of the State's most gifted rock bands today.  They might not be as popular as The Black Keys or Imagine Dragons, but they're as popular as a band can be while still staying quote unquote underground.  Not that they haven't tried to reach beyond their die-hard cult audience.  They are on several movie soundtracks and have had their music used in various television shows.  And their song "The Mystery Zone" was selected as Starbucks' iTunes Pick of the Week on January 26, 2010.  Their appearance at Boston Calling was in promotion of their new album, They Want My Soul, which was released by Loma Vista Recordings on August 5, 2014.  (It's their eighth studio album and their first for the label following five albums on Merge.) They performed at the festival before a huge banner with the cover of the new album on it and their fifteen song set included many of the new tracks. "'Cause it's alright Friday night to Sunday / It feels alright, keeps your mind on the page," sang lead singer and guitarist Britt Daniel during opener "Small Stakes," which the band performed with zest. Their new album's opening track, "Rent I Pay," was next and performed just as passionately. As their set went on, however, Daniel and company seemed to lose some of their enthusiasm, but performed a full 15 track set nevertheless. Before "They Want My Soul," Daniel remarked, "We dedicate this one to the dead people down the street. They've been dead for a while and they deserve it." This got a bit of a laugh from the crowd, but more people cheered when he said, "Isn't it time for some new Replacements material?" He added, "They should have some, shouldn't they?" Everyone seemed to agree.
THE REPLACEMENTS
The Replacements is a rock band formed in Minneapolis, Minnesota way back in 1979.  Their claim to fame?  They're considered the godfathers of alternative rock music.  For the bulk of their career they consisted of guitarist and vocalist Paul Westerberg, guitarist Bob Stinson, bass guitarist Tommy Stinson and drummer Chris Mars.  Today the band consists of Westerberg and Tommy Stinson, following some deaths and other departures. (Their recent live shows have featured Dave Minehan of the Boston-based band The Neighborhoods and drummer Josh Freese.)  Their influences include The Rolling Stones, Lou Reed, Slade, The Ramones and The Clash, among others.  They are, perhaps, best known for Westerberg's brutally honest and often self-deprecating lyrics, which he always sings raw and honest manner, his heart on his sleeve. Chances are that many of you already knew all of this, but there were an awful lot of people at the festival wondering just who the hell The Replacements even were and I couldn't tell them all, so… I thought I should inform some of them here. But there's one thing that even people who liked The Replacements kept pondering all day, which was why they were so high on the bill, especially when they haven't done any new music in so long. I'm assuming that the answer is that they retain a large fanbase from back in the day and continue to make new fans all the time. Plus, obviously, it was a big reunion show. But the festival's primary demographic – let's say teens and twenty somethings – wasn't even born when The Replacements were popular, so you can't blame them for wondering. Besides, they did listen attentively to the band's 22 song set and cheer repeatedly even if they didn't know the songs. The irresistible and highly energetic set began with "Favorite Thing," "Takin A Ride" and "I'm In Trouble." Later, there were a couple of unexpected but marvelous covers. First was "I Want You Back" by The Jackson 5, which many people probably thought was an original song by The Replacements because they totally made it their own. They did a more faithful rendition of the second cover, "Maybellene" by Chuck Berry. If people didn't know it was a Berry song – and most of them surely didn't – they could probably still tell that it was a golden oldie. Personally, I wasn't much of a fan of The Replacements going into Boston Calling but I was highly impressed with their set and look forward to checking out some of their albums now.
NAS X THE ROOTS
Arguably the most anticipated part of Boston Calling was a performance by rap god Nas with none other than hip hop/neo soul geniuses The Roots backing him up.  This portion of the show was divided into three sections. First, Nas performed by himself with his DJ. Second, Nas performed with The Roots. Third, The Roots performed a set of their own music. I went into the festival most anticipating the part where Nas performed with The Roots, but I have to say that I was most impressed by his solo performance. There was something magical about Nas performing songs from Illmatic and other albums alone on the stage, aside from his DJ. What blew me away the most about this part was how well the audience knew the lyrics, which he spit out fast and furiously. At least twice a song he'd point the microphone at the massive crowd and they'd loudly fill in the blanks. Considering that the album came out 20 years ago and that the audience was so young, well, that just goes to show you that Nas' music stands the test of time. "When the first album Illmatic came out, some of you [were] probably one years old. But you're here now. That means a lot to me," he said. Every song from his set was equally enjoyable, but if I have to name a couple of highlights I'll go with "One Mic" and "If I Ruled The World." Although the beats weren't so heavy, the Nas x The Roots part of the show was just as lively as the Nas solo portion of the show, the difference being that it sounded a lot more organic. Unfortunately, I had to depart when The Roots solo portion of the set began otherwise I would have missed the last train, but I heard a couple of the songs on the way out and they were bouncy and exhilarating.
I used to hear people talk about Woodstock and wonder what it would've been like to have been at such an event. I know that nothing will ever compare to that, given what iconic artists it had and all of that "free love," but I think I've felt a fraction of what it would have been like by attending Boston Calling. It's certainly the closest thing to "peace and love" that I've ever experienced.  Can't wait for the next one!
See also:
Boston Calling: September 2014: Day Two