Saturday September 6, 2014 – Boston, Massachusetts:
Before I get into my reviews of the individual artists who performed on Saturday, I have to say something else about the people who attended the event. Not only were they peaceful, they were also friendly and trustworthy. I'd like to think that I made a few new friends there and I trusted people to watch my stuff and hold my seat several times during the event when I needed to go buy something to eat or anything else. And, guess what? Nobody stole anything from me. Nobody put anything in my drinks. Nobody let anyone else sit in my seat. Also noteworthy is the fact that nobody tried to steal my stuff from the people who were watching it. And nobody gave the people holding my seat a hard time. Sure, they asked if someone was sitting there. But when the people told them that someone was, that was the end of it. They just walked away and looked for somewhere else to sit. I'd like to think the people at all music festivals are like this. I obviously can't speak for them, though. But I can say I wholeheartedly trust the new friends that I've made and I'm generally someone who rarely lets new people into my world, who's reluctant to trust anyone. So, for me to have embraced the opportunity to make new friends at the festival just goes to show you how nice the people were.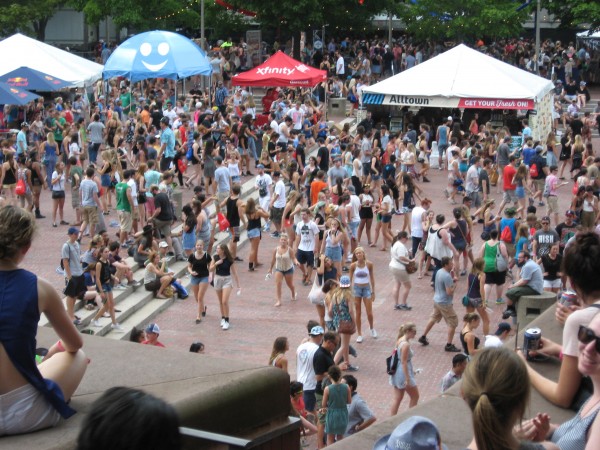 The people working at the event were great, too. From the event staff to the volunteers, everyone tried to be helpful and smiled when I asked questions. They also said hello and were very well-mannered when I passed through security or into the media area. They simply looked at my bracelet to see that I was allowed there and said things like "welcome back" and "have a nice day." You might occasionally find people this friendly when you go to regular concerts but you'll also find plenty of people with bad attitudes, something I never ran into at Boston Calling. Even the police at the festival were happy and mild-mannered. So, not only am I looking forward to the next Boston Calling because they're sure to book more fantastic artists, I'm looking forward to it because it restored my faith in humanity and look forward to making more new friends.
ST. NOTHING
On their Facebook page (https://www.facebook.com/stnothingmusic/info) St. Nothing describe themselves as "noctural bedroom pop." The line up features "electropop by Marco, cello by Jenna, guitar by Sophia, viola by Meredith." (Marco is also the singer.) They started the second day of Boston Calling, hitting the stage at 1:05 as scheduled. I was immediately impressed by Merideth's amazing viola playing, although everyone in the band did their job exceptionally well. To me, their songs were like Oasis at their best or early Sparkehorse. People can disagree with me, but I felt like they were the most upbeat and melodious band in the festival so far. The other bands have pleasant melodies, yes, but they don't write the sort of catchy hooks that St. Nothing delivered. "Oh, my love – just be grateful enough," Marco sang passionately during "Cherry Tree." I can't tell you how grateful his love is, but I can tell you that the audience at Boston Calling was quite grateful. Later, he remarked "we've never played a festival like this before," but you never would have guessed it.
CLIFFLIGHT
As soon as Boston's own Clifflight began their set there were lots of blue and white beach balls being thrown around. At your typical concert, security will take the balls away or selfish people will keep them instead of tossing them back into the air, but at Boston Calling the balls just kept on going back up above the crowd. But the balls probably would have stopped going at some point if Clifflight's music wasn't such good fun. The band's synthy sound reminded me of Youngblood Hawke, but the gritty vocals were more reminiscent of Springsteen. "Take some pictures," said singer Cliff, possibly a jab at Neutral Milk Hotel for telling the audience not to take any photos the previous night. Even if it wasn't meant that way, that's how the audience seemed to take it as everyone nearby me laughed, as did I.
S. CAREY
S. Carey is what Sean Carey of Eau Claire, Wisconsin goes by.  His name might not ring a bell, but you surely know the band he's in: Bon Iver, for which he's the drummer and background vocalist.  The funny thing is that he almost didn't become a solo artist.  He simply started recording songs, layering vocals and sounds together, whenever he'd get a break from Bon Iver's tour schedule.  When he'd reach a point with a song where he couldn't play the necessary instruments to finish it, he'd simply have friends help him out.  He even had his sister do backing vocals on a couple of tracks.  Eventually, he had an impressive album on his hands, which was released in 2010 under the title All We Grow.  And Bon Iver fans paid attention; he grew quite popular online, especially in the blogosphere.  He's since followed it up with 2012's lovely Hoyas EP and this year's critically acclaimed Brian Wilson-esque Range of Light. And his harmonies were just as lovely as Wilson's at Boston Calling. His music gave off especially warm vibes – and bass lines – that were perfect for the sunshiny afternoon as he performed songs from each of his releases. A highlight was an instrumental track that started off mellow and gradually grew more and more intense. Another highlight was "Fire-scene," which he said was "about California." At one point he said that he'd give a guy in the audience the band credit card to buy everyone ice cream after his set. This was funny except for the fact that we were all dying for ice cream and, so far as I'm aware, there wasn't any for sale at the festival.
SKY FERREIRA
If you don't know her name, you probably still know what Sky Ferreira looks like, as Sky has become quite famous for modeling during recent years, appearing in at least a dozen advertisements in magazines.  It was never a career path that she wanted to embark on, but there were many disputes and delays with her record label before she finally released her debut EP, the electropop masterpiece As If!, in 2011.  The EP followed the single "Obsession," a track that Sky was never too fond of, something she was quick to point out to anyone who'd listen.  (It wasn't terrible, but it was more in the bubblegum pop vein than Sky ever wanted to go.)  Another EP followed in 2012 in the form of Ghost, which was less electronic and even more artsy than As If!  It garnered her much critical acclaim and pleased her already gigantic fanbase but her record label continued to give her the runaround.  It was only on October 29, 2013 that Capitol Records finally released her debut full-length album.  It's entitled Night Time, My Time — a Twin Peaks reference — and it's an art pop masterpiece that any self-respecting pop fan simply must own.  (See our glowing review: https://loveispop.com/reviews/pop/review-sky-ferreira-night-time-my-time-nsfw-photo-in-post/.)  To promote the album, she toured as the opening act for Miley Cyrus on her Bangerz tour where she was well-received, but she could not have been better received than she was at Boston Calling. In fact, at the time S. Carey was performing there were as many people waiting at the blue stage for Sky as there were watching him on the red. Sky kicked off her set with "24 Hours," one of the best songs on her album and she sounded gorgeous as ever, not to mention glorious. "I wish this 24 hours would never end," she sang and the audience clearly felt that way about her performance. Next up was "Ain't Your Right," which had a much louder beat than on the album, being that it was performed with live drums, which were high up in the mix. It transferred from loops to live drums perfectly, as did other tracks like "Boys" and, especially, "Heavy Metal Heart." Apparently her sound guys missed their cues a couple of times, causing only half of "Lost in My Bedroom" to be performed while shortly into closer "You're Not The One" she had to restart the song from the top. She was clearly embarrassed and apologetic about this though and the audience totally forgave her. But, of course, we did – the tunes were so bloody infectious. And her performance was one of the festival's very best.
BLEACHERS
Bleachers is the indie pop slash rock side-project of Fun. member Jack Antonoff, who worked on the songs while touring with his day job.  The project was a well-kept secret until February 18, 2014 when the single "I Wanna Get Better" was released along with Bleachers' website, Facebook, Twitter, etc.  The debut album, Strange Desire, dropped on July 15th of this year on RCA Records and has done considerably well, Fun. fans eager to follow Antonoff on this magnificent joyride.  And the audience at the festival was just as enthusiastic, fans cheering him on from the moment he began the first song of his set, the album-opening "Wild Heart," which didn't sound as electronic as on the record but worked quite well as a pop rock song. "I still remember that night," he sang during "Like A River Runs" and his performance would be something audiences will surely remember. He remarked that it was the band's first time playing in Boston, although he's been playing Boston for years, "everywhere from bowling alleys to T.T. The Bears," which really roused the crowd. A cover of The Cranberries' "Dreams" had the audience bouncing around like there was no tomorrow.
THE HOLD STEADY
Brooklyn's The Hold Steady was formed in 2004, but they haven't exactly been holding steady with their career.  Quite the contrary, they've earned themselves an increasingly large audience and heaps of critics' praise with the release of each of their studio albums, including this year's release Teeth Dreams.  The band is comprised of Craig Finn (vocals, guitar), Tad Kubler (guitar), Galen Polivka (bass), Bobby Drake (drums) and Steve Selvidge (guitar).  Their sound is difficult to describe, giving off both indie rock and alternative music vibes.  Not that there's much of a difference there. Whatever you want to call it, there's no doubt that The Hold Steady do it well and they made it look easy as they performed songs from Teeth Dreams and their earlier records with undeniable passion. A definite highlight was "Sequestered in Memphis" from their album Stay Positive, which they also played the title track from, but the audience was jumping up and down and fist pumping throughout their set.
After an evacuation for not one but two storms with severe lightning, festival goers would eventually be called back for Lorde and Childish Gambino but by then I had taken the subway back to North Station. And it was getting late. So, I figured, if I go back, by the time I get there Lorde will probably be almost over. And then I'll have to leave shortly after Childish Gambino goes on because the it would be nearing the time for the last train back to Lowell. But everyone was saying how great both acts were on Sunday, so they clearly pleased the crowd. I should also mention that Volcano Choir and Girl Talk had to be bumped from the show entirely.
Missed our coverage of Boston Calling: Day One?  Check it out now!
see also: