Looking around at Boston Calling on Saturday, I found myself in awe of how much work goes into making the festival happen.  Never mind hiring the artists and determining who'll play which slots, just erecting the two stages and everything else that has to be assembled to turn City Hall Plaza from a wide open space into a massive concert venue must take weeks and thousands of hours of manpower.  And when the festival is happening, that surely requires at least as much manpower considering that they probably have a thousand people working at a time between the food vendors, security personnel, the police officers, etc.  I get exhausted just thinking about it!  Although not as exhausted as I am today after attending it.  But, to be fair, I'm sure the workers and vendors are even more exhausted.  Speaking of the vendors, I can't tell you how many veggie burgers with cheese I consumed from Boston's own Tasty Burger, which probably sold at least 2000 burgers over the weekend.  Maybe even more.  And I must say, I think they have the best veggie burgers on the planet, which they make themselves.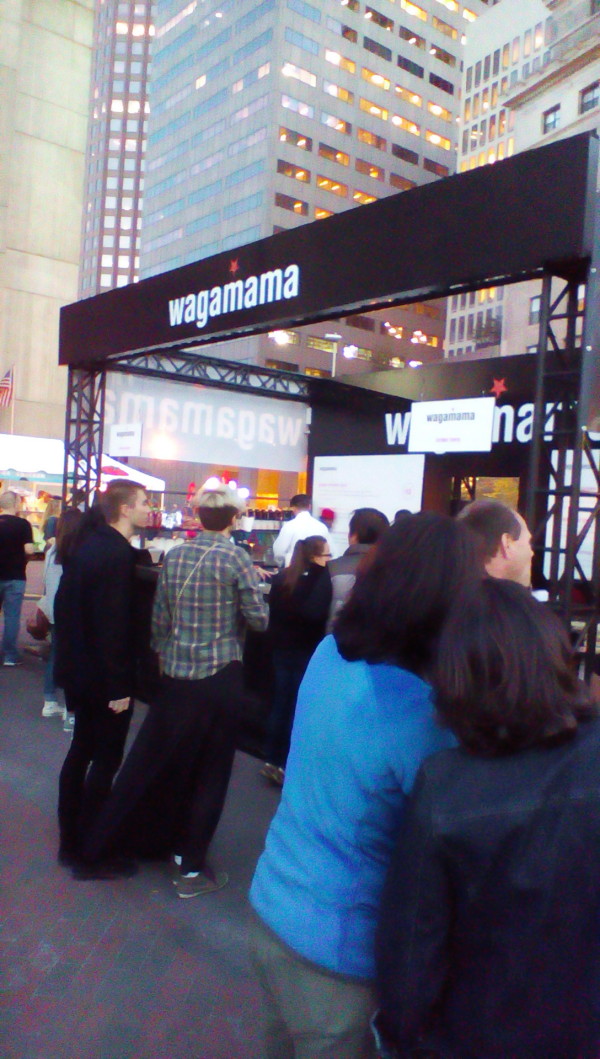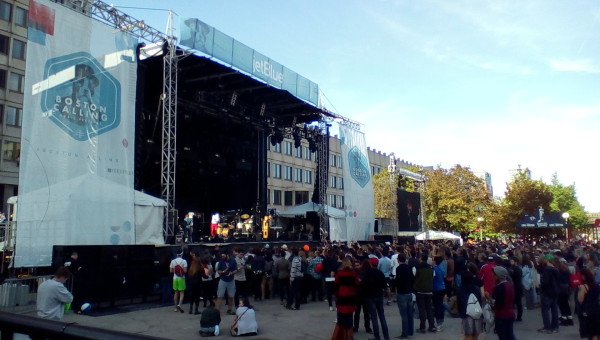 I had not slept well Thursday night, so I needed to catch up Friday night into Saturday morning, which forced me to take a later train from Lowell to Boston.  As a result, I missed Grey Season and Skylar Spence.  My apologies to both artists and my readers.  I was told "they were both quite good" from a woman I spoke to who was there early Saturday.
DOOMTREE
Doomtree is a hip-hop collective.  Their self-titled debut album was released in 2008.  According to Wiki, this is their current line-up:
Dessa: rapper
Cecil Otter: rapper/producer
P.O.S: rapper/producer
Sims: rapper
Mike Mictlan: rapper
Paper Tiger: producer/DJ
Lazerbeak: producer
This year they released the new album All Hands, their 12th, which I checked out on Spotify prior to the show and was very impressed with.  The production was fantastic, but the energy of the rappers was what really blew me away.  And they were sure firing on all cylinders at Boston Calling, delivering their smooth rhymes over propulsive beats of the monstrous variety. Watching them, I kept thinking about how much work they must have to do when rehearsing their live show, since there are so many of them rapping. At a previous Boston Calling, I was impressed by how well Run The Jewels flowed so well, the two of them like a well-oiled machine, spitting their rhymes back and forth. But DOOMTREE, wow, so many guys who have to know exactly when to go and doing so perfectly. One of the day's best acts and one of the best rap acts I've ever seen live.
STEPHEN MALKMUS & THE JICKS
Stephen Malkmus & The Jicks is a band comprised of Malkmus with Mike Clark, Joanna Bolme, and Jake Morris.  Malkmus was the primary singer and songwriter of the legendary '90's indie band Pavement.  Stephen Malkmus & The Jicks started in 1999 when Pavement were on hiatus and they've gradually grown their fanbase, which was well represented among the Boston Calling crowd. Their live sound had shades of American, folk and roots rock. Mostly, though, they had a distinct southern rock vibe. They kept reminding me of "Sweet Home Alabama" and I suspect that's something they'd be proud of.
STURGILL SIMPSON
Sturgill started the bluegrass band Sunday Valley in 2004.  They took a break when he was too busy working for Union Pacific Railroad at some point but eventually reunited, toured and released a new album before they called it quits in 2012, at which point Sturgill and his wife moved to Nashville.   In 2013, Sturgill self-released his first solo album, High Top Mountain, and last year he released his second and latest, Metamodern Sounds in Country Music. Between Sunday Valley and his solo career, Sturgill has played countless concerts and quite a few festivals, so performing for the Boston Calling crowd wasn't his first festival gig.  However, he sure treated it like it was, giving it his all, like his life depended on it. His sound reminded me of Willie Nelson, Waylon Jennings and Johnny Cash.  In other words, he had that classic, stripped down, outlaw thing going on – and he did it beautifully.

FATHER JOHN MISTY
Father John Misty is the alias of J. Tillman, who had a lengthy solo career using his real name before deciding to go by an alias.  But he didn't just change names for the heck of it.  He did it to coincide with a change in his sound, which used to largely consist of his vocals and an acoustic guitar, but which now features a full band with a much larger sound and one that would seem to be heavily influenced by '60's rock and even '60's psyche.  At least that's how it initially sounded to me, listening attentively to his Boston Calling set, which he got started with "I Love You, Honey Bear." As he continued with "Strange Encounter" and "True Affection," though, I couldn't help but think of '70's AM gold. America and Ambrosia were just two of the bands he reminded me of as he sang his super smooth songs. I especially enjoyed "The Night Josh Tillman Came To Our Apt.," which has some rather psychotic lyrics, and the melancholic "Hollywood Forever Cemetery Sings." He concluded his set with "The Ideal Husband."
WALK THE MOON
Walk The Moon are a band you've heard all summer and are still hearing a lot of now.  In fact, you're probably hearing them even more now.  You see, they're those highly infectious "Shut Up and Dance" guys.  I don't know about you, but I happen to love that song.  No matter how many times the radio plays it, it always brightens my mood.  Their whole new album, Talking Is Hard, is great.  Ultra-catchy, upbeat pop rock.  And those in attendance at Boston Calling weren't just fans of "Shut Up and Dance." They appeared to know the lyrics to all of their uppity songs, which I found myself wishing I knew well enough to sing along, too. "Jenny," "Avalanche," "Work This Body" – their entire set was like one singsong after another. And they were the first act of the day to get the audience waving their hands back and forth. Their live sound especially reminded me of early Duran Duran. Even their look was somewhat Duran-esque. The face paint vocalist Nicholas Petricca was wearing totally looked like something Duran's frontman Simon Le Bon would wear. His hair, however, was a different story, as he had a mohawk with the tips colored pink. It totally worked for him though.
CHROMEO
I've been a fan of the dynamic duo known as Chromeo ever since I first heard the song "Tenderoni" from their second album, 2007's Fancy Footwork.  Their blend of electro and funk instantly won me over.  And while it's taken some time, they've gradually grown more and more popular over the last several years.  In fact, their latest and fourth album, White Women, went as high as number 11 here in the States.  The duo consists of  Dave 1 on guitar and lead vocals and P-Thugg on keyboards, synthesizers, bass guitar and the talk box (a key part of their signature sound). These guys were so cool they were wearing their sunglasses at night. Everything about them was cool though. Their stage had several large mirrors behind them and the way the lights played off of them made it look like the guys were radiating bright light all night. Speaking of lights, the first half dozen or so rows of people in front of the stage were apparently given large glowsticks before the band went on because they were all waving them back and forth excitedly. As they played tunes like "Night By Night" and "Sexy Socialite," I couldn't help but be reminded of Prince, who surely would have approved of their vibrant set.
CHVRCHES
Multiple award-winning synth pop trio CHVRCHES' name is pronounced "churches," just in case you're one of the few people with internet access who don't already know that.  Their first album, The Bones of What You Believe, spawned the hits "Recover" and "The Mother We Share," among others, and the band's music has been used in over a dozen video games, TV shows and movies.  Their second album, Every Open Eye, was just released the day before their BC set on September 25th and is expected to chart well; if the enthusiasm of the BC audience means anything, it could very well reach number one. From the moment they opened with the first track on the album, "Never Ending Circles," frontwoman Lauren Mayberry held the audience in the palm of her hand. (Especially when she banged her head like she was in a heavy metal band and twirled the microphone around as if the cord was a lasso.) As they played hits like "Gun" and "Lies" everyone was singing along. Their infectious synth pop, which was like audible sunshine, seemed to generate the biggest smiles of the day, or at least it appeared that way to me. The only part of their set that was less than perfect was when Lauren had to blow her nose and used the word snot a few times while describing it. Oh well, she didn't sound like she had a cold when she was singing! Although she was slightly off of her game when they started playing "Make Them Gold" and she sang the first verse from a demo of the song instead of the final lyrics. That part was amusing though. Plus, it made their BC show more unique. (Speaking of the band playing in Boston, Lauren mentioned that the band hadn't played here since before their first album came out. I already knew that though, since I'd been frequently checking their tour dates to see if they were coming to town.) They closed their fourteen song set splendidly with two of their very best songs, "The Mother We Share" and "Leave A Trace"
alt-J
Saturday's headliner, alt-J, is an English band hailing from Leeds.  Like CHVRCHES, their songs have appeared in numerous movies and such.  Mostly, though, their popularity seems to have arisen by word of mouth as they've garnered lots of positive internet chatter ever since their first album, An Awesome Wave, was first released in 2012.  I'm sure the numerous positive reviews their albums have received from Rolling Stone, NME, etc, have helped, too.  They've become so successful that their new album, last year's This Is All Yours, debuted at number 1 on the UK's Official Albums Chart.   Their performance at BC reminded me of Radiohead for their strangeness and Muse for their heavy rock sound; you could say they split the difference between the two. They opened with "Every Other Freckle" followed by "Something Good," their live sound as perfect as on their albums. In that respect, it was almost like watching robots perform their songs, they were so technically proficient. There was definitely a human element to their music though. They played their songs passionately if tightly. And you really can't fault a band for sounding so flawless. The guitars especially reminded me of Queen and you could certainly argue that there's a prog rock element to their music as well. For me, the highlight of their set was their massive hit "Tessalate," which they played around the middle of their set, surprising me, since I would've figured that they would do that song last. Instead they finished their set with an awesome three song encore: "Hunger of the Pine," "Taro" and, lastly, "Breezeblocks."
After seeing them live, I can understand why they're already as popular as U2 in the UK. They were spellbinding.
Go back to our day one coverage.