Boston Calling kicked off its sixth edition of the three day, 23 artists festival last night at City Hall Plaza and it was spectacular.  People were calling it "folk night," since the line up consisted of Gregory Alan Isakov, Of Monsters and Men, who performed at the inaugural BC during May 2013, and The Avett Brothers, who visited Boston Children's Hospital earlier yesterday.  Warm vibes were in the air, not to mention the wonderful scents generated by the various eateries on hand… I was especially pleased to discover that Tasty Burger had veggie burgers with cheese this time!  But there were plenty of enormous-sized french fries, fried dough, fried oreos and other pleasures for your tastebuds there, too.  Today I'm going to try the pad thai!
Here are my reviews:
GREGORY ALAN ISAKOV
Farm-dweller Gregory Alan Isakov is a singer/songwriter who was born in Johannesburg, South Africa in 1979.  He immigrated to the U.S. when he was a child and was brought up in Philadelphia, Pennsylvania.  He started touring with a band when he was just 16 and eventually moved to Colorado.  Although his music has always sounded mostly like folk to my ears, seeing him live last night, it was also obvious that he was influenced by some of the greats rock stars like Bruce Springsteen and Leonard Cohen, not to mention Billy Joel and Tom Waits.  Last night's set was performed with acoustic and electric guitars, drums, upright bass, and violin, giving things a very lush, warm sound.  Of course, Isakov and his band sounded heavier live than on his albums, but that's something that could be said of all three of Friday's acts.  It was almost like watching Isakov covering himself, heavy metal style.  Glorious, though!  His voice sounded great and his musicians were all at the top of their game.
OF MONSTERS AND MEN
Of Monsters and Men are an indie pop band with folk influences, which were obviously last night,  hailing from Keflavík, Iceland, although their lyrics are in English.  The band features a male and female lead singer/guitarist,  Ragnar "Raggi" Þórhallsson on the male side, Nanna Bryndís Hilmarsdóttir on the female.  The band is rounded out by guitarist Brynjar Leifsson, bassist Kristján Páll Kristjánsson and drummer Arnar Rósenkranz Hilmarsson. Although the group was only formed in 2010, the band triumphed at the Músíktilraunir in 2010, Músíktilraunir being Iceland's popular, annual battle of the bands.  That same year they went on to perform at the prestigious Iceland Airwaves music festival.  They've since performed at countless other festivals, including Boston Calling's first edition, not to mention at their own headlining shows, but they displayed the hunger of a new band during their enthusiastic performance at Boston Calling last night.  In addition to the official band members and their expert musicianship, they were joined by an additional percussionist/tambourine player and a trombonist, who added beaucoup extra power to the performance.  For a folk pop band, they kicked some serious ass, especially during opener "Thousand Eyes," which was followed by an especially emotive edition of "Empire," and the double punch closers "Little Talks" — a.k.a. the "Hey!" song — and "Six Weeks."  Naturally, being their gigantic breakthrough hit, "Little Talks" got the biggest rise out of the audience, who sang — no, shouted — along enthusiastically.  The night ultimately gave me the impression that OMAM — as they abbreviated their name on the large screens, which displayed the band in black and white all night — were the band most people were there to see last night.
THE AVETT BROTHERS
North Carolina's Scott and Seth Avett sing co-lead vocals and between them they can play nearly every instrument under the sun — both play drums and piano, for example, although last night Scott mostly played the banjo and Seth mostly played guitar; they were too busy hypnotizing the audience with song after song to keep switching them.  As always, last night they were joined by Bob Crawford on bass and double bass, along with contributing trumpet and violin.  Meanwhile, Joe Kwon played cello and musical saw and sang backing vocals.  They were also joined by skillful drummer Mike Marsh, multiinstrumentalist (piano/double bass/organ) Paul Defiglia and violinist Tania Elizabeth.  The result was a very rich and colorful sound, like an audible kaleidoscope.  Like any proper headliner, last night they unleashed massive amounts of energy and good vibes, at times sounding like a full-on rock band, though folk was clearly their main sound (with an occasional gospel-esque tune like "Down With the Shrine" and "Satan Pulls the Strings).  For this listener, highlights included opener "Bring Your Love To Me," "Head Full of Doubt/Road Full of Promise," "Le Reel Due Pendu/Les Bars de la Prison" and a cover of Doc Watson's "Country Blues."  But the audience seemed especially thrilled by set closers "Another Is Waiting" and "Hand-Me-Down Tune" along with the sole encore of the night, "Slight Figure of Speech."
All in all, it was a great night and a perfect start to this edition of the festival.  Today I'm especially looking forward to Father John Misty, Walk The Moon, Chromeo, CHVRCHES and alt-J!
To see if tickets are still available visit www.BostonCalling.com.
Sorry, no time to crop these photos — have to catch a train back to Boston Calling tout de suite!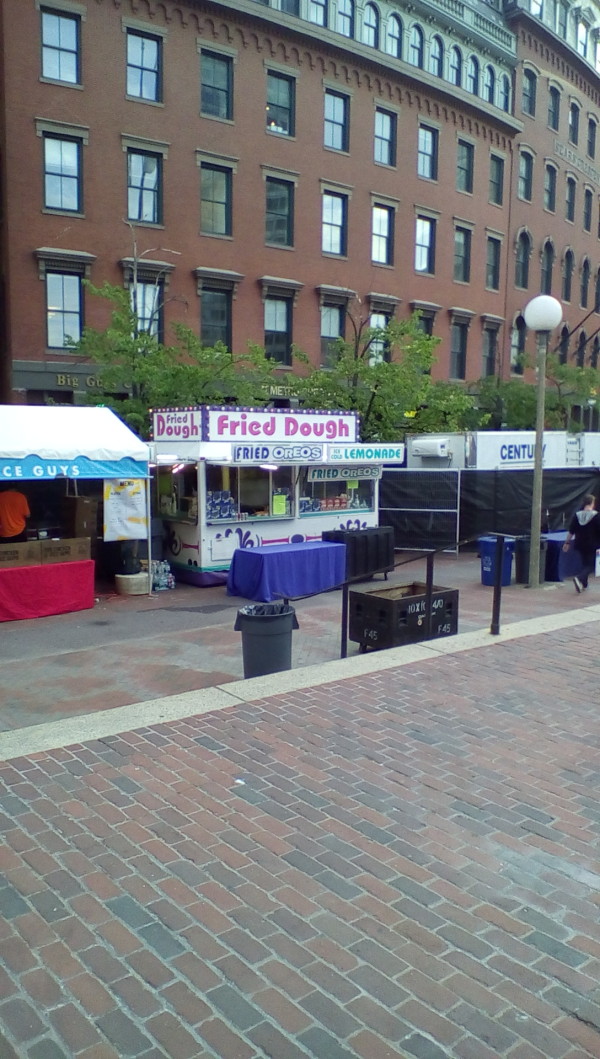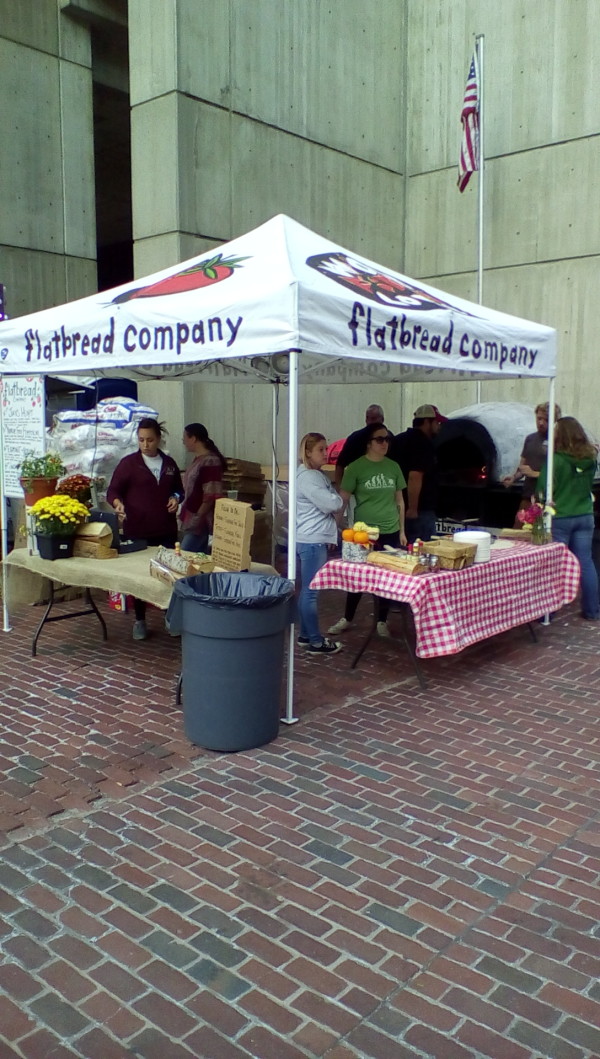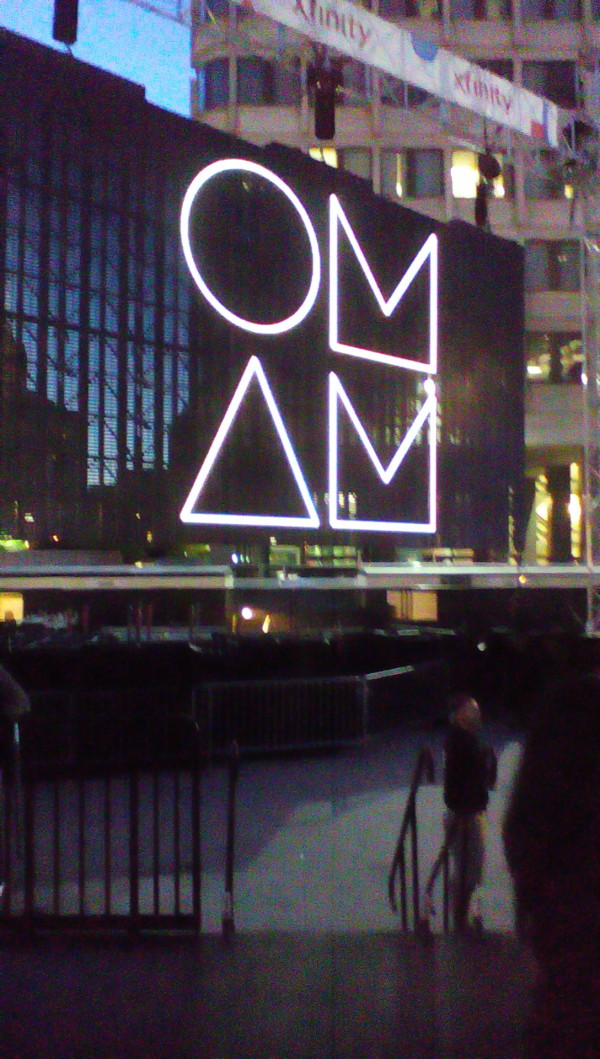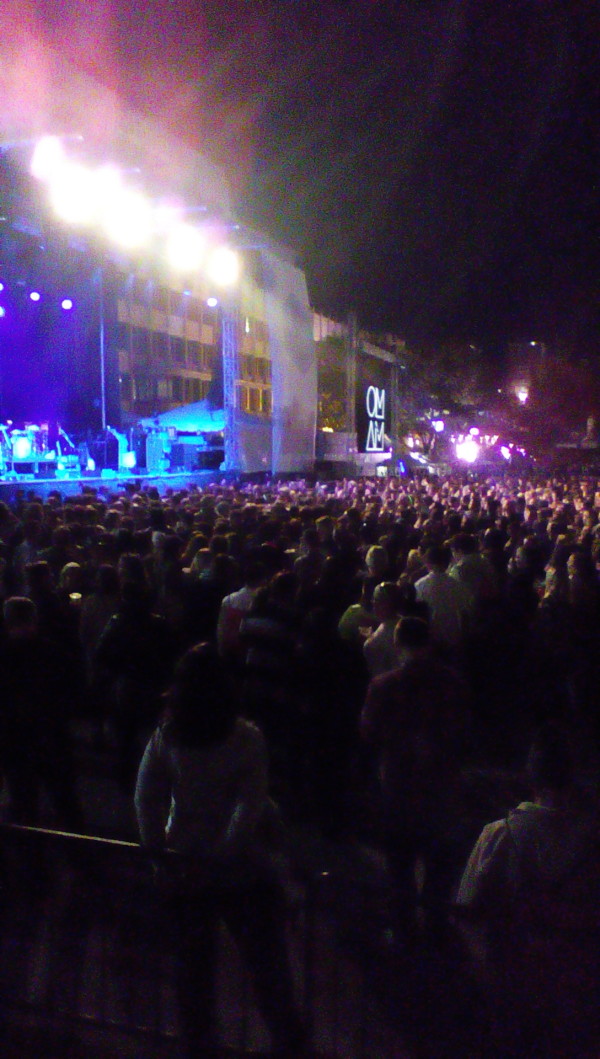 Click HERE to read our coverage of Day Two (Saturday)!