Jillian Banks is from and resides in Los Angeles, but her EP is entitled London. Why? I'm not sure. I tried to find out if she's ever been to London when I was preparing to write this review but I couldn't find mention of her ever going to London anywhere. But she wouldn't be the first artist to name an album after a place they hold precious in their hearts but have never been to. For example, the electro-pop duo Ugly Bunny, who I interviewed recently, will be releasing an album later this year entitled Tokyo but they've never been there. In their case, one of their songs is also called "Tokyo," so perhaps it's a bit more fitting that they should name their album Tokyo than Banks calling her EP London if she's never actually been there, being that she does *not* have a song called London on her EP. But I suspect that Banks has titled her EP London because her music is dark and airy and hushed like much of the electronic pop music coming out of London right now, such as that by artists like London Grammar, The xx, James Blake and Jamie Woon, the latter of which co-produced one of the songs on this EP. Of course, she could have a totally different reason for calling her EP London. She's a mysterious one, Banks. Very little is known about her aside from the fact that she writes her own songs. Oddly enough, she has her manager run her Facebook and other social media outlets, but she has her phone number posted on her Facebook page and encourages fans to actually call her.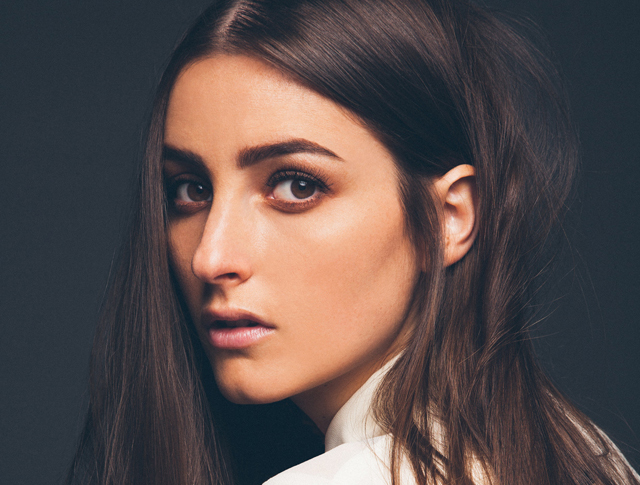 London opens with a gorgeous number produced by SOHN called "Waiting Game." It begins with faint and slightly eerie chanting way off in the distance, where many of the sounds in Banks songs exist, her music having great depth. The chanting continues and is joined by faint, somber piano as Banks begins singing, "I'm thinking it over / The way you make me feel all sexy but it's causing me shame / I want to lean on your shoulder / I wish I was allowed by I don't want to cause any pain." Eventually dark, twisted synths and a pulsating bass beat enter the picture. The haunting song, which she sings in an almost whispered manner, her voice hushed and emoting vulnerability, would seem to be about being in love with another artist. "What if I never even see you 'cause we're both on the stage / Don't tell me listen to your song because it isn't the same," she sings. "I don't want to say that love is a waiting game."
Banks delves deeper into the darkness on the following track, "This Is What It Feels Like," which was produced by Lil Silva and Jamie Woon. It opens with a strange and menacing computerized groan. Or perhaps it's a human voice that's been processed to death. In any case, it's creepy and it continues as Banks begins singing and an icy but punchy beat kicks in. Here, it's obvious that Banks isn't the least bit afraid of expressing her emotions. Quite the contrary, she wears her heart on her sleeve and doesn't seem to mind if you watch it bleed. "Remember the first time that we met / You said that you couldn't sleep 'cause of me," she sings tenderly. "Told me I caught you off guard / And then when you saw I felt the same / You pulled away." She cites Fiona Apple as an influence and it couldn't be any more obvious here, listening to her brutally honest lyrics.
The T.E.E.D.-produced "Bedroom Wall" comes next, Banks singing over spacey synths and thudding, little electro-beats. Her vocals here are so hushed that it's difficult to understand what she's singing at times, but it's worth paying close attention because the lyrics are touching. "Darling look at me standing here / This is my promise, cross my heart / Promise, this is all yours," she sings, her voice sounding as though it could crack at any second, but it doesn't and there's something precious about that, the way she sings it with so much emotion that she stretches her range to its limits to get all of her feelings out. Listening to her songs is like reading someone's private journal.
The EP concludes with her loudest track, the Tim Anderson-produced "Change," Here, she doesn't sound quite so vulnerable. Instead, she sounds empowered and even angry as she sings addresses a lover who treats her poorly and then promises to change when she threatens to leave. "Cut me to pieces / While you watched me disintegrate / Because you like to tell me how you hate," she sings, spitting venom. As the song goes on, she criticizes and even taunts him, "Poor poor baby / Say you can't help the fact that you're so crazy." While most of her lyrics give one the impression that she's very sensitive emotionally, she's clearly not going to tolerate any abuse.
Whether Banks' songs are based on personal experiences, or if she's just very good at observing those of others, we may never know. But one thing is for certain: she's very gifted when it comes to conveying human emotion and she isn't afraid to feel the words as she's singing them, the result being deeply affecting music that could melt even a heart of stone or, likewise, send chills down one's spine. Her songs might not pack the radio-friendly hooks of Lorde and Lana Del Rey, but fans of those artists would likely fall in love with her if they give this EP a few listens. While these songs might not be immediately accessible, once they hit you, they hit you hard and prove to be infectious on a whole other level.