"Do you wanna see the stars before they fall?" asks lead singer James Michael during the chorus of "Stars," the opening song on SIXX A.M.'s new — and third — album, Modern Vintage. It's an inspiring tune that really makes one want to stop and smell the roses, as they say. It also dares you to find the beauty in things, things you may have taken for granted or simply have never paid much attention to. This is a theme the band started to explore on their last album, This is Gonna Hurt, so it's not surprising that they should open the album with a tune like this. And it's an incredible song that delivers their message intrepidly while inciting you to sing along, or at least bang your head.
"Gotta Get It Right" follows and showcases the higher end of James Michael's vocal range, even giving off a Queen vibe at times. This song shocked fans when it was released as the first single from Modern Vintage because they'd expected the band to come out with something darker than their previous material, which did focus on dark themes like drug addiction and feeling uncomfortable in ones own skin. But, instead, SIXX A.M. offered up a gem of a song that blurred the lines between classic and modern rock, essentially taking the best elements of two eras and meshing them together perfectly. And the lyrics were arguably the most positive SIXX A.M. lyrics to date and proof pudding that Nikki Sixx, James Michael and DJ Ashba were meant to write and perform songs together.
"Get Ya Some" tells the listener "you gotta get yourself some," some being drugs. But that part of the lyrics is meant to be taken ironically, being that the song describes lurid people, or good people who are just so buried in their addiction that they're living in an abandoned building with a prostitute for a roommate, that sort of thing. Perhaps some of the band's younger listeners will miss the point of this song and think the band is giving them permission to go do drugs, but if kids want to do drugs they're going to do them regardless of what some band sings about. Besides, anyone with half a brain and the patience to stop and think will realize this song bares a very popular theme in SIXX A.M.'s songs, that being DON'T DO DRUGS.
The most surprising song on Modern Vintage has to be the band's cover of "Drive" by The Cars, which suits the album's title perfectly. You have a vintage song from the '80's but it's performed in a wholly modern manner. And the band makes it their own in much the same way that Marilyn Manson has made songs like "Sweet Dreams Are Made of This" and "Personal Jesus" his own. To say that Sixx and company have switched gears for this "Drive," adapting it for themselves, is an understatement. They've given it punchier beats, electronic elements, heavier guitars — including a blazing solo — and they've even altered the melody a bit. I'm sure some die-hard fans of The Cars would bitch about all of this, but I'm a fan of The Cars and I'm in love with it.
"Give me a love that won't go and kill me," Michael sings during the chorus of "Give Me A Love," a fast-paced, full-blown metal tune with a killer solo by Ashba. "Give me a love that just wants to heal me," it continues. Clearly, it's a highly relatable song, as we've all been in that position at some point in our lives, wishing for someone who's really going to love you, who's not going to stomp all over your heart or drive a nail through it. Michael sings this one like his life depends on it, like he's truly begging the universe to send him "the one," as they say, really making the lyrics strike you.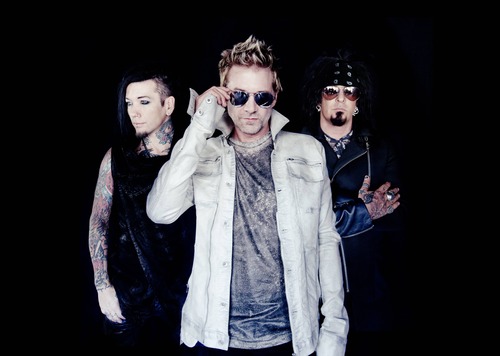 The deluxe edition of the album closes with "Let It Haunt You (So Beautiful)," which is in the classic rock vein, as it's easy to imagine bands like Journey or Boston doing it back in the day. It's as though SIXX A.M. found an unreleased song by one of those bands and covered it, lending it a modern guitar vibe. Of course, it's actually a SIXX A.M. original, my point being that they've succeeded in giving the song the kind of old school vibe they wanted to deliver. And it's the perfect way to close the album, pointing out the beauty in things like the opening track, "Stars." You could also interpret this song as being the band's attempt to lift the spirits of listeners who may be contemplating suicide. Like many of the songs on Modern Vintage, it's meant to inspire those who hear it. It makes you stop and think about the things that are going right in your life, or else it inspires you to make the changes necessary to make things right. "Everything that breaks you cannot make you who you are," Michael sings. Amen to that. Hell, Amen to the whole album. It's one of those records you can trust to guide you out of a bad place, an album you can put your faith in. It's also a brilliant record worthy of obsessing over. The sort of album that you're always trying to find but seldom do. In other words, it's priceless, a record that pays dividends that will far outweigh whatever you pay for it.