According to Wiki, the popular indietronic band I Heart Sharks' sophomore album, Anthems, was released in Germany, Austria and Switzerland on the 28th of March 2014 and received very positive reviews. But, rather than simply releasing the album in the UK, the band is releasing a must-hear EP called To Be Young on June 7th.
I Heart Sharks were formed during the end of summer in 2007 by three guys from three different countries who met at Berlin's techno haven Berghain. The German-British band's first album, Summer, was self-made, fan-funded and independently released. But the To Be Young EP is their first release from their new home, Island records. It was made with Hurts producer Joseph Cross and was recorded in a idle textile mill in Manchester and in the former GDR radio headquarters in Berlin.
Each of the tracks on To Be Young are fantastic. The EP opens with the title track "To Be Young," a magnificent dance rock anthem about, well, taking time to be young. "So let me have tonight before I lose my life," goes the uber-infectious chorus. "I've heard so many lies about an easy life." Indeed, growing up is difficult and tends to suck, so listen to this lively tune dedicated to being young and bounce around. If you're already grown up, bounce around in your head. You might as well because this unforgettable tune will be stuck in there for days.
"It feels like we've been here in another life," goes "Reykjavik (Stay Here)," which is another anthem with great hooks. It's like the love child of Duran Duran and Depeche Mode, born during the early stages of their careers. You listen to it and it's as though a cool breeze has washed over you on a hot day. You anticipated it — obviously, considering it's from an album called Anthems — but you didn't realize how much you wanted it and needed it until it happened.
'Headlines" follows and begins with a woman speaking French in the background. "I need you to need me," goes the first verse. "Tell me I'm alive / Tell me I'm alive / Tell me what you did tonight / 'Cause you and I will make it in the headlines," goes the anthemic chorus. It would seem to be about an every day Joe falling for a famous woman (or man), this song their plea for this famous person's attention. Perhaps it won't capture the attention of whoever it was written about — if it was written about someone in particular — but it will certainly capture your attention.
The EP concludes with a remix of "To Be Young" by none other than Skrillex protégé Etnik, who adds throbbing electronic beats and turns the vocals into a whisper. What was once a gorgeous anthem is now a rather melancholic floor-filler. However, it's no less catchy. It still gets under your skin and radiates, like aural poison ivy infecting you, making you glow from the inside out, give you an itch that you highly enjoy scratching. There's something disturbing about it, but you wouldn't have it any other way.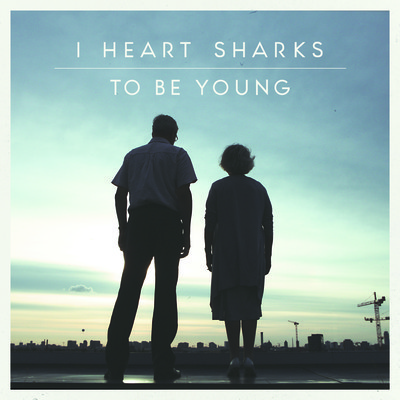 Free download- To Be Young (Claire remix) here:
https://www.facebook.com/iheartsharksmusic/app_612587788789362
For more information:
https://www.facebook.com/iheartsharksmusic
And don't miss my recent interview with I Heart Sharks: