I Heart Sharks first broke onto the scene — the blogosphere, especially — with their much-praised 2011 album Summer, which featured such sun-kissed, blissed-out pop rock gems as "Animals," "Neuzeit" and the super infectious title track, "Summer."  Now they're primed to garner even more worldwide buzz with the release of their first EP, To Be Young, which features four incredible tracks that are perfect for jumping headfirst into summer 2014.  The irresistible EP was recorded with Hurts producer Joseph Cross and is the band's first release for none other than Island Records.  It features three massive anthems — "To Be Young," "Reykjavik (Stay Here)" and "Headlines" — along with a slamming remix of "To Be Young" that comes courtesy of Skrillex protégé Etnik.  Their sound is like Bloc Party meets Duran Duran meets The Killers and their songs are truly on par with the best work of those  bands.  So, don't be the last among your friends to check them out.  Download To Be Young now and be the taste-maker among your friends this summer.
And now onto our exclusive interview with Pierre Bee (lead vocals, synth) and Simon Wangemann (guitar, synth…
Will the To Be Young EP be released in the U.S. or are you just releasing it in the UK — or all of Europe — for now?
Simon: The To Be Young EP is out worldwide on Island Records. Our album "Anthems" was released in Germany, Austria and Switzerland (where we're based and where people know us a bit already) around the end of March, and we're planning to bring it to other territories later this year as well.. or when the time is right.
I understand that both Pierre and Simon contribute vocals. Who sings lead on each of the songs on To Be Young?
S: Oh, I sing at concerts but my voice isn't on the record anywhere. Pierre tracked most of the harmonies on top of his own lead vocal, and on some songs we had female vocalists to double his voice.
When do you plan to start releasing Anthems in the many countries where it's yet to be released?
S: The first step was to release it in Germany and promote it here. This is where we've been touring for many years and where most of our fans are. But we travel outside of Germany quite a lot. This year we've already playing in the Netherlands, and we're planning to go back to France, Italy and UK for shows later in the year.. maybe even some other countries! A big personal wish is to go to South America. Mexico and beyond, it just sounds so exciting.
Pierre: And it's sunny.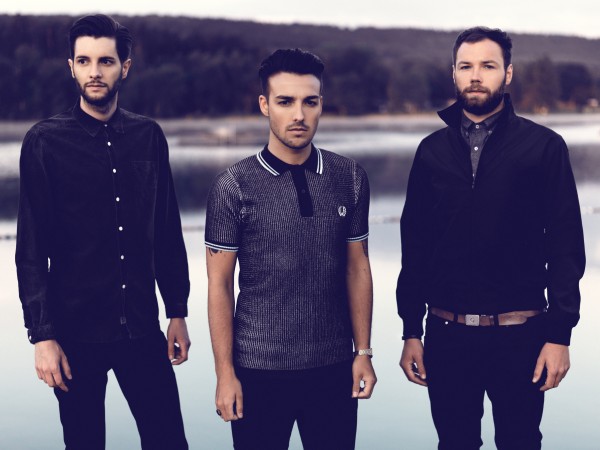 Three years passed between Summer and Anthems. Did you struggle to write Anthems or were you just busy touring for a long period of time or on hiatus or…?
S: Wow. Three years. Or two and a half, but it really was a long time. You see, with Anthems we wanted to break new ground. For the first time we were able to use a studio full time and start our creative process there, rather than in a rehearsal room. This opened up a lot of possibilities and we took our time in exploring them. We must have recorded far over 50 demos in all that time. And not only did we try new things in our style of songwriting, but also in sounds and production. When we finally had the selection of songs done that we wanted on the album we called in a producer from Manchester to finish the album with us, and that also took some more time. Making an album is hard work, an easily a full time job for the two of us for over a year.
Why did Georg Steinmaier leave the band? Did he do so on good terms?
S: Yes, all in good terms. We still see him every now and then, and he comes to our shows when we play in Berlin.
P: Sometimes I'm a bit envious of how he can watch what used to be his band playing live. I've always wanted to watch us play.
How did you meet your new drummer, Martin Wolf?
P: I was playing a gig with another band and Martin's old band were playing. I just remember being really impressed, and I thought he looked really cool. Somehow I got hold of his phone number a few days later, but as it was Christmas time I had to call him at his nan's house, which surprised her a little bit. So basically we stole him.
When Pierre and Simon met at Berghain did you start talking about forming a band that night or did that come later? I ask because your bio states that you met during late summer 2007 but Wikipedia states that the band was founded in late 2008 after left London and moved to Berlin.
S: Oh, you've done good research and we need to check those Wikipedia facts! We both independently moved to Berlin in late 2007 and met around that time. And we really did decide to make music together the first time we ran into each other.
P: And went out a bit too often.
Do you still go to Berghain? Who are some of your favorite dance/club music artists?
S: I still go occasionally, but not as often these days. And so I don't know to many of the current artists or DJs. But our hair dresser is a DJ. You should check her out: Johanna Knutsson.
P: Yeah, she's definitely one of our favourites. But we might just be saying that to avoid losing an ear next time we go to get our hair cut by her. They do concerts in Berghain, too. I recently went to watch We Have Band play there.
Your song "Neuzeit" features German lyrics during the chorus. Are any of the lyrics on Anthems in German?
P: The German chorus in "Neuzeit" was primarily to mock my awful German at the time when I moved to Berlin. If you're gong to learn a new language you have to accept that you'll sound like a moron for at least a year. My German now is much better, so there are no German lyrics on Anthems.
I could tell that the women speaking in "Headlines" were speaking in French, but my French isn't good enough to translate everything they say. Could you tell us what it means? You don't have to translate it all, just give us a general idea, if you could…
P: The French part translated means: I hear your voice behind me, a voice that chills my blood, I am a face you know, a woman that you have loved, to me you're only a stranger. The bit at the beginning is just an announcement about delays at a train station. We wrote a little bit with Midge Ure in the process of making Anthems, and that part is a bit of a nod to "Fade To Grey" from Visage that he was a part of.
Was "Headlines" inspired by any famous person in particular? I understood the song to be about someone falling for someone famous. Is that a correct interpretation? If not, what would you say it's about?
P: You're right. It's about the obsessive side of infatuation. I love watching films from the 50s and the 60s, and each time I find myself falling for the starlet, from Kim Novak to Marilyn Monroe, which is pretty tragic, because they're either dead or very old, so it'll never happen.
Thank you for taking the time to do this. And congrats on Anthems; I've heard the import and it's easily one of my favorite albums this year.
P: The pleasure was all ours.
Download the wonderful Claire remix of "To Be Young" for free here: https://www.facebook.com/iheartsharksmusic/app_612587788789362
I Heart Sharks' official site: http://www.iheartsharks.net/
To Be Young on iTunes: https://itunes.apple.com/de/album/to-be-young-ep/id826020997