LOS ANGELES, CA – JUNE 20, 2016 – In celebration of the release of their critically acclaimed sixth studio studio album Strange Little Birds, Garbage will perform tonight on Jimmy Kimmel Live. Tune in to ABC at 11:35pm/10:35pm CST to catch the band's return to late night television. Strange Little Birds was released last Friday, June 10, via the band's own STUNVOLUME Records. Recorded and produced by the band (Shirley Manson, Steve Marker, Duke Erikson, and Butch Vig) in Los Angeles, the album is available for purchase both physically HERE and digitally HERE. Watch their music video for the album's single "Empty", directed by longtime collaborator Samuel Bayer, HERE. In honor of the release of Strange Little Birds, Garbage teamed up with Pandora to curate an exclusive playlist of songs, themed "Random Tunes To Move Through Airports To". The mixtape features songs by John Cale, Cat Power, Parquet Courts, and more. To stream it now, click HERE.
READ LOVE IS POP'S REVIEW OF GARBAGE'S NEW ALBUM, STRANGE LITTLE BIRDS HERE.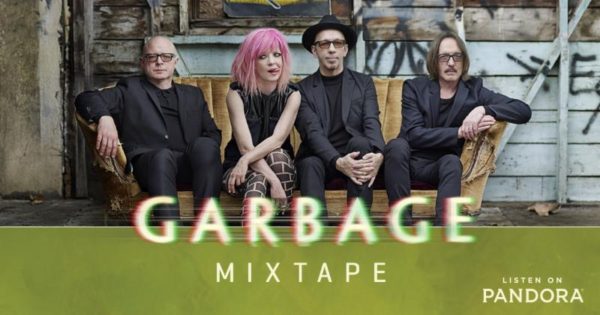 Working initially in Vig's basement and then at Red Razor Sounds in Los Angeles, Garbage drew on a variety of sources for Strange Little Birds, from their recent fan letters back to the albums they loved growing up. Some will hear echoes of Garbage's 1995 debut album in Strange Little Birds.
Next month, Garbage will embark on their 'Strange Little Birds' U.S. tour in support of the new album. The dates will kick off on July 6th at Summerfest in Milwaukee and follow a run of European dates. Tickets are now available for purchase. Check www.Garbage.com for additional details and details on VIP experience packages, including: early entry, soundcheck access, Q&As, meet and greets, photo opps with the band, exclusive merch, and more.
GARBAGE LIVE DATES
July 6 – Summerfest – Milwaukee, WI
July 7 – Skyway Theatre – Minneapolis, MN
July 8 – SumTur Amphitheater – Omaha, NE
July 10 – Uptown Theatre – Kansas City, MO
July 12 – The Pageant – St. Louis, MO
July 13 – Z104.5 The Edge 21st Birthday Bash, Brady Theater – Tulsa, OK
July 15 – Egyptian Room – Indianapolis, IN
July 16 – The Fillmore – Detroit, MI
July 17 – PromoWest Fest – Columbus, OH
July 19 – The Mill & Mine – Knoxville, TN
July 20 – Ryman Auditorium – Nashville, TN
July 22 – The Tabernacle – Atlanta, GA
July 23 – Fillmore Charlotte – Charlotte, NC
July 25 – The National – Richmond, VA
July 27 – Starland Ballroom – Sayerville, NJ
July 28 – House Of Blues Boston – Boston, MA
July 30 – The Fillmore Philly- Philadelphia, PA
July 31 – Rams Head Live! – Baltimore, MD
August 1 – Summerstage – New York, NY
August 3 – The Lincoln Theater – Washington, DC
August 6 – River Nights – Rheinfelden, Switzerland
August 8 – Lokerse Festival – Lokeren, Belgium
August 10 – A Summer's Tale – Luhmühlen, Germany
August 12 – Fête du Bruit, Landerneau, France
August 14 – Kubana Festival, Riga, Latvia
August 16 – Live Park Zappa, Tel Aviv, Israel