Once upon a time — the mid '90's to be precise — I interviewed Nikki Sixx of Motley Crue for my hair metal zine, ANT, The Only Cool Magazine That Bites. I asked him what he was listening to lately and he said "Garbage and God Lives Underwater." I went to Tower Records on the corner of Newbury Street in Boston the very next day and found both albums on listening stations. I wasn't very impressed by God Lives Underwater, which I listened to first, so I wasn't expecting to like Garbage very much. Well, I was only halfway through the first song, "Supervixen," when I grabbed a copy of the album, their self-titled debut, having decided to buy it. I sat there listening to several more songs and only pried myself away from the listening station before it was over because I was with a friend, who was eager to head to our next destination, another record store called Newbury Comics. I was fairly certain that I could get the Garbage album for a few dollars less at Newbury, as they were always less expensive than Tower, but I couldn't risk going there only to find out they didn't have it. So, I paid the $15.99 at Tower and was happy to do so. During that summer, I listened to the album obsessively. I even ordered bootleg concert CDs from Italy at the price of 35 bucks a pop. This strange band had captured my heart and mind. I wasn't listening passively either. I listened closely, always paying attention to hear all of the little samples and loops their songs contained. I was pretty sure I'd never heard anything with so many delicious layers of sound.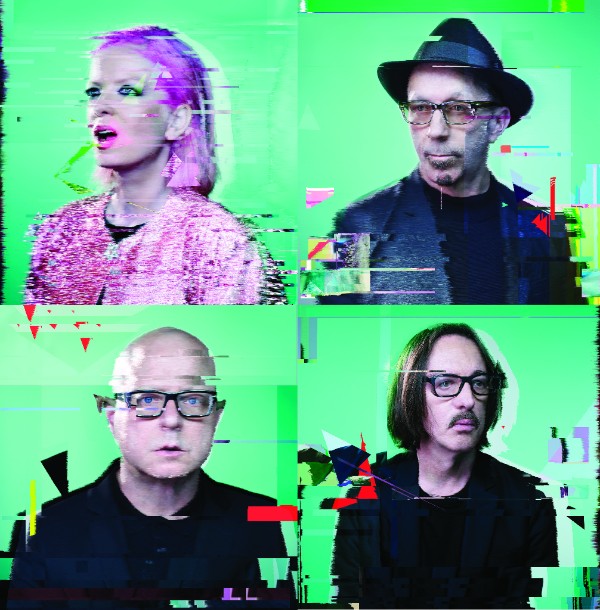 Garbage's last album was 2012's Not Your Kind of People. It was their fifth record following their self-titled debut (1995), Version 2.0 (1998), Beautiful Garbage (2001) and Bleed Like Me (2005). With each of their previous albums, Garbage had transformed themselves into a new animal, never making the same album twice. With Not Your Kind of People, they utilized all of the styles they'd previously done rather than breaking the mold. This isn't to say that the album wasn't original. None of the specific tracks was a rip-off of anything they'd done before, but you'd hear "Blood For Poppies" and think "that could've been on their first album." "Automatic Systematic Habit" could've been on Bleed Like Me. "Beloved Freak" could've been on Version 2.0. In a way, the album was a triumph precisely because it found them doing every style they'd ever done on a single record. They'd used everything they'd learned, and all the tools at their disposal, and came up an eclectic bag of tricks that was ultimately as wonderful as any of the albums it was informed by.
On Garbage's new album, Strange Little Birds, they've broken the mold again. Of course, they still sound like Garbage, but most of the songs here don't sound like they could have appeared on any other Garbage album. They're fresh, inspired and invigorating.
The album opens with its shortest song, "Sometimes," which clocks in at just 2:52. It's a very unusual track, as it begins with piano and synth and then these beats and some strange kind of swishing sounds punch in and you feel like you're listening to music from another planet. I keep trying to figure out just what this swishing sound is but nothing I think of quite makes sense. Maybe it's a record being scratched that they've processed to make it sound unique. If you turn the pitch down low maybe scratching would sound like that. Who knows? Suffice to say, it's quite interesting and piques the ears. If I have one complaint about the album it would be that there aren't any other songs like this. Mind you, every song on the album is wonderful. There just aren't any others that are as bizarre as "Sometimes," which is so good I wish they'd make an entire album like that. They could call it Alien Garbage.
The lead single "Empty" follows and finds the band doing everything I love about them. First and foremost, you've got Shirley's amazing vocals and introspective lyrics .(I would say this album contains Shirley's all-time best lyrics.) Then you have Duke Erikson and Steve Marker's guitars cranked up to 11, vicious and raw, yet catchy at the same time. Then there's Butch Vig, who delivers some mighty intense drumming during the chorus, which is practically heavy metal. Finally, we have the loops. The little sounds — electronic and otherwise — that play beneath it all. They're as vital to Garbage's sound as everything else. It's like their hidden signature. You almost don't even notice them on "Empty," but they're there if you pay attention. Other artists might not take care to add such details, so many layers of sound, but Garbage consists of four producers, so there's never any shortage of ideas and there's nobody to stop them from using them so they do. It's the wow factor.
Strange Little Birds finds Garbage doing some longer songs than they'd ever done previously. "Blackout," a veritable monster of a song, clocks in at 6:33. "So We Can Stay Alive" and "Amends" also hit the six minute mark. They're all epic, but the best of them is "Amends," the albums's closing track, which is rather haunting and finds Shirley singing about someone really horrible — a bad boyfriend — and at times she wants to purge him from her life and at others she wants him back. "It's what you do / Don't make it right / matter of fact / It's called revenge," she sings. "Cut off your nose to spite your face." You can also look at it as being a song where the boyfriend isn't actually a boyfriend and she's singing about herself, sometimes in the first person and in others in the third person, the boyfriend being her dark side. At the end of the song we hear something different as Duke Erikson sings along with Shirley. It's the first time I can recall ever hearing a male voice on a Garbage song. I haven't formulated an opinion about it though. (I definitely don't mind it, but I've yet to decide how much I like it, if that makes sense.)
Another fantastic track is the ballad "If I Lost You," which rivals the best of Garbage's ballads "You Look So Fine" and "Cup of Coffee," for example. The bass guitar part is a real earworm, getting inside your head and damn near hypnotizing you. Not sure who plays it though, as the album credits Eric Avery, who's worked with the band for a few years now, for most of the tracks and Justin Meldal-Johnson for two, but neither is credited for "If I Lost You." In any case, it's simple but it's also quite memorable. Like everything else on the album. The phrase "all killer, no filler" definitely applies here. If you've ever been a fan of Garbage in the past, you'll adore this album. Especially if you liked "Bleed Like Me" and their debut. I say this because those albums were usually more rock than pop and this record is way, way more rock than pop. Cheers to Garbage Version 6.0!