Metals are an immensely talented duo hailing from Melbourne, Australia consisting of producer/DJs Chris Coe and Ehsan Gelsi.  They recently toured the UK with gigs in Nottingham, Coventry and London.  They even played at GLASTONBURY!  Yes, that Glastonbury!
The duo recently released their first single, "That Ain't Real Love," from their upcoming EP, When I Say You, I Mean Me, which will be released on January 27th, 2014.  The slick, dubby track features luscious vocals from singer/songwriter Candice Monique, who delivers vicious rapid-fire vocals, the song being a kiss-off to someone she's through being in a relationship with, along with an energetic UK grime-style rap by MC Tray.  Also included on the EP are a rather resounding track called "Silence" where they earn their name with raw, piercing guitars that crunch along over a smooth bass guitar riff and infectious beats, and a super catchy reggae/hip-hop song called "Shake It," as well as a throbbing, electro-flavored alternate version of "Metals."  In the following interview, conducted via E-mail, I ask Chris about the EP, DJing and a long list of other interesting things; read on!
How and when did you and Ehsan first meet?
We met at the dawn of time, before the first hipster sold his first turntable to buy an electric guitar, before the world became fearful of the joys of pharmaceutical mood alteration, way back at a time when the world was sweeter, more innocent, more optimistic.. in a millennium that  was promising to make way for an even greater era.. around 1999..
I understand that you're both producers and DJs. How long have you each been producing? How long have you been DJing? Did you ever compete with each other for producing jobs or DJing gigs?
We always compete with each other for gigs.. but I always win because I am older and way more dangerous with a piece of vinyl. Ehsan wins at the production game because he is a frikkin Genius !! (Which drives me crazy wild with jealousy!) He can produce a great tune in about 20 minutes flat.. and then tinker with it for a day and it is awesome.. whereas it takes me a day to even get myself to sit on front of the computer! However.. we complement each other, because Ehsan is the sprint genius and I am the marathon runner.. and so, we can work on projects together by splitting the roles somewhat.  I have been producing since 1993.. Ehsan, since forever because I am convinced he is the reincarnation of some musical genius like Beethoven or some geezer like that!
Do you still DJ? Do you still produce for other artists? Or are you just focusing on making and promoting your own music at this point?
Yep, Yep and yep.. all of the above because it is what we love.. and, in this industry we do not have enough income from any one of these activities to focus solely on it.. The favourite element is producing and playing.. I LOVE DJing.. I LOVE It!
How did you learn to DJ? How long have each of you been DJing?
I started DJing when I was 11 or 12 .. I would invite my friends up to "Chris' Disco" in the attic room of our house,, where I would have a few torches with a flash function and one turntable.. I  would play one record after another with commentary in between.. and we would dance around.. early 80's pop, the Police, Specials, Madness.. quite good stuff I think. Then in later years (16 – 17) I would put on little events in my small town in Ireland (Westport) at the local disco, I would invite all my friends and youngsters around town. And the local mobile disco guy Dick Bourke would lend me his gear, !! What  lovely fella, he really encouraged me! I learned how to play with TWO turntables!! amazing! This was a long time ago because I am old!
It was in later years that I found out about the Jamaican yard parties and the DJs and selectors and how they would only use one turntable too..! I felt that I had touched on something deep and universal.. And every time I DJ now, if it is a good gig, I have that feeling still, this sense of time being irrelevant, of a deep human connection with the need to dance collectively, to shake our nerves of worry, trauma, fear etc and come out refreshed and enlivened.. Sadly the club scene really doesn't hold that opportunity much any more, that is why the outdoor dance parties are so great! And, over the years I have played at so many of these in Australia which is actually a perfect place to have outdoor parties because the weather is so great !
Do you DJ with turntables or CDs or laptops or a combination of these (or something else)?
A combination of vinyl, CDs and USB.. NO LAPTOP! I can't really abide that gormless look one gets when scrolling through song lists, I think the laptop creates a barrier between the DJ and the party and so I feel it better to stay away from that.. besides, having to set it up and find space in a DJ booth is rather annoying too.. I am old school and I still have a love for vinyl that is profound so I play a lot of that.. records that one cannot find any more and tunes that are only released on vinyl (there a lot of tiny labels doing runs of 200 or so and not releasing in digital format). A friend of mine recently made the declaration that he is going back to vinyl and has received such support for this because he is an amazing vinyl pusher.. his sets are so much better when he plays records. There is something about them, the limitation of options, the physicality of winding them in, beat matching etc.. all make for a different kind of experience for both the crowd and the DJ.
Personally I love to mix it up between vinyl and digital format, I actually love using USBs because it is so amazing to be able to rock up to a gig with a USB stick in me pocket and pop it in the CDJ and rock a whole night off of that!! However, when I play vinyl, CDs and USB, I can create combinations of sounds, loop bits up, drop in a record, mix a tune off CD or USB and create a whole new thing.. it is fun. I did this while on mushrooms one party and I felt like I was at the helm of the starship enterprise!! look at all the lovely lights… !! man.. so shiny !!
Who are your influences in terms of DJing?
Grooverider, Charlie Hall, Carl Cox, DJ Rush (before he got into Schranz), Derrick Carter, Richie Hawtin, Dick Bourke,
Do you do remixes for other artists? Anyone we'd know of?
yes occasionally.. no one you would know of.. oh, maybe Carl Cox..
How did you learn to produce? How long have you been producing?
By wanting to make music and not having the patience to explain to someone else what I wanted to make… about 20 years…
Who are your influences in terms of producing, or favorite producers?
Nigel Godrich, The Neptunes for a time, Rick Rubin, Alan Parsons, DJ Shadow, Mad Professor and so many others
Do you produce with computers or old school equipment?
we use computer a lot, running whatever software we feel like using at the time, Ableton Live, Cubase, and lots of soft synths.. and then sometimes we bust out the old analogue gear: synths, etc.. when I worked with Mad Professor we did it all on tape and through his hand built SSL desk.. whatever the project requires really..
"That Ain't Real Love" features vocals by Candice Monique. How did you meet her?
My friend rang me to say he had heard her at an open mic session once.. it was about 8 years ago I think.. she came and recorded on my Digital Primate album called Siege Mentality (mixed by Mad Professor) and we had some songs that didn't fit this album .. out of this material came Metals…
I understand that Candice is a singer and songwriter. Did she contribute to the writing of "That Ain't Real Love" or did you write the song before bringing her into the picture?
we wrote it together.. I made the music and she wrote the lyrics.. she is a genius..
Is Candice the singer on your other tracks as well?

Candice sang on most of the songs actually.. she was in the band for a time too, and we did a lot of shows with her. As we record new material we choose other singers.. but for now we are releasing stuff with Candice's vocals.
Who plays the drums at the end of "That Ain't Real Love"? Was it always going to end that way or was that an idea you came up with later, after you'd already written it?
A brilliant drummer called Matt Bray from Melbourne played drums on this track.. he played live with us too at times. We did many different versions of this song live, but this version felt like it needed that boost of live drums at the end and he layed this track down in one take in the studio! Amazing drummer!
How did you meet rapper MC Tray? Did he write the rap part on "That Ain't Real Love"?
Yes MC Tray wrote the rap in the studio, we called on him because we felt it needed this male counterpart to round the song off.. he did a sterling job dontcha think?
I understand MC Tray is from the UK but is currently based out of Australia. How did a UK grime-style rapper end up in the land down under?
I think he fell in love with the place and with his wife who is Australian also.. a lovely fella, he is a teacher you know..
Do Australian's refer to the country as the land down under or is that just something the rest of the world says?
Australians consider that the rest of the world is the other way around .. oh except for Men at Work I guess..
You've recently done some touring of the UK and even played Glastonbury. How did the tour go? Was playing Glastonbury intimidating? Who were you in between on the bill? What stage did you play on?

Glastonbury is HUGE.. there are loads and loads of stages and over 250,000 people attend over 5 days.. It is like a small city in a big field. ! Just incredible. We played on a big stage called the Pussy Parlure Nouveau. We played to a really amazing crowd of over 2000 people that night it was blur and sadly I do not remember who played before or after us. The promoter put us on at a good slot at about 10pm at night when everyone was up for a party! The rest of the tour comprised Nottingham, Coventry and two shows in London.. a small introductory tour that was really great! But, of course, Glastonbury was the BIG ONE!.. A great first stab at the UK..
What do each of you do when you perform live? I mean, do you play keyboards or drums or work laptops or…?
I play the bass guitar and control the computer stuff with a live interface called the APC 40, running Ableton Live. Ehsan plays the guitars and keys too.. No live drums on this tour.. but we have had Matt Bray play with us before.. and of course we have a singer.. Candice used to do it but since she had many other personal responsibilities she could not join us on the latest shows.
Did Candice perform with you on those UK dates?
Nope, she couldn't make it this time. We had a wonderful singer and performer in a girl called Vida Sunshyne. And accomplished performer who has done many amazing things on her own and is currently finishing up her solo album which is going to be amazing!
Your EP features 3 songs, plus an alternate version of "That Ain't Real Love" and an instrumental. Would I be right to assume that you have other songs that you also performed during your live shows?
Oh yes.. we have many many other great tunes.. and there are more coming! Watch out for them! Oh yes!
Do you do any covers during your live shows?
Nope.. all original..
Were you or Ehsan in other bands in the past?

I have been in many bands, none worth mentioning.. Ehsan was in a great live techno act in Australia called Bubble and Squeak, they toured extensively and were really popular on the underground circuit.
I have played around the world both live and as a DJ under the name Digital Primate
Have either of you DJ'd or produced outside of Australia? Do you just use your real names when you DJ or do you have aliases?
I have DJ'd all over the world, from Tresor in Berlin in the mid 90's to underground warehouse parties in the UK and outdoor dance parties in Australia under the name Digital Primate. Ehsan, too, has played around the world under his own name and as part of Bubble and Squeak.. but he is younger than me.
Who are some of your favorite artists to play when you DJ?
Oh goodness.. so many.. I play techno, so from earlier techno by Surgeon, DJ Rush, Chicago styles from DJ Funk, Deeon, Organ Grinder, more recently am into artists like Loco Dice and his posse on the Desolat label and so so many others too many to mention.. I dunno, tracks that I love for the groove and don't even remember the names of.. there have been so many over the years! Faceless techno bollocks that I love.. I released records on the now defunkt but legendary UK label called Pro-jex and there are so many great records on this label that I used to play..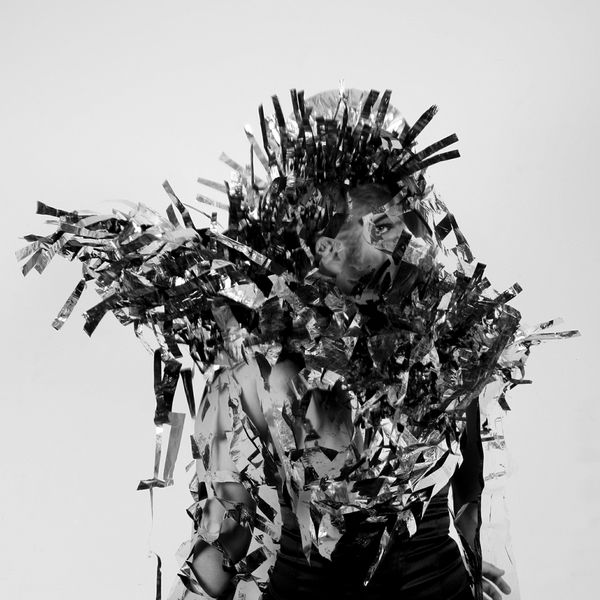 I know you formed Metals in Melbourne. Is that where you're both originally from? Is that where Metals is based out of today?
I am from Ireland originally and Ehsan is from a town called Castlemaine (outside of Melbourne). Now I am based in London and Ehsan is in Melbourne.. we collaborate remotely and when we play we come together ..
What's the music scene in Australia like these days? Is there are particular genre that's really dominating the scene right now?
The music scene in Australia has always been highly creative and interesting. In recent years, however, there has been more of an interest in roots music and "nice" stuff.. but perhaps that is worldwide.. I wonder if people like being challenged any more?  Perhaps..
What genre do you consider your music to be? Do you think about genre distinctions when you write your songs or do you just write and whatever comes out comes out?
Ghetto tech booty rock..
Never think of genre distinctions for Metals.. just whatever feels right. Certainly there are influences form many sources.. from dub to techno, soul to rock.. as long as it has DA FUNK I am happy !
How does the writing process usually go when you're writing songs together? I mean, does one person focus on the music while the other focuses on the lyrics or how does it usually work?
Usually I make demo ideas.. it could be just a beat or a whole passage.. then we pass it to the singer who comes up with some melodies.. we discuss lyrical concepts and then, in Candice's case, she has written the lyrics. I have changed them around, or identified the chorus and we have developed that further sometimes changing the lyrics a bit.. it is an organic process.
Who are your favorite songwriters or artists in general? I'm assuming that you're influenced by more than just other DJs and producers. I'm especially curious as to who your rock influences are, since there's clearly a rock influence in your songs…
everything and everyone influences us.. sometimes we are listening to Gregorian chants and other times it's Jimi Hendrix, AC/DC or The Stooges. Radiohead, The Stone Roses, Sly and the Family Stone.. Chase and Status, Magnetic Man.. Flying Lotus, oh jeeze.. sometimes it's old school house and sometimes it is amazing stuff from Fever Ray or The Knife.. then back to classical music.
Then it could be Pink Floyd or The Smiths.. our tastes are diverse..
Do you have a record deal for your EP, When I Say You, I Mean Me ? If you're licensing it out to different labels in different territories, which labels are you going with?
It comes out in January and we are not licensing it to anyone.. we are giving it away to everyone.. it's free! We had a major deal and that didn't work out so great. Thankfully we parted ways respectfully and now we can do what we like with our music.. so, we are doing it entirely independently and giving it away.. yep.. for free..
Are any of the songs from the EP being remixed by other artists? If so, will you be releasing the remixes?
We have some remixes being done at the moment but until they are delivered it's best not to say who by.. but there will be some pretty interesting ones from big names and unknowns.. we will go with the mixes that simply ROCK! and we will be giving these away too!
Have you made any videos yet?
here is our last video we did at the start of the year.. the track is a collaboration between ourselves and a great UK Garage producer of legendary status: Artful:
Have you thought about when you might release a full-length album?
Oh yes of course.. we are working on that as we speak.. a lot of it is already done in fact but we keep coming up with new material and so it should be interesting when it is done!
I think, however, that we would like to just keep releasing tunes individually for a time.. you know. build up the name and keep delivering good stuff.. let you decide..
Connect with Metals:
https://www.facebook.com/metalsmusic
https://twitter.com/metalsmusic