DEMO TAPED: "OWN IT"
Hailing from Atlanta, the 19-year old R&B sensation known as Demo Taped has just released his highly anticipated Momentary EP.  The central theme of the release is dealing with his anxiety and depression, something most of us can relate to these days.  That said, we're especially fond of the relationship-inspired song "Own It," a sleek alt-R&B track with jumpy beats and bursts of synth that reminds us of Dawn Richard and FKA twigs, though somewhat less trippy.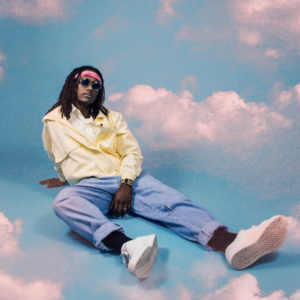 COMPANY OF THIEVES: "TREASURE"
Following a six-year hiatus, the critically acclaimed Company of Thieves has just finished a successful tour with Walk The Moon and now they've finally released some new music in the form of their Better Together EP.  Our favorite track is the opener, "Treasure," a snappy yet dreamy song that will probably put you in a trance, so we don't recommend listening to it at work or while driving.  OK, so we're kidding.  Kind of.  Go ahead and give it a spin, see if it hypnotizes you.
LOLA MARSH: "THE WIND" (LIVE AT CAPITOL STUDIOS)
The most touching song we've heard from a former couple since whenever the last The Civil Wars release came out, Lola Marsh's "The Wind" is a glorious piano ballad.  "The wind is changing / And the sea is raging," the song goes.  "And it's time to say farewell."  We're pretty sure it's a song they wrote about their own break-up and it'll have you reading between the lines, too.  This version was recorded live at Capitol Studios and it's soul-piercing, heart-breaking stuff.
CHUCK ADAMS: "TAKE ME AS I AM (Mokita & GOLDHOUSE Remix)"
Chuck Adams is perhaps most known for writing songs for artists like Ludacris while signed to Jay-Z's Roc Nation label.  This week he delivers a punchy remix of his song "Take Me As I Am" by Mokita and GOLDHOUSE.  It would fit nicely on a mix with Demo Taped's track above.  It's a silky smooth R&B tune about giving anyone who wants you to change the middle finger.  We'll take him just the way he is.