HELLOWEEN are back!  With a blast!  On Nucelar Blast!  And their new single, "Battle's Won," which you ought to be listening to above, is a tremendous speed metal force to be reckoned with.  You've got to love those blazing guitars and monstrous drums.  And Andi Deris sounds as fabulous as ever, his vocals soaring high, full of heavy metal passion.  The song might be about celebrating after a battle is won, but it can serve as fuel for your own battle cry, giving you a serious kick in the ass, sheer auditory motivation.   Hell, I can't listen to this one without wanting to fist pump along.  I can already imagine how great it will be live.
"Battle's Won" will be released as a digital download and limited edition 2 track vinyl single on April 24th.  The B-side is called "Lost In America."
Helloween's new album, My God-Given Right, will be released on May 29th via Nuclear Blast.  It was recorded from October 2014 through February 2015 at the group's MiSueno Studio on the isle of Tenerife with producer Charlie Bauerfeind of Gotthard and Hammerfall fame.
My God-Given Right track list:
01. Heroes
02. Battle's Won
03. My God-Given Right
04. Stay Crazy
05. Lost In America
06. Russian Roulé
07. The Swing Of A Fallen World
08. Like Everybody Else
09. Creatures In Heaven
10. If God Loves Rock 'N' Roll
11. Living On The Edge
12. Claws
13. You, Still Of War
The limited digipak (with a special 3D lenticular cover) and the vinyl release will feature two bonus tracks:
14. I Wish I Were There
15. Wicked Game
The digital version features three bonus tracks:
14. I Wish I Were There
15. Wicked Game
16. Free World
The limited earbook edition will feature a bonus CD with four bonus tracks:
01. I Wish I Were There
02. Wicked Game
03. Nightmare
04. More Than A Lifetime
Pre-order here.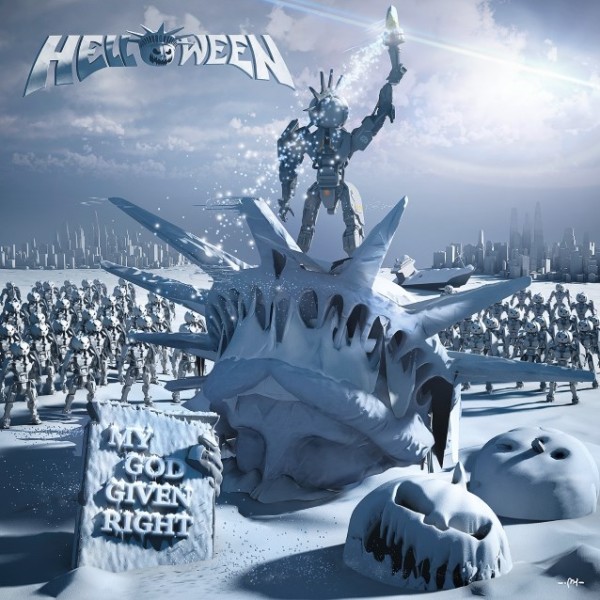 Youtube info:
Published on Apr 17, 2015