The Jeffery brothers, better known as Atlas Genius, recently released their spellbinding new album, Inanimate Objects, which we're sure to give a rave review soon, but in the meantime we just had to make their just released new single/video, "Molecules," our #songoftheday for today.  It's one of the album's many high points with cascading synths, lively beats, florescent guitars and Keith Jeffery's especially welcoming voice.  Wiki calls them an alternative rock band, but to our ears this is good, old fashioned synth pop.  Who cares what anyone calls it though?  All that matters is that it's a fun song with intelligent lyrics.
"I want to confess / That you own me / And we don't rest / If we're lonely," Keith Jeffery sings passionately during the chorus and it's sure to erase whatever song you currently have stuck in your head, replacing it with itself.  You won't be complaining, however.  You'll be singing along.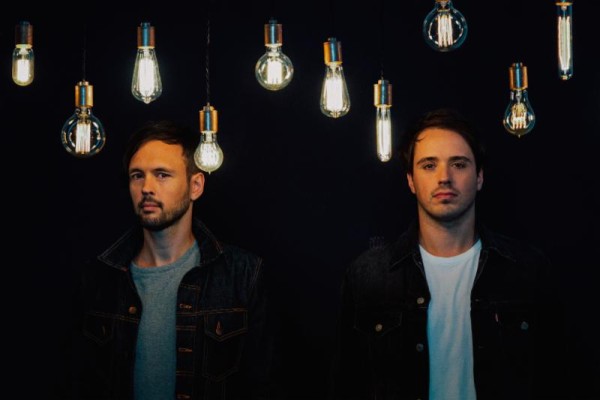 Press release:
LOS ANGELES, CA – September 2, 2015
 –
Atlas Genius'
new album,
Inanimate Objects
– the follow-up to the band's breakthrough debut,
When It Was Now
– is out now and available
HERE
. The band has unveiled the official video for the first single, "Molecules." Directed by longtime collaborator Claire Marie Vogel, it can be viewed
HERE
.
The Australian band performed "Molecules" last night during a return visit to "Jimmy Kimmel Live!" View their performance HERE. The track is a Top 20 hit at Alternative radio.
Atlas Genius
is currently touring the U.S. in support of Inanimate Objects. 
At 9:20 p.m. PT tonight,
Yahoo! Live
will stream their headline show at House of Blues in San Diego, CA.
The band 
will also be joining Passion Pit on tour, beginning with a show at House of Blues in Dallas on September 6 and including a performance at The Wiltern in Los Angeles on October 28th. Tickets are available
HERE
. See below for itinerary.
Entertainment Weekly
hailed
Inanimate Objects 
as one of the best new albums and noted, "it's a huge leap forward for the band-the hooks are bigger, the production deeper and more angular, and the grooves tighter. Jittery shout-along single 'Molecules' is the centerpiece, and it's an undeniable gem."
The Huffington Post
heralded the album as a "solid collection of catchy, diverse tracks fit for either the funkiest of parties or the rainiest of days."
"Listening to 'A Perfect End' with good quality headphones is a dream," said IndieShuffle.
The band, which
features brothers Keith and Michael Jeffery, produced Inanimate Objects with Frederik Thaae in Studio City, CA. While in Southern California, they were introduced to celebrity chef Jeff Mahin (Stella Barra, Summer House, M Kitchen) by Fitz and The Tantrums' Noelle Scaggs. He asked Atlas Genius to follow in Noelle's footsteps and participate in a DoRite Collab. Together with Mahin and Chef Francis Brennan, the band concocted the
"Friendly Ape" donut
, which is available exclusively at
DoRite Donuts in Chicago through September 11. Named after a track on
Inanimate Objects
,
the vegan donut combines slow roasted Michigan apples with a cardamom vanilla bean glaze, cinnamon granola and spices
.
Zach Brooks speaks with
Atlas Genius
in the latest "Food is the New Rock" podcast, which can be found
HERE
.
Atlas Genius'
20
13 full-length debut, When It Was Now, was hailed by Rolling Stone as a "spritely, melodic debut album" and featured the Gold-certified hit single "Trojans." After first being discovered by a slew of blogs, "Trojans" gained momentum online and on the radio. The band was signed to Warner Bros. Records and began 18 months of non-stop touring, including two national headline tours, opening for Imagine Dragons and Silversun Pickups and playing festivals like Lollapalooza, Outside Lands, Sasquatch, Firefly and many others. They also performed on numerous television shows, including The Tonight Show With Leno, The Late Show With David Letterman, Late Night with Jimmy Fallon, Conan and Jimmy Kimmel Live!
ATLAS GENIUS – U.S. TOUR DATES
* 9/2 – San Diego, CA @ House of Blues
+9/6 – Dallas, TX @ House of Blues
+9/9 – New Orleans, LA @ Joy Theater
9/12 – Charlotte, NC @ PNC Music Pavilion – WEND radio show
9/13 – Raleigh, NC @ Walnut Creek Amphitheatre – 95X radio show
*9/15 – Richmond, VA @ The National
*9/16 – Norfolk, VA @ The NorVa
*9/19 – Rochester, NY @ Rochester Music Hall
*9/20 – Buffalo, NY @ The Waiting Room
*9/23 – Toronto, ON @ Modclub
*9/24 – Ferndale, MI @ Magic Bag
*9/28 – Portland, ME @ Port City Music Hall
*9/29 – New York, NY @ Music Hall of Williamsburg
10/17 – The Woodlands, TX @ The Cynthia Woods Mitchell Pavilion – Buzzfest – Buzz 94.5
+10/19 – St. Louis, MO @ The Pageant
+10/20 – Kansas City, MO @ Arvest Bank Theatre at Midland
10/24 – Mesa, AZ @ Mesa Amphitheater – Alt AZ radio show
+10/28 – Los Angeles, CA @ The Wiltern
+10/29 – Santa Ana, CA @ The Observatory
* headline show
+ opening for Passion Pit
Purchase Inanimate Objects 
HERE
View official video for "Molecules"
HERE
View Atlas Genius performing "Molecules" on "Jimmy Kimmel LIVE!" HERE
Watch livestream of tonight's San Diego show
HERE
Purchase tour tickets
HERE
See "Friendly Ape" donut
HERE
Listen to Atlas Genius on "Food is the New Rock" HERE
Youtube info:
Published on Sep 1, 2015