The first thing you need to know about Heaven & Earth is that some of these guys spend an awful lot of money having their hair permed every month so it's extra curly for your viewing pleasure.
OK, so I'm joking.  But that's what might go through your head within the first twenty seconds of watching this video.  So, I figured I'd address the pink elephant in the room first.  Now that it's been discussed, onto the tune…  which is fantastic!  
The song is called "The Game Has Changed" and starts off with some funkilicous bass then bursts into action with a highly caffeinated amount of energy, but then it slows down once it reaches the first verse and you're like, who slipped the benzo into my coffee?  I'd hoped it was going to get more intense at that point, so that was a minor let down the first time I heard it.  (That was my initial reaction, not the curly hair bit.)  But then it reaches the chorus and the energy returns and it's as infectious as anything on rock radio right now.  Their sound splits the difference between classic rock and funk, so it's something of a throwback, but who the hell cares?  These cats are beaucoup talented!  Joe Retta's voice is like a cross between Chris Cornell, Robert Plant and Bob Seger.  Not a combination anyone ever would've dreamed up, but those are the genes he was blessed with and he sounds both raw and polished all at once.  Smooth, yet plenty vibrant and tad bit rough around the edges.  You also might say he sounds like a blend of Steve Perry and Brian Johnson.  All of these are great singers in my mind and I love Retta's vocals accordingly.  Of course, everyone in the band just oozes with talent.  Stuart Smith's catchy guitar solos are on the shorter side, but that just means they're mighty effective and don't sound the least bit self-indulgent.  Meanwhile, Ty Baillie's organ sounds like it's sampled from a lost track by The Doors, which is pretty darn cool.  And Lynn Sorensen's bass guitar playing is like pure cocaine. (I've never touched the stuff, but that's what I imagine cocaine would sound like if it was an instrument.)  And Kenny Aronoff is a living legend who's played on countless albums by countless artists and he's still bursting with contagious beats.  Bottom line: you need this song in your life.  You need their whole new album, Hard to Kill, in your life.  Even if you're turned off by "The Game Has Changed" right now, it's going to stay inside your head and whirl around in there until you find yourself tapping your foot to the beat and humming the melody.  Then you'll feel compelled to come back and listen to it again.  Twice.  Then you'll be like, holy shit, this is awesome!  And you'll e-mail your music buddies the link and tell them to check it out, too.  And Love is Pop will be flooded with more traffic than ever.  And you'll crash our server.  Hmm… maybe you shouldn't come back and listen to it.  So, listen to it on Spotify or Youtube instead!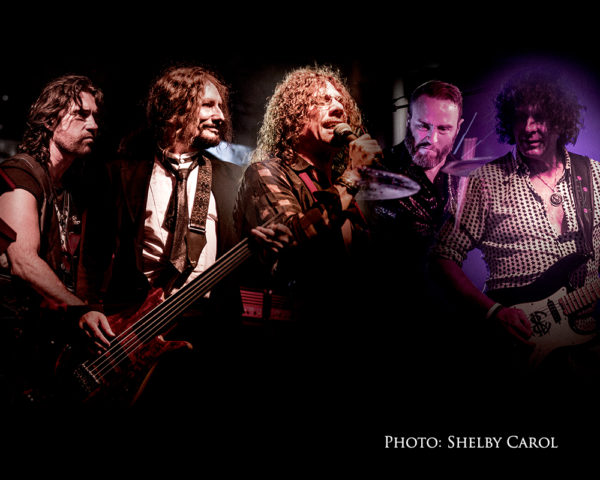 The official bio:
HEAVEN & EARTH features Joe Retta (lead vocals, guitar, harmonica), Stuart Smith (guitars), Lynn Sorensen (bass and vocals), keyboardist Ty Baillie (who has played with Katy Perry and Robbie Robertson), and essential to the album with his songwriting and drumming is Kenny Aronoff, who has been a sideman to countless bands both live and in-studio including Bob Seger, John Mellencamp, and the Rolling Stones. His distinctive style and energy is one to behold on HARD TO KILL. While on tour, the band includes musicians Mike Mangan (Hammond organ and keyboards) and Steven Wilson (drums, percussion, vocals).
Taking HARD TO KILL as a whole, the 11 original songs ring true and the melodies unfold like you have known them your whole life. The title track serves as the band's anthem, a testament to perseverance and the power of rock. "L.A. Blues" exposes the pitfalls of living in the City of Angels, while "The Game Has Changed" dramatically contrasts the past with the present. Meanwhile, "Til It's Over" will earn the admiration of longtime rock listeners, just as the attitude in "Bleed Me Dry" and "Walk Away" will speak to any modern music fan.
"We feel that HARD TO KILL is definitely the band's best work yet, and we're excited to see how it's received," says guitarist Stuart Smith. "We're looking forward to going on tour and playing selections from all four HEAVEN & EARTH albums, as well as a few surprises."
With guidance from Ritchie Blackmore, Smith's own performing career took him across Europe with various bands, through New York City, and ultimately to Los Angeles where he first formed HEAVEN & EARTH. The band released two previous albums before he met singer Joe Retta about a decade
HEAVEN & EARTH founder/guitarist Stuart Smith was born in Great Britain, the son of an RAF jet fighter pilot, and he was originally classically trained on the guitar from the age of 8. After seeing a Deep Purple concert in the early '70s, he got turned on to rock & roll. When he was 19 years old, he met guitarist Ritchie Blackmore and the two became fast friends. Blackmore instantly took Smith under his wing and mentored him.ago, when both men were touring with The Sweet, known for the classic hits "Ballroom Blitz" and "Fox On The Run." After developing a strong writing partnership, Retta and Smith joined forces to continue the HEAVEN & EARTH legacy.
A native of Rochester, NY, Retta established himself as one of the most versatile singers in Los Angeles. He has performed with The Sweet, Gregg Rolie, Dio Disciples, and Trans-Siberian Orchestra. With Retta out in front, his powerful vocals and world-class musicianship are integral to HEAVEN & EARTH's epic sound.
Bassist Lynn Sorensen, a Seattle native, has performed all across the globe with Bad Company and in Paul Rodgers' band. As a teen, Sorensen studied classical violin and viola; to this day, he maintains a passion for classical music.