Spoiler alert: the above video for Polly Scattergood's seven-minute+ new single, "Red," is part two of a five-part short film she'll be releasing this Spring at some point. But, of course, we think you should watch it right now. However, if you'd rather just listen to the song and remain spoiler-free, then click here to go a page that will bring you the song on various streaming services: https://smarturl.it/PollyScattergood-RED
But if you are going to watch "Red," here's part one of the short film, which is the video for the less lengthy but equally moving "Sphere," which finds Polly describing what she sees in an almost stream-of-consciousness fashion: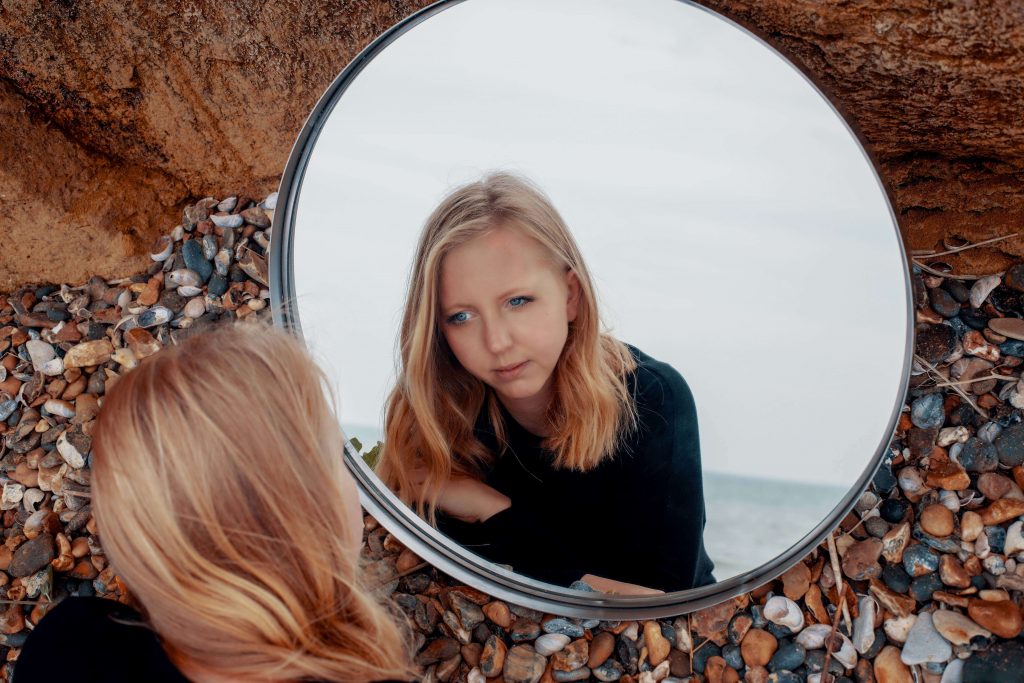 "I close my mind a thousand times / I can't erase the stench of you," Polly sings early on in "Red," a "clarion call to womankind" that tells the vivid story of "a woman's journey after her world is turned upside down" in raw language that doesn't pull any punches. Anyone who's heard Polly's previous work on her last album, Arrows, or her 2016 folk project onDeadWaves with Maps, knows what a masterful storyteller she is and that's a gift that remains intact — and arguably enhanced — throughout her spectacular new album, In This Moment, which is due out on May 1st. And let me just say, if you find these two songs moving, prepare to be floored when you hear the full album.
Back in 2013, I did a year-end best-of list and Polly's album Arrows was my number one pick for the year. I stand by that review and it remains one of my favorite albums of all-time, a veritable electro-pop masterpiece. I've been fortunate enough to listen to the decidedly more organic In This Moment a few times already and can honestly say it's another album of the year contender. I know it's a bit premature to say something like that in February, but if you've listened to these songs attentively then I suspect you can understand why.
It's interesting that Polly is seen looking into a Sphere on In This Moment's cover and in the short film because what I find most remarkable about her is how she seems to observe the world with different — and arguably superior — eyes. Like she's able to peer in on us like a goddess watching her people in a snow globe or crystal ball. One also gets the impression that she can read our minds, pulling out our deepest and darkest thoughts and fears. With that information, she has a magical way of singing about things that one might think about but probably wouldn't say out-loud. In other words, she dares to tell the truth. Always. Sometimes it's her truth. Other times, it might be yours. Or mine. You never know when she's watching or what she might have to say about you. That her voice is so haunting and hypnotic is just the icing on the cake.
If you've been moved by "Red" and "Sphere," I highly suggest you order or pre-save the new album below. As the press release perfectly states: "'In This Moment' is an album inspired by travel, soundtracks, films, and music that transports people to very different worlds; the kind of music that makes the listener shut their eyes and be taken on a journey."
Pre-order the album:
Exclusive products direct from Polly's store – https://polly-scattergood.tmstor.es
From other retailers – https://smarturl.it/In-This-Moment
Connect with Polly Scattergood:
Official Site – https://www.pollyscattergood.com
Spotify – https://open.spotify.com/user/1163419…
Apple Music – https://music.apple.com/gb/artist/pol…
Facebook – https://www.facebook.com/polly.scatte…
Instagram – https://www.instagram.com/pollyscatte…
Twitter – https://twitter.com/pollyworld
Youtube subscribe – http://bit.ly/10ctJpH