Today, September 10th, is World Suicide Prevention Day, and MXMS have just released this edgy new single, "What's My Name," to draw attention to that. We think it's a moody gem that's sure to become an anthem for many of the depressed people who'll listen to it. As someone who struggles with bipolar disorder, PTSD and depression, I think it's a very nice gesture. You might think the song would make people more depressed when they listen to it, and it may have that effect on some, but for depressed people who struggle to be heard, it's the sort of song you might find companionship and even solace with. -Michael McCarthy
THE COMPLETE PRESS RELEASE:
For Immediate release: September 10, 2019) – 2019 has been a standout year for MXMS, also known as Me and My Shadow. This past spring, the self-produced duo released their critically acclaimed debut EP 'Funeral Pop I' featuring the single, "Paris"," which earned the #1 chart placement on HypeM. They racked up millions of streams online, became a favorite on a smattering of local radio stations, praised by media critics, and criss-crossed the country on a successful summer tour with She Wants Revenge.
And, it's no wonder. Comprised of singer, Ariel Levitan, and multi-instrumentalist, Jeremy Dawson, MXMS has created a truly captivating new genre – Funeral Pop – by fusing classic melodic songwriting with dark, unfiltered chaos. Moreover, Levitan and Dawson offer hope through honesty, pouring their deeply personal stories into almost every song. Perhaps that's why they've chosen today to release their newest song "What's My Name." War torn from battles with mental illness and addiction, Levitan and Dawson want their listeners to know that today is an important day. Today is World Suicide Prevention Day. "I was the painfully shy girl in school that used to walk the hallways hugging the wall," shares Levitan. "I prayed that no one would notice me. I would constantly hope that one day I wouldn't be seen as a moving target. I know what it's like to eat lunch in a bathroom stall. I know what it's like to want to fit in so desperately that you'll do just about anything." Like many of their previous singles "What's My name" deals with sensitive subject matter best captured with a beautifully haunting delivery, relying on the minimalism of raw piano and voice; drawing from Jeremy's classical piano background complimenting Ariel's heart-piercing tenor vocals. "This song is a snapshot into the racing mind in harrowing and traumatizing moments," she continues. "Words pierce. Feelings get hurt. And we are left desperate for solutions. There is a solution; and that is love. We decided a long time ago that we wanted to release our new song on September 10, World Suicide Prevention Day." "What's My Name" is auto-biographical, for both Levitan and Dawson. The song poignantly describes the intrusive thoughts of a young girl who was left behind by her biological parents – a young girl who must grapple with her fears and insecurities. A young girl who must endure relentless bullying on a daily basis. The duo have been working on this single for a long time, and it was important for them to have it ready for release today in hopes that their message will impact those who have shared similar experiences. "It is our sincere hope that this song spreads awareness around the grave consequences of bullying," says Levitan. "There is hope after bullying. We salute anyone who has persevered through darkness. Let's continue the conversation, speak the truth and conquer all hatred through darkness."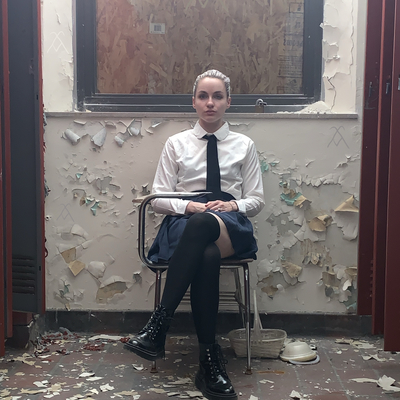 Follow MXMS:
Facebook – Twitter – SoundCloud – Instagram – YouTube – Label: We Are: The Guard
AVAILABLE ON ALL PLATFORMS HERE
Out today via https://www.wearetheguard.com
WATCH TEASER OF VIDEO TO BE RELEASED SOON HERE