Donnie Vie is back! It's been a long time since he released a new album I'm pleased as punch to say that he has one on the way. Donnie describes the first single, "I Could Save the World" as, "A big song, full of passion and colors." And I couldn't agree more. I see more colors than the band used in their old videos when I listen to this beautiful tune. OK, so, perhaps it's a bit of a cop-out to call a song on an album called Beautiful Things beautiful, but if the shoe fits, wear it, as they say. And this song couldn't be any more beautiful if it tried. I'd even go so far as to say it's pretty.
I don't understand why Donnie can't be making this music with Enuff Z'Nuff. It's very much in the vein of their Seven album, which was previously released in Japan as Chip and Donnie: Brothers. And I always looked at them like real life brothers. I never would've expected Chip to be fronting Enuff Z'Nuff while Donnie does solo music. This isn't the first thing Donnie has done solo, but I believe he was still doing EZN at the time of his prior solo releases. In any case, I guess only Chip and Donnie know why they aren't making music anymore. The upside of this is that the new Enuff Z'Nuff album, Diamonds, with Chip fronting the band, is fantastic. I love that album. I like it better than a couple of EZN's albums, to be totally honest. Meanwhile, now we'll be getting a new album from Donnie, too. So, this way we're actually getting more music out of these guys. Plus, Donnie always wrote most of the songs in EZN and without him in the band it's given Chip the opportunity to truly write an album himself and shine.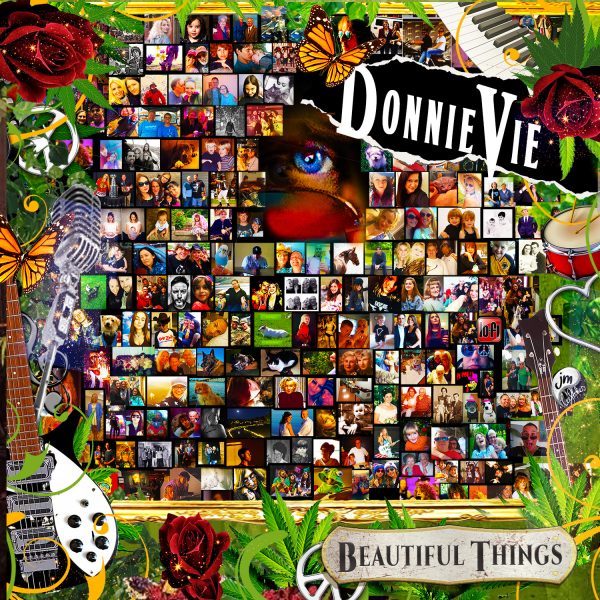 Usually, I use the "heavy metal" tag when bands or solo artists associated with that term back in the day release new music. I couldn't do it with this one, though. The reason? I find this shiny diamond of a song to be much more in the pop rock vein. He's still making rock music, but his pop influences are shining proud on his sleeve.
Since Diamonds is already out, I must say that Beautiful Things is the album I am most dying to hear as 2018 winds down. Donnie has set the bar rather high with "I could Save The World," but practially everything he writes is amazing and I'm sure it's going to be one hell of an album.
###
Here's the 411 from the press release:
Donnie Vie is one of rock's biggest secrets who has been crafting melodic power pop and rock songs for over 30 years. He and his former band Enuff Z'Nuff were instant critics' darlings. Donnie has amassed over 25 albums' worth of songs and decades of live shows to his name, both with and without his former band. Now a solo act, Vie is pleased to announce the release of his new album "Beautiful Things," this November.
Ultimate Classic Rock
is hosting the exclusive premiere of the first single from the album entitled
"I Could Save The World."
Listen
HERE
, to the track which
Donnie
describes to
UCR
as his first idea after a 3 year break and as "A big song, full of passion and colors."
Without the fans and their support via
Pledge Music
,
"Beautiful Things"
would not have been possible explains
Vie
, "With the help of you, my brothers and sisters, contributions will be applied directly to the source of what it takes to create and produce a great quality record, while at the same time, all of us being hands on and connected throughout the process as its being made. For your contributions, there's a list of things I can offer in return besides a personal guarantee of 100% satisfaction of the results."
The album art itself features actual photos of backers that have supported the release.
Says Vie of the new record, "The Gods left a basket of really cool ideas on my doorstep, and then it was like a build-your-own sundae out of melodies and sounds. The result was pretty magical and exceeded my hopes. There truly are some really great cats playing on this stuff."
Players on the record inlcude: Paul Gilbert, Roger Joseph Manning, Jr., Matt Walker, Ed Breckenfeld, Jonny Polonsky, Casey McDonough, Phil Angotti, Jay O'Rourke, Alton Smith, Mike LaPond, John Monaco, Donnie Vie.
Vie's hard rocking fan base is still at its strongest. The members of this cult-like following recognize Donnie's musical genius and embrace his poetic nature with its signature hooks. His supporters remain some of his most faithful, loyal and enthusiastic out there, and it is these fans who say that "these songs will stand the test of time because his songwriting and melodies are magical.
All songs written, arranged and performed by Donnie Vie.
Produced, engineered and mixed by Mike Tholen
Mastered by Dave McNair
Recorded at Beautiful Things Studio, Chicago Illinois
Gravity Studio, Chicago, Illinois
Jim Peterik Studios, Chicago, Illinois
Big Fish Recording, Encinitas, California