If you liked electronica, as everyone was calling it, back in the '90's then chances are you were a fan of Curve. If I had to describe the duo from London today I would call them electro-pop with an edgy slice of alt rock and a hint of industrial thrown in for good measure. In any case, after several years of kicking around in obscurity, Curve's 1997 album Come Clean was a veritable breakthrough. They might not have sold as many records as Garbage, but Come Clean was often compared to their debut and some critics even thought it was better. While I don't recall what I wrote, I am certain that I gave it a rave review in Lollipop magazine.
Initially, I thought Come Clean was Curve's debut. The press release from Universal Records practically said as much. But I soon learned that Curve had been around since 1990 and released two albums before Come Clean, Doppelgänger and Cuckoo. Needless to say I hunted them down and was surprised to discover that Garbage had apparently been influenced by Curve and not vice versa. (Or maybe they influenced each other.) Suffice to say that Curve practically started electronica and should have been just as big as Garbage. Unfortunately, I don't think they ever got quite that popular — at least not here in the States — but they're truly legendary and most anyone who was into electronica would name Come Clean as one of the best albums of the '90's. Off the top of my head, I would say that it was probably my favorite album of 1997. And I am certain that it would go viral in the blogosphere if it was released today.
Curve consisted of singer Toni Halliday and multi-instrumentalist Dean Garcia, who played bass, guitar, drums and keyboards, as well as handling producing and programming. They split up in 2005, but, luckily, Dean's daughter, Rose Berlin, proved to be a talented singer and they started releasing music together as SPC ECO (pronounced SPACE ECHO) in 2008. Meanwhile, Rose was attending college, recently completing a BA Sculpture with honors. Now that Rose is done with school, she and her father are focusing on making SPC ECO's first full-length album; she's handling the vocals and lyrics while he does everything else. Their new song, "Delusional Waste," is the first single from that album and it's one of the tastiest electro-treats I've heard in a long time.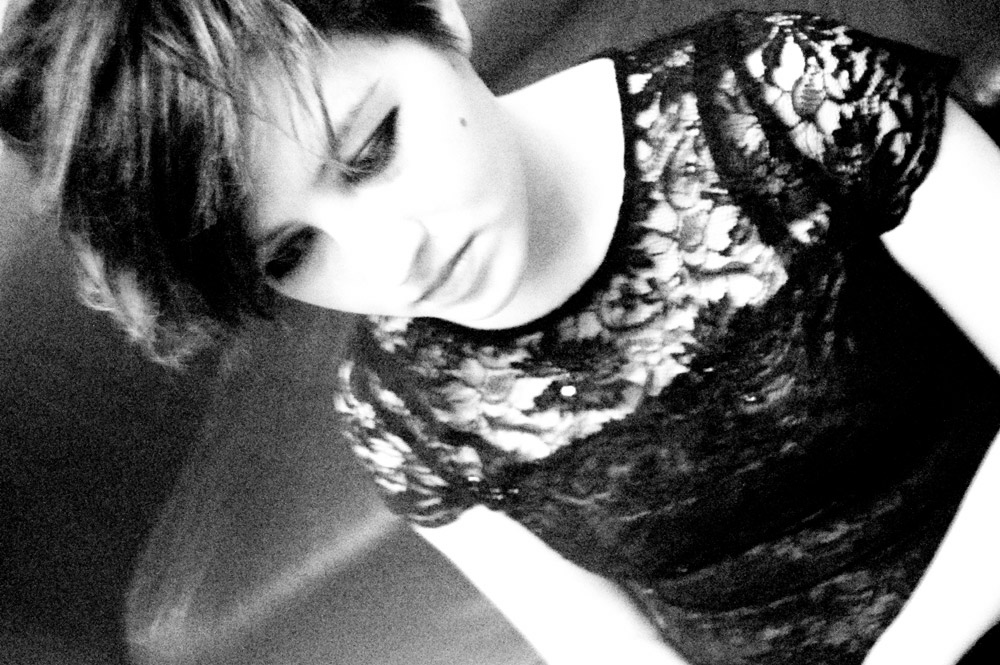 It begins with eerie synth lurking behind luscious, throbbing bass that's quickly joined by a rapid, punchy beat. Before Rose even begins singing, it's already sucked you in and essentially hypnotized you. And once she does start singing — "I don't wanna go out like this / Gonna die like this if you carry on" — you're wholly addicted, as though you're a kid who's just eaten your first piece of chocolate. Her remarkable voice is soothing and haunting all at once, meanwhile it has just enough pop flair to hook listeners who normally might not listen to artsy electro-pop, which is what I would have to call this. (That said, its beat could easily be considered trance and it's not hard to imagine it pounding away at a club while the crowd goes wild.) If I had to compare her to other singers, I would say that she's like a cross between Grimes and Lily Allen. She's got the ethereal and grave thing that Grimes does down pat, but she's also got the lovely British accent and sarcasm of Lily. To that end, her bold lyrics sometimes remind me of Lily's, especially when she sings things like "wipe that smile right off your face" and "I've got another date with the whole wide world." Or the biting chorus, which also calls to mind Shirley Manson: "You're a fucking waste of space / Look you're incurable delusional waste."
Production-wise, "Delusional Waste" is on par with anything Dean has done before. He pours on layers of evocative yet beautiful synth and subtle electro-flourishes but is wise enough not to go over-board. In a sense, he's taken a less is more approach with this one, allowing Rose's voice and the beat to drive the track. It's quite brilliant, really.
The single comes with a pair of remixes, courtesy of Lady Barcelona and PigGYfUck.
Lady Barcelona initially just stutters bits of Rose's vocals over ambient synth and a dash of electro-fluttering, but around the one minute mark a deep house beat reminiscent of Deadmau5 kicks in, ready to fill dancefloors at all the trendiest raves.
The PigGYfUck remix essentially takes the song and turns it upside down. Or just plain throws it out the window. While it starts off with snippets of Rose's vocals gliding over a slow, syrupy beat, it soon shifts into the realm of old school techno and drum 'n' bass all at once, bursting with kinetic, whiplash energy. Meanwhile, a guy saying the word "damn" is looped over and over again and that's actually louder in the mix than Rose's vocals. Also, it's impossible to listen to this remix and not think of Prodigy's "Smack My Bitch Up." Tempo-wise, intensity wise, percussion wise — it just reeks of the Prodigy classic. And I'd be shocked if PigGYfUck said that he wasn't influenced by Prodigy. It's almost as though this is really a remix of "Smack My Bitch Up" that he just happened to add some of Rose's vocals to. That said, it's an entirely infectious track even if it barely has anything to do with the song it's supposed to be a remix of.
In closing, I simply must say that I hope Rose and Dean finish the album soon because I am dying to hear it.