Lou Doillon might be unknown to most people here in the United States, but in her native France she's practically royalty, being the daughter of the famous French singer/actress Jane Birkin and the acclaimed film director Jacques Doillon. She's also the half-sister of actress/singer Charlotte Gainsbourg and step-daughter of the late French singer/songwriter Serge Gainsbourg.
For many years, Lou was a successful model and popular French actress, but she did not want to have a career in music, feeling that she couldn't possibly live up to the expectations people would have. She also knew some would criticize her for not being Serge Gainsbourg's biological daughter and that others would want her to fail because she was already successful as a model and actress and there are always those who want you to fail when you're already hugely popular for one thing and you try to do something else.
After years of keeping it as a private hobby, it was only at the age of 30 that she decided to make an album at the urging of her friend, singer/musician Étienne Daho.
I've read conflicting things about why Lou decided to write her album in English. She's said that it felt like her "private language" but she's also talked about how she wanted to find an audience outside of France. She's said that when people write in French they use rhyming dictionaries and put in references to poetry and so forth. She told The Quietus, "English has this wonderful capacity to be blurry. In French if I write one sentence you instantly know if you're talking about a man or a woman, whereas in English you have more freedom."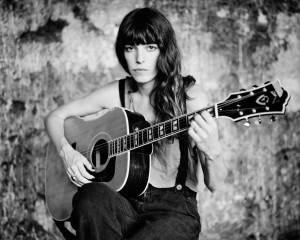 Places began with Lou writing songs at home in between making movies, but once she was ready she went into the studio with producer Zdar — famous for his work with Beastie Boys, Phoenix, The Rapture and others — at Studio De LA Seine in Paris.
The European release of Lou's first single, "ICU," immediately caught people's attention. Sure, there were some French people who criticized her because it wasn't in French, but those who liked the song seemed to greatly outnumber those who didn't. And there were even less criticizing her after Places was released. A huge success, the album went platinum and she won the award for best female performer of the year at Les Victoires de la Musique, which is the French equivalent of the Brits or Grammy's. Now she's compared to hugely successful French singers like Carla Bruni and Keren Ann.
It only takes one listen to "ICU," which opens Places, to realize that you're listening to an incredible artist with a unique voice in every sense of the word. It's famous for its opening: "I wake up some mornings / thank God not as often as I used to." It's even more famous for the story it tells, about missing a long lost friend. "I sometimes wish you would call me," she sings. "But then I wouldn't know what to say." Her voice is smoky and haunting, but there's also something calming if not entirely warming about it. She has a way of making the listener feel like they're listening to an album by a long lost friend of their own. Musically, "ICU" is very rich, splitting the difference between The Velvet Underground and today's folk. It begins with somber piano then adds gentle drums, bass and guitars (mostly acoustic), gradually unfolding. Eventually, it even adds strings and just a touch of horns. Zdar gives each instrument plenty of breathing room and the sound is so clear that you feel as though you're listening to them perform it right there in your home.
"ICU" was released as a single prior to the release of the album. The first official single from Places is its second track, "Devil or Angel," which owes even more to The Velvet Underground with its whimsical melody but also Laura Marling with its biting lyrics. "Honey you're so quick to skip from praise to slander / devil or angel, I'm not one or the other / and I'm sorry if I, if I disappoint you so," she sings with only a hint of anger. Mostly, she sings the tale of a woman who's done trying to live up to someone's expectations matter-of-factly. This woman is clearly over it already.
The album continues with "One Day After Another," which has been compared to the lyrics of Patti Smith, though the slightly upbeat music unfolds like a Joni Mitchell classic and the song clearly owes a debt to Keren Ann. "And the names they change / and the stories they end / but it's the same words, lover after lover," she sings, more like she's just making a casual observation than the sort of deep thought that weighs you down. She sings much of the album that way and is able to point out things that other artists couldn't get away with without sounding too depressing.
Lou often sings things with an air of vulnerability, but it's no more evident than during the song "Same Old Game." "I found me a man that don't give a damn / so I wait, I wait every night," she sings, a bit more softly than she sings most of the album. It goes on, "Once I was strong / and now I'm down on my knees trying to please you." Most of the women who inhabit Lou's songs would have left this man already.
"Jealousy, one day you'll finish me / like maggots do flesh / but at least they come with rest," she sings during the down-tempo piano ballad "Jealousy." More disturbing is the lyric, "Jealousy, the way you beat me / even when he's gone / I'm never quite alone." She's never clear about whether the beatings are physical, emotional or both. She's often poetic like that. It's one of her charms.
Lou's songs, which she admits are largely autobiographical, tell the tales of someone who's lived, loved and made a lot of observations. You'll feel privileged that she's sharing them with you.