Night & Day is Spanish singer/songwriter Virginia Labuat's first album entirely in English, but you'd never know that from listening to it. Her pronunciation is better than that of many artists whose only language is English and her command of the language in her lyrics is always spot on, sans awkward phrasing. Suffice to say that this isn't one of those albums where an artist releases a record in a language they barely know and proceeds to massacre the language from the first track until the last. No, Virginia commands English masterfully and has many clever lyrics to prove it.
The album opens with the appropriately-titled "Let Me Talk," which begins with simple yet impressive percussion and delicately-played acoustic guitar. "Let me talk about it," Virginia sings, "I have to, let me talk about it, I'm now ready to." Immediately your mind should be flooded with the names of some of the very talented artists Virginia has been inspired by. The first three who came to my mind were Vanessa Paradis, Melody Gardot and Amy Winehouse. (It turns out Virginia actually lists Gardot and Winehouse among her influences on her Spanish Wikipedia page.) The tone of Virginia's voice reminds me of Paradis while her actual vocal style reminds me of Gardot and the arrangement of the song calls to mind Winehouse. And these are just the influences I hear throughout this song; the album is full of others. All of that being said, "Let Me Talk" is an enticing invitation into Virginia's world that listeners should want to accept even if they're unfamiliar with the artists she's been inspired by. Besides, ultimately, Virginia is Virginia. She's a person — a unique individual — not merely the sum of her influences.
In addition to many artists, Virginia has been inspired by many eras and genres of music. "Main Street," for example, has shades of swing and harkens back to '50's pop. Even the length of the song screams retro: it clocks in at 2:13, which is roughly how long most songs in the '50's were. To that end, several of Virginia's throwback songs are under three minutes, but the album more than makes up for it, being that it's 14 songs. And not all of the songs are short. The country-flavored "For Once" is nearly four joyful minutes. "I'll be there by your side," Virginia sings with what sounds like an entire choir backing her. And the harmonica-laced break-up number "It's Time" is just two seconds shy of four minutes.
One of the most impressive things about Night & Day is how immaculate the production is. Regardless of whatever genre or era a song harkens to, it's always exquisitely-produced in such a way that all of the songs have plenty of breathing room. You can pick an instrument — or Virginia's voice — and listen to it without anything else getting in your way. This isn't one of those modern albums where you hear twenty tracks all playing at the same time, the levels of most of them blaring, with everything drowning everything else out. Here, everything sounds clear, sharp and wonderful. And these songs actually sound like they come from the eras they're supposed to emulate. When Virginia does '60's jazz on "Get The Check," it actually sounds the way a '60's jazz record would sound. It's rare that so much quality and care is given to the production of an album these days. There are plenty of albums that would like to sound like Amy Winehouse's Back To Black but none of them really do. Since Winehouse, the only artist I can think of who's done retro that sounded like it came from the period it's harkening back to is Veronica Maggio, whose first two albums very much had that Winehouse/producer Mark Ronson vibe, though they were considerably more upbeat than Winehouse's records. God bless Duffy and Adele — I love them both — but their albums don't quite sound retro, not in the way that Virginia's album does.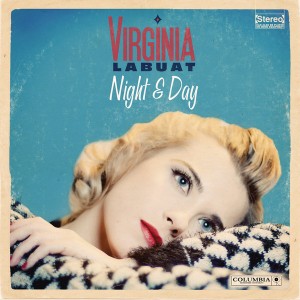 Another highlight is "Out of the Blue," a pristine ballad that sounds like it could have been produced by Phil Spector. "I was waiting, and waiting, and waiting and waiting so long," she sings, heartache in her voice. Which brings me to another thing about Virginia: her voice has a timeless quality to it, being that she has such a wide array of influences and, apparently, good genetics. Her songs are also timeless because they're mostly about love, the one subject that never gets old. But, even musically, they sound fresh, vibrant and exciting. She's an artist who makes such an impression that you'll probably always remember where you were the first time you heard her, not unlike the first time you heard Adele or Radiohead or The Beatles.