I became a Tricky fan in 1996 when I bought his album Pre-Millennium Tension after a girl I'd just be out on a date with said that she loved him. She really emphasized the word "love," and it was clear that she more or less worshiped the guy. I thought she was pretty wonderful, so if she loved Tricky then I was going to love Tricky, too. When I went home that night we had a bizarre storm. It was the middle of the winter and we had several feet of snow yet we had a lightning storm. The worst lightning storm I'd ever seen. And, of course, the power went out. And so I got in bed with my discman and the Tricky CD and proceeded to listen to it. Wow. It was unlike anything I'd ever heard and listening to it while lightning flickered in the windows was quite the trip. I suppose it was appropriate that I was in such a state while first experiencing trip-hop. After all, Pre-Millennium Tension was an album full of darkness and paranoia. As I listened to it, it seemed that every song was a little more hypnotic than the one before. Maybe it just seemed that way because I was falling in love with it, growing more and more consumed by it with each passing second.
Just a few days later I picked up Tricky's debut album, Maxinquaye, and his side-project album Nearly God. I fell in love with both of them, though I liked Maxinquaye a bit more. Not as much as Pre-Millennium Tension though. Throughout the years I've heard many people state that Maxinquaye was Tricky's best album but I have always preferred the darker, more mesmerizing Pre-Millennium Tension. But suffice to say that I was hooked on Tricky and I've been a fan ever since.
Tricky has been hyping his new album, False Idols, as a return to the sound of Maxinquaye. Wiki has him quoted as even saying that "False Idols is a better album." I'm not sure that I would agree with that, but False Idols is an undeniably fantastic album and his best in years. Listening to it is like wandering through a pot smoke-filled bar full of beautiful women and shady men. It can put you on edge, but it can also seduce you. It's a highly potent blend of everything Tricky does best, like turning hip-hop beats into trip-hop beats that at times would seem to want to lull you off into a hypnotic state and at others would seem to want to kick you in the chest and demand your full attention. You never know what to expect from song to song, which keeps things very interesting and creates a state of suspense that one doesn't often feel when listening to albums these days. It also creates an air of paranoia, just like Tricky's first few records. It's dark and ominous, but there are moments, especially when his female guests are singing, that are quite gorgeous. It's robust, somewhat brooding, and amazing. And it's the best trip-hop album any artist has released since Massive Attack's Mezzanine.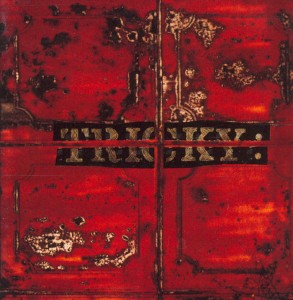 "Jesus died for someone's sins but not mine," a female singer croons while Tricky speaksangs those same lyrics during opening track "Somebody's Sins," which meshes punchy beats and low end bass perfectly with faint piano notes off in the distance, clicking along like the sound of a ticking clock. It's downright intoxicating. I only wish that it was longer, as it's under three minutes.
"In my mind, I have killed you long ago," sings his female guest on "Nothing Matters," calling to mind Portishead, who, like Tricky, helped create what is known as "the Bristol sound." It's one of the album's most up-tempo and pop-minded tracks, though it's rich in tribal beats and as captivating as anything on the album.
"Valentine" contains an interpolation of the classic song "My Funny Valentine," except here Tricky has changed the lyric to "my money valentine," which just goes to show you that he can corrupt anything and suck it into his bleak and often maddening world.
Another highlight is "Nothing's Changed" featuring Francesca Belmonte, who sings lyrics from Pre-Millennium Tension's "Christiansands" over orchestral swirls and layers of insistent beats. "Follow where Mary goes / cherish the things she knows / says if I change my stride / then I'll die." (At least that's what it's always sounded like to my ears; there are lyric sites that have other ideas.) "Nothing's changed, I still feel the same," she sings during the chorus while Tricky more or less whispers the same. "Nothing's changed."
Perhaps Tricky still feels the same, but, obviously, some things have changed since Maxinquaye. Over the years, Tricky has experimented with a great many types of music and just as many ways of producing it. I think that he took a little bit of what he learned while making each of his previous nine albums and used it to make False Idols, which finds him older, wiser and craftier than ever.