As the story goes, Angus and Julia Stone were happy with their solo careers and had no plans to make another album together. Ever. They didn't hate each other or anything like that. They simply went in two different directions musically and didn't feel they would ever be in the same place, stylistically speaking, to make an album together. But fate apparently had other ideas. The almighty Rick Rubin heard their music at a friend's party and decided to invite them to LA. In fact, they ended up visiting with him several times; I'm assuming they played a little music during these visits. And they gradually warmed up to the idea of doing another album together. But they didn't do things the way they used to with each of the two writing songs alone. Instead, they actually sat down and wrote the songs together for the first time. By September of 2013 they had an album's worth of them and visited Rubin once again, this time to make a record.
As soon as the beat drops during the eponymous album's opening track, "A Heartbreak," it's obvious that this isn't going to be your typical Angus & Julia Stone album. While the songs are their own and they're the ones performing them, we're getting them as seen through Rick Rubin's unique eyes. That alone makes things a little different. Compared to previous albums, the songs here have more breathing room and the guitars are generally louder. Additionally, their voices sound stronger somehow, richer even.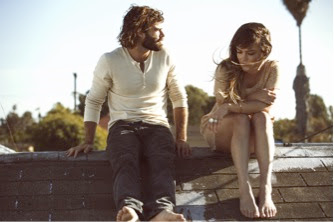 "I met your parents / They were lying / About falling in love," begins the above-mentioned "A Heartbreak." They sing the verses together but Angus' voice dominates them. During the chorus, both sing at the same volume. They make changes like this frequently throughout the album. You never know who is going to sing next or who'll be louder in the mix. It's not one of those duo albums where the duo sing every single lyric together. Not at all. And that keeps it interesting. "My Word for It," for example, begins with Julia singing entirely solo, which is how all of the verses end up going, Angus simply coming in during the chorus. "Don't take my word for it," they sing together. "I do / I do / I do." Their voices have always been quite different and rather than trying to sound the exact same as each other, they simply sing in their own voice. It doesn't matter if they're in the exact same key. Their voices don't need to melt together like honey and tea. The fact that they sound different than each other has always been one of their best qualities and Rubin cashes in on that.
Angus takes the lead on "Grizzly Bear," Julia only occasionally helping out far off in the background. They just do what they feel serves the songs best, just as Rubin clearly manned the controls in the way he thought would serve the songs best. And they've won. They've got an album that's nearly a full hour long without any filler whatsoever. Every single one of these songs has such heart — so much emotion — that whatever you listen to next will undoubtedly pale by comparison. These songs reach out and grab you, shaking you, making you feel something. The only other folk duo — or even group — that I know of who deliver such powerful, emotive songs is The Civil Wars. Beyond that, Angus & Julia Stone are the very core of folk music today. And this album is 100% art, 100% heart, 100% soul, 100% everything, the epitome of the genre. As the saying goes, it don't get better than this, babe. A serious contender for album of the year.