Last night was part of Mohegan Sun's '80's weekend at their Connecticut casino.  Def Leppard was supposed to perform in the 10,000 seater arena but were unable to due to health issues with one of the band members.  So, as we learned last night, Joe Elliot called Skid Row guitarist Snake Sabo and asked if they would headline in their place.  Once the casino agreed to that, which made perfect sense because the heavy metal bands draw the biggest crowds to their free shows in the Wolf Den club, Skid Row then decided to have Slaughter join them.  And, perhaps because people are used to seeing the bands for free in the Wolf Den, Mohegan decided it should be a free show.  They didn't want a massive zoo of people waiting to get in though, so instead of being first come first served like the Wolf Den, Mohegan decided to make this free show invitation only, but then they apparently invited just about everyone who has a membership card with them because I saw all the usual people from the Wolf Den shows there last night.
Slaughter were fantastic last night.  I'd seen them in the Wolf Den about a year or two ago and I was a little disappointed with Mark Slaughter's vocals.  He just didn't seem to be hitting the high notes.  It was almost like he was afraid to go for them.  Maybe Slaughter hadn't performed in a while?  Who knows.  In any case, it was a good show over all.  Well, last night Mark was hitting ALL the high notes and then some.  Boy was he on fire.  The whole band kicked some major ass, especially drummer Zoltan Chaney, who does all sorts of tricks.  Enough to put Tommy Lee to shame, no kidding.  He hits cymbals with his feet, tosses both drum sticks into the air, all sorts of crazy things and he never misses a beat.  Honestly, he's one of the best heavy metal drummers out there today.  And, of course, Jeff Blando slayed it on guitar.  (Jeff replaced the late Tim Kelly over a decade ago and has been the band's lead guitarist ever since.)  Meanwhile, Dana Strum is a force to be reckoned with on the bass but then he's been one of my favorite bass players for thirty years, since he was in Vinnie Vincent Invasion with Mark Slaughter, Vincent being a former Kiss guitarist who's pretty much vanished from the planet.  Slaughter played for around an hour and ten minutes, covering all the hits like "Up All Night," "The Wild Life," "Real Love" and "Fly To The Angels."  Plus, plenty of other songs from Stick it To Ya and The Wild Life.  Unfortunately, they didn't do anything from their other albums, which are all just as good as the first two but far lesser known because they were released on a label that went out of business and were released during the grunge heyday and mostly ignored.  I would love to see Slaughter do an hour and a half show including some songs from those albums.  More importantly, I would love for Slaughter to release a new album.  A Mark Slaughter solo album called Reflections in a Rear View Mirror was released last year and wasn't bad at all, but a true band effort simply under the name Slaughter would be sweet, too.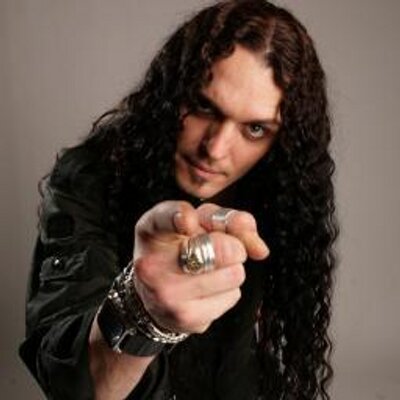 So, let's talk Skid Row.  Everyone in the audience was talking about how none of us knew who was going to be singing for them.  One guy said an ex-Dragonforce singer but another quickly interjected, stating that he heard that's not happening.  I had personally tweeted Snake Sabo a couple of times during the week and asked who'd be singing for them but he ignored me, which I found pretty frustrating.  Well, it turned out that ex-Dragonforce/I Am I singer ZP Theart was the singer and he was killer.  I loved Johnny Solinger and Tony Harnell is a God to me, so much so that I was livid that Tony wouldn't be singing with them — though I respect his reason for leaving — but ZP was probably the closest to Sebastian Bach that I've heard.  Not only does he have a similar haircut and frame, his voice cloned Bach's perfectly as he belted his way through opener "Slave To The Grind" and hits like "18 & Life" and "I Remember You."  When the band was finally introduced after several songs, everyone cheered when they said ZP's name, so clearly he's a winner.  It's not official if he's going to be Skid Row's permanent lead singer yet, but I should certainly hope so after last night's kick ass show.  I was especially impressed with ZP's performance of two of Slave To The Grind's difficult to sing ballads, "In A Darkened Room" and "Quicksand Jesus."  This was the first time I saw Skid Row do "Quicksand Jesus" since the actual tour for Slave To The Grind something like 25 years ago and he nailed it.  Those songs are full of emotion and you'd think ZP personally experienced the things the lyrics are about, he was so effectively emotive.  Interestingly, Skid Row only performed songs from their self-titled debut, Slave To The Grind and their Besides Our Selves EP, the latter of which Rachel Bolan sang The Ramones "Psycho Therapy" from., which has become a staple at Skid Row concerts for the past 20 some odd years.  There's something magical about the way Snake Sabo, Scotti Hill and Rachel Bolan play together.  Their sound is very unique, not unlike how Guns 'N' Roses Appetite for Destruction line up had a certain groove that no other G'NR line-up has managed to find.  (Here's hoping they will now that Duff and Slash are in the band.)  Skid Row closed out the night with Youth Gone Wild, to which end their not entirely youthful audience went wild.  I loved seeing Skid Row with Tony Harnell some months back — it was like seeing a supergroup, to me — but I can honestly say that they were just as good with ZP as they were with Tony.  I'm telling you, that ZP is a keeper.  If they go with someone else, I'll be sorely disappointed, regardless of who it is.  ZP was that damn good and such a natural, perfect fit.