The name Made of Oak might not ring a bell. You may not even recognize the real name of the man who's so named himself, Nick Sanborn. But if you're an electronic pop music fan, or just a fan of electronic music in general, then the name of his full-time gig surely will, as it's none other than universally loved Sylvan Esso.
You might ask yourself why Sanborn desired to set out and do a solo project when Sylvan Esso only has one album under its belt. That's what I wondered when I first heard about Made of Oak. But as soon as I heard it, the reason seemed obvious; because he felt like doing something different. For starters, he has not replaced the other half of Sylvan Esso, vocalist Amelia Meath. You see, Sanborn's Penumbra consists of five *instrumental* tracks.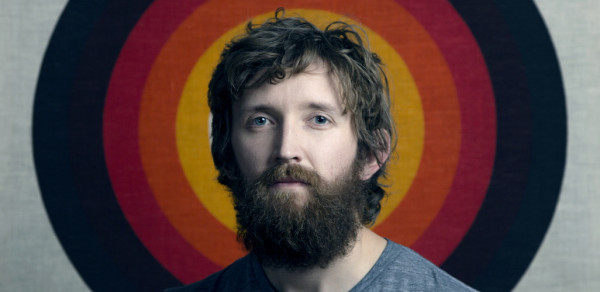 The underbelly of Made of Oak's sound is, like Sylvan Esso's, rich synth. But it's not pop-ish synth at all. It's darker and much more mysterious than catchy. With all of its glitches and humming bass and clicks and clatter, you might not even notice that there weren't any vocals save for the fact that the songs don't have choruses. But that doesn't stop them from seeping deep inside your brain and stimulating you. In many ways, these songs fill your head with far more visions than Sylvan Esso's music is likely to do because there are no lyrics here to tell you what the songs are about. You have to come up with your own meaning for each of the five tracks.
I don't listen to a whole lot of instrumental music, so it's not easy for me to compare Made of Oak to other artists, but there are a few that come to mind. The first is Merzbow, whose Dolphin Sonar release I hear shades of throughout Made of Oak's songs, especially during the subtler more tracks like "Penumbra" and "Side Rides." I'm also reminded of quite a few instrumental remixes of Björk songs. Matthew Herbert, Mark Stent, Guy Sigsworth — there are tiny bits of each of their Björk collaborations spread throughout this EP. And while their songs have vocals, the soundscapes of Japanese artists Aureole and Ferri come to mind as well, Penumbra very much having their dreamy and colorful qualities. And one track here, "Penultra (When I See You)," even reminds me of Aphex Twin. Ultimately though, Penumbra mostly sounds like Penumbra. Now I am going to stop analyzing it and return to simply enjoying it. Time to sit back and let its sounds create pictures in my mind…