Kelli Ali is probably still most famous for being the singer on the late British trip-hop/electro group Sneaker Pimps' first album, Becoming X, which was released in 1996 at the height of the electronica frenzy. Sneaker Pimps had a big hit with their single "6 Underground" and the single "Spin Spin Sugar" was hugely successful on college and independent radio. And then Kelli was suddenly booted from the band. Granted, it had always been the brainchild of founding members Liam Howe and Chris Corner, but most fans were shocked by Kelli's dismissal. The idea of Sneaker Pimps without Kelli was like the idea of Garbage without Shirley Manson. It made no sense whatsoever. But, in the group's defense, their next album, Splinter, on which Corner performed the vocals himself, was actually just as good as Becoming X. Not that fans bought it. Or at least it didn't seem to do well here in the States. In fact, I'm not sure if it was ever even officially released here. (I remember buying the U.K. import.) After Splinter, the group only released one other album, Bloodsport, which was released here but seemed to go relatively unnoticed. Beyond that, Corner started recording and releasing music as a solo artist going by the name IAMX. But that's a subject for a another review. (To that end, IAMX has also released an album recently and I do intend to review it.)
Kelli was credited by her born name Kelli Dayton on the Sneaker Pimps album, but when she embarked on a solo career she opted to use the name Kelli Ali to honor her father, Michael Ali. Technically, Band of Angels is her fifth solo studio album, but her previous album, Butterfly, was an album of acoustic reworkings of songs from her previous releases.
Band of Angels was funded through a Pledge Music campaign, reaching 151% of her goal, though I'm not sure of the amount she was hoping for. Regardless, it is a fine return to form for Kelli, which finds her blending electronic elements with live instruments for a truly rich and rewarding sound.
The album begins with "The Art of Love," a trippy tune that starts with Kelli practically whispering her vocals while droning, humming music plays accompanied by a boisterous clapper. "Send in the lions," she sings and then a pile of beats strike, followed by a mellow drop in sound sans percussion — call it an orchestral segment — then a hard electro beat finally appears just in time for the dreamy chorus. Words really can't say how exquisitely-produced the track is. From the suspense-building strings, which are as beautiful as they are haunting, to the Opera-like backing vocals and rich electronic textures to Kelli's ethereal yet potent vocals, it's a truly mesmerizing song that will surely make Massive Attack seethe with jealousy. (It makes one wonder why they haven't recruited her to sing on any of their tracks yet.) Although not as eerie, the rapid-fire beats and razor sharp piano lines of "The Hunter" are equally hypnotic. The song also has something of a new wave vibe, particularly where some of the beats are concerned. "Only the hunter waits for me, only the hunter waits," Kelli sings, her vocals enchanted.
One of the album's strongest tracks is "Kiss Me Cleopatra," which has insanely fast beats, particularly during the highly infectious chorus. "Kiss Me Cleopatra, don't talk about love, it's just a dream," she sings, her voice lusty and sugary sweet. At times it reminds me of '80's songs like Depeche Mode's "People Are People" and Pat Benatar's "Anxiety (Get Nervous)," though I dare to say it's even more captivating and intense. If I had to sum up the album with one word intense would definitely be it.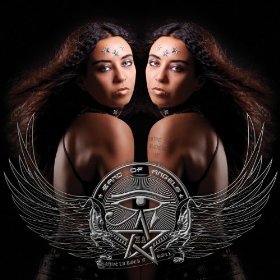 "When Darkness Falls" has a considerably lighter beat than many of the songs on the album, but the synth will send a chill down your spine, meanwhile Kelli's vocals will crawl through your ears and burrow deep within your brain and stay there. "Terrified, in awe, when the darkness falls," she sings almost whimsically before demanding, "resurrect my fate" over and over again. It kind of demands to be used in a vampire movie and I should think goths would drool over it.
"I'm all alone, once again," Kelli sings during the poetic, down-tempo title track, which blends airy if not ghostly synth with somber piano. "If you can hear me," she sings. "Will you please send me a sign?" It's practically a prayer but I suspect that it's emotive enough to move even the most hardcore of atheists. It's also narcotic, claustrophobic and brilliant.
If I had to compare Band of Angels to one particular album, it would easily be Laure Shang's Ode to the Doom, an album with an atmosphere of uninhibited adventure which just so happens to be my favorite album of 2012. Both are brazen albums with deep electronic sounds, awe-inspiring strings and gloomy yet sometimes empowering lyrics that often sound as though they're being sung from beyond the grave.