I tried but I just couldn't get into Demi's last album, Unbroken. With a slew of guests, including Missy Elliott, Timbaland, Dev, Iyaz and Jason Derulo, I felt like the album was trying too hard to do too many different things. She'd already had a massive hit with the song "Skyscraper," which was a gorgeous and serious song, but instead of trying to build from that point, finding songs that would fit well with it, they just tried to jump on every pop and hip-hop bandwagon they could. Even the songs that didn't have guests appearing on them still sounded like they were grabbing for the charts, many of them even produced by hit-maker Timbaland. Now, I actually like Timbaland. But he just didn't fit right with Demi. It's like when he worked with Japanese singer/songwriter Utada Hikaru many years ago. They were from two entirely different worlds and they somehow failed to meet in the middle. In Demi's case, Timbaland probably did what he was instructed to. I have no doubt that Demi wanted her songs to sound like hip-hop or whatever was on the radio at the time. She was clearly trying to reinvent herself. Her first two albums were essentially pop rock, but now she wanted pop with massive beats and A list guests stars to try to finally get in the spotlight. Luckily Estonian pop goddess Kerli and her co-writers somehow submitted "Skyscraper" to Demi and she was wise enough to record it, giving the album one major hit. If any of the other songs did well, I wouldn't know because I stopped paying any attention to Demi after I'd listened to Unbroken a half dozen times and liked it less and less with each listen.
Cut to 2013. Just two years since Unbroken, but Demi already has another album out, simply entitled Demi. And this one, which is Timbaland-free, is fantastic. Oh, it's basically cheesy, club-friendly pop, but it's highly addictive and shines like gold.
The album opens with "Heart Attack," which meshes synthesized bass with an assortment of massive, slamming beats, dark synth and barely audible guitars for one huge pop masterpiece. And Demi's vocals sound perfect, giving off just the right amount of attitude to sell the lyrics without seeming standoffish to the listener. "I'm putting my defenses up, cause I don't want to fall in love, if I ever did that, I think I'd have a heart attack," goes the super contagious chorus, which does a fine job of showing the full range of Demi's powerful voice.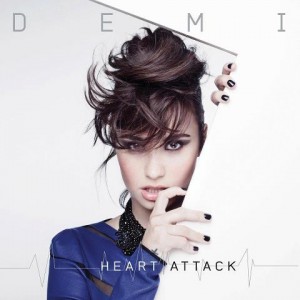 "Heart Attack" is followed by another mammoth, club–friendly tune, "Made in the USA." "No matter what the people say, I know that we'll never break, cause our love was made, made in the USA," Demi beams and it'll have you hanging an American flag on your front porch (if you don't have one already). Usually any songs that could be interpreted as patriotic on any level are off-putting, but not this one. This is a true gem of a pop song.
Also noteworthy is "Without The Love," which is essentially a new school R&B ballad. A mid-tempo ballad, but still a ballad. You might not realize that the first time you listen to it, given that it has highly potent beats like the rest of the album, but if they stripped it down and performed it on acoustic guitar, it would definitely be considered a ballad. "What good is a love song without the love," Demi asks and it should have universal appeal because, really, who hasn't asked themselves that one at some point in their life?
One song on the album that I didn't like was "Neon Lights." It starts off kind of boring and then it tries way too hard to sound like David Guetta. It's not horrifically bad, but I could've done without it. I also couldn't get into "Fire Starter." The lyrics were weird. One minute she's got an S on her chest like a superhero then she's starting fires… with a heart like water. It just didn't make much sense to me and seemed silly in any case.
British artist Cher Lloyd, who's been gradually building up a fan base here in the States during the past year or so, guests on "Really Don't Care." I was afraid it was going to be as horrible as some of the collaborations on Unbroken, but I found myself really liking it. Somehow Cher and Demi are a perfect fit. Basically, Cher raps the verses and the two sing the monster chorus together. "But even if the stars and moon collide, I never want you back into my life, you can take your words and all your lust, oh, oh, I really don't care."
The closest thing the album has to "Skyscraper" is a song called "Nightingale." Compared to the other songs on the album, its beats are kind of mellow. In actuality, they're still pretty resounding, but after nearly a half dozen monster dance tracks it's a welcome relief. "Can you be my nightingale, feels so cold, I know you're there," Demi sings, desperation in her voice along with a hint of precious vulnerability.
All in all, a very solid effort that should have pop junkies spending their last dime to download it.