When English singer/songwriter Charli XCX — born Charlotte Aitchison — was 14 her parents loaned her the money to finance her debut album. The album, which Charli wrote entirely herself, was made and called 14, but it was never officially released, though promotional copies were sent out. Charli was quick to put the album behind her, however, essentially renouncing it. And so her new album True Romance — named after the 1993 Tarantino-penned film of the same name — is being billed as her debut album and it might as well be because for all intents and purposes 14 has vanished.
Charli began work on True Romance in Los Angeles with producer Ariel Rechtshaid, who would co-write the bulk of the album with her and Justin Raisen, in 2010. It was originally slated for an April 2012 release but for whatever reason(s) its release was delayed for an entire year. In the meantime, she released her debut EP, You're The One, which featured the tracks "You're the One" and "Nuclear Seasons," along with remixes of both tracks. She also released her second mixtape, Super Ultra, which featured one track that would be included on True Romance, the potent hip-pop masterpiece "Cloud Aura" featuring Brooke Candy.
The album begins with "Nuclear Seasons," which starts off with an ambient, barely audible intro with an eerie vibe that immediately calls to mind art pop songstress Grimes. "Hands tied together, we'll hold on to forever," Charli sings, her voice echoing against distant walls. But she doesn't maintain that optimism for long, singing "Falling through my hands," as though all hope is lost before a massive beat drops and kicks off the propulsive number with unrelenting drive. The gloomy song then pairs moody synthesizers with monstrous beats, a persistent clapper and a wide array of loops that give the song enough added depth to drown most of today's quote unquote pop stars. "We survived nuclear seasons," Charli declares over and over again throughout the track. She's clearly singing about a relationship, but she might as well be singing about everything she had to go through to get to this wonderful point in her ever-promising career.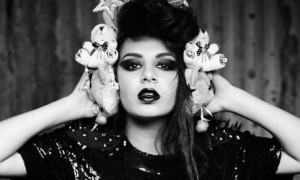 "We were addicted to the blueprint/But we threw it in the flame and now we're never gonna trace it," she declares during "You (Ha Ha Ha)," which she and producer Joakim Åhlund meticulously crafted around a glittery sample of Gold Panda's "You." It would seem that she's singing about a relationship again, but she could just as easily be talking about the making of the album, how they destroyed the conventional pop mold, making artistic earworms if not statements instead of Top 40 bubblegum fodder.
"Get blown away/Lost in the dark/Get real high/And never come down," Charli pleads during the seductive "Take My Hand," a velveteen slab of new wave disco with shades of Supernature-era Goldfrapp and La Roux. She does a 360 and attempts to send her lover away during the atomic ballad "Stay Away." "I never needed anyone/But now that you are gone/Stay away, won't you just stay away," she sings. But does she mean it? One detects an air of uncertainty — and precious vulnerability — in her shimmering voice.
"Hurry up and come and save me/I can't quite hear what you're saying/Because my body started shaking," she anxiously begs during "Grins," the sole track on the album produced by Blood Diamonds. It's a smoldering electro/new wave/R&B collision reminiscent of The Weeknd. "Lost my breath now/'Cause I feel like I am falling through the clouds," she sings with her finger pressed firmly on the pulse of our insecurity.
Sexy and fatalistic, "Black Roses" is another standout with slick new wave percussion that calls to mind 1999-era Prince and Let's Dance-era Bowie. "I fall apart/When I watch you touch yourself," she sings, her voice 50 shades of melancholy. She's decidedly more upbeat during "You're The One," which could easily be a lost track from Robyn's Body Talk sessions with its saccharine chorus, shimmering synth and snappy, uplifting beats.
"How can I fix what I fucked up?" she asks repeatedly during "How Can I," a gloom and doom number held over from her first mixtape, Heartbreaks and Earthquakes. With frantic beats that nearly turn into a trainwreck at times and a restless hip-hop verse, it's easily one of the most unique tracks on the album of genre-breakers.
The 13 track album ends with a neon-bright, almost giddy number called "Lock You Up." "Why don't you stay here tonight," she begs. "I'm in your head," she sings over and over again. "I'm in your head." It's an '80's throwback that seems to split the difference between Laura Branigan's "Self-Control" and Madonna's "Dress You Up." It's a blissful if not entirely serene song rich in kaleidoscopic color that wraps up the album's black roses with a pretty pink bow.
It's hard to believe that Charli is only 20, considering that so many pop stars nearly twice her age have never been able to craft such a sparkling and decadent pop masterpiece. This is a ground-shattering album on par with Kylie's brilliant electro-opus X and Little Boots' uber-catchy Hands. I can't wait to hear what she does at 22.