Before The Maine even hit the stage at the House of Blues in Boston on Tuesday, May 5th, 2015 the concert was a big success. There were three opening bands, all young and hungry, bursting with kinetic energy, and they each had plenty of fans in the house. The first up was Technicolors. They were the least known act of the night, but they still had quite a few people singing along and most of the crowded floor was dancing along to their raw and potent mix of American and Brit garage rock. Next was Knuckle Puck and they had half the house singing along to their catchy pop punk. And people started getting rowdy during their set. There was some slam dancing and crowd surfing, two things there were even more of during final opener Real Friends' punk rock set. People went crazy for them. You would've thought they were the headliner with all the people they had singing along.
When The Maine hit the stage, opening with a killer rendition of "Miles Away," the first track on their new album American Candy, virtually everyone was singing — no, shouting — along, people too busy doing that to bother with moshing, too excited to surf the crowd. It was like watching the audience during a television appearance by The Beatles, hundreds of teenage and twentysomething girls screaming at the top of their lungs. (I'd say about 80% of the audience was female.) The last time I heard so many people singing along that loudly was at a Bon Jovi concert. Seriously, I thought I was a big fan of The Maine, but these fans were so devoted they knew all the words to every single song. And they sang with fervor all night long. It was as though they were batteries and The Maine were recharging them as they jumped up and down and clapped like rabid little Energizer bunnies. Quite the sight to see.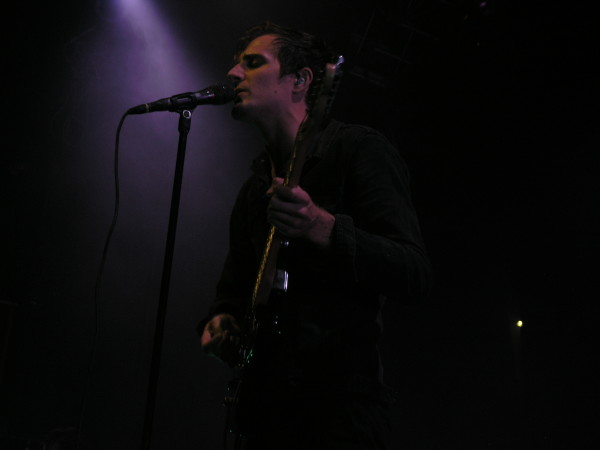 Singer/guitarist John O'Callaghan might as well have been a messiah. Everyone in attendance worshiped him as the band blasted out hits and deep cuts from each of their five full-length albums. As they performed songs including "Run," "Growing Up" and "Inside of You," lead guitarist Jared Monaco enticed us all with hooks aplenty. Rhythm guitarist Kennedy Brock made "My Hair" and "My Heroine" slick as oil, which the guys were burning all night. Meanwhile, bassist Garrett Nickelsen and drummer Patrick Kirch held down the fort, Kirch giving the crowd a hard, persistent beat to jump up and down to.
A couple of times during the show O'Callaghan did some Q&A with the audience. One girl asked if she could sing with them. He had security pull her out of the crowded floor and put her on the stage. Then he asked the other guys in the band what they knew and they all tried to come up with something the girl might know, as they were determined to have her sing something other than one of their own songs. A couple of beats later the band burst into "Kryptonite" by 3 Doors Down. O'Callaghan sang some of it while the girl tried to think of the lyrics but she was stumped. So, they stopped playing that one about halfway through the song. Then they tried something else — "Breakdown" by Tom Petty and the Heartbreakers. While it was a bit surprising that she didn't know any of "Kryptonite," it was even more surprising that the band expected her to know "Breakdown," which was probably released before the girl was born. And so they only did half of that one as well, which was too bad because O'Callaghan's voice slipped into it like a glove that fits you perfectly.
The next and final song was one the girl knew every word to, The Maine's own anthem "Right Girl," which closed the seventeen song set, if you count the covers they only played half of. Listening to that one, and hearing fans sing along so loudly that you could barely hear O'Callaghan at times, it left no doubt in my mind that The Maine will be playing big arenas next time they come around. Catch them at an intimate venue near you while you still can.