Gabrielle Aplin grew up in a small town called Chippenham in Wiltshire, England. Her parents bought her her first guitar when she was just 11 years old. She grew up listening to Bruce Springsteen and Joni Mitchell and she cites them as influences. She's also a big fan of singer/songwriters like Leonard Cohen and Bob Dylan. Around 2010 she started to gain a following by posting Youtube videos of herself covering songs like Paramore's "My Heart," Cee Lo Green's "Forget You," Katy Perry's "Teenage Dream" and "The Liar and the Lighter" by You Me At Six. She released a 5 song E.P. on September 13, 2010 and it reached the top 25 on the iTunes album chart in the UK. It also earned her the praise of many music critics. She released her second E.P., Never Fade, on May 9, 2011. It reached number 14 on the UK album charts and also reached the top 100 here in the States and the top 50 in Australia, garnering her positive reviews worldwide. She released her third E.P., Home, on January 9, 2012 and the title track was the iTunes Store's "single of the week," given away for free to promote her. The feedback posted by users was almost unanimously positive and, once again, she received high praise from critics.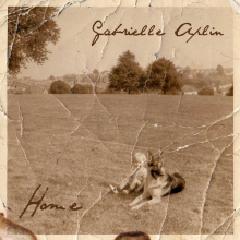 In February of 2012 Gabrielle announced that she'd signed a record deal with Parlophone and that she was at work on her debut album. That November she did a haunting cover of Frankie Goes to Hollywood's "The Power of Love" for a John Lewis television advertisement and the track was released as a charity single on iTunes in the UK where it reached number 1 on their singles chart. Her second single, "Please Don't Say You Love Me," was released in early 2013 and became her second top 10 single in the UK. Her new album, English Rain, was released on May 13, 2013 and quickly shot up to number 2 on the UK album chart. (Rod Stewart's new album Time held the number 1 spot.) Sadly, it has yet to be released here in the States, though it's easy enough to buy it as an import and well worth the extra money.
English Rain opens with her recent hit single, "Panic Cord," which I reviewed in May when it was released as the title track of an E.P. I've listened to it many more times now, having played the album regularly since its release, and I continue to adore it. It's easily one of the year's best singles, an instant classic that ranks right up there with the best songs by legendary songwriters like Carole King and Stevie Nicks. She blends folk and pop in a wonderful way that many artists have tried but couldn't quite pull off, at least not this well. And her startlingly impressive lyrics are as brutally honest as they are poetic.
There was a precious vulnerability in the way Gabrielle sang her cover of "The Power of Love," which feels right at home on the album, and she often displays such vulnerability in her own songs. During "Ready To Question," it's not just her voice but her words that lay her soul bare. "Is there anyone listening? I don't know," she sings, pleading for an answer, wondering aloud if there's a God, as the powerful chorus ends. The verses further express her uncertainty about things as she sings, "See, I've seen devils, I've seen saints, I've seen the lines between them fade."
She expresses her inability to forgive someone during the emotive "November," which could be about a lover breaking her heart or some other situation where someone let her down. One thing is for certain, it might be a sad song but it has one of the catchiest choruses on the album. "I always used to love November / but now it always floods with rain / oh how can I forgive? / those words will stain forever."
Occasionally, Gabrielle's lyrics fail to make much sense. The opening verse of "Home," for example: "I'm a phoenix in the water / a fish that's learnt to fly / and I've always been a daughter / but feathers are meant for the sky." But, I did say that her lyrics are as poetic as they are honest and somehow those sillier lyrics are part of her charm. Plus, "Home" has a massive chorus, both figuratively and literally, as it is performed with several backing vocalists, calling to mind the best songs by Mumford & Sons. An excerpt: "It's not just where you lay your head / it's not just where you make your bed / as long as we're together, does it matter where we go?"
I don't know if she'll ever indulge them, but I have a feeling that many artists will ask Gabrielle to write songs for them, perhaps even country stars. In fact, many of the songs on English Rain could easily be adapted by country artists. For example, "Please Don't Say You Love Me" has a shining pop melody, particularly during the wonderful chorus, but the lyrics feel ripped right out of a country classic: "There used to be an empty space / a photograph without a face / but with your presence, and your grace / everything falls into place." I strongly suspect that she could have a career as a songwriter in Nashville if she ever wanted it, though I would much prefer that she continue to sing her songs herself and I have a feeling that she'll continue to be a very successful artist. I just wonder how she'll ever top, or even match, the majesty of this remarkable album. I'm sure she's capable of it though.