It's not uncommon for critics — and fans — to disagree about an album, but I can't remember the last time one was as divisive as ARTPOP. It seems to be the *love it or hate it* album of the year. Yes, even more so than Arcade Fire's Reflektor, which has certainly generated an awful lot of mixed reactions. Sure, there have been some ARTPOP reviews that were on the fence, but for the most part people have either deemed the record brilliant or, well, completely trashed it.
Initially, I wasn't sure what I thought about ARTPOP myself. But then I didn't care for its first single, "Applause," when it was released but ultimately grew to love it after several listens. With that in mind, I decided that I would not review ARTPOP until I'd listened to it at least seven times.
Being 15 tracks long, ARTPOP is a lot to take in and I suppose I found it all very overwhelming the first time I heard it. The album consists of a very wide array of sounds and ideas and would be difficult to process even if it was only 10 tracks. But with 15 tracks, it's certainly not easy to wrap one's head around. I found myself struggling to grasp what it was that she was trying to do with the album. I kept reading that it was intended to be a "reverse Warhol" and I honestly had no idea what she meant by that. If she'd said that she was trying to make an audio equivalent of Warhol's art, that would have made sense. You could simply look at it as an album of artsy pop, hence the title. But why a "reverse" Warhol? After quite a bit of digging, I found an article where she explained that. "The intention of the album was to put art culture into pop music," she told the Daily Mail. "Instead of putting pop onto the canvas, we wanted to put the art onto the soup can." That makes sense. Then again, was all of the fuss about the title and concept really necessary? Probably not. For one thing, I would argue that *all* of her albums have been artistic pop. To say that this one is art pop almost implies that her previous albums were not. Or at least that they were less so than this record. I don't think that's true though. And I mean that as a compliment. Again, I consider all of her albums to be art pop. But, they say you can't judge a book by its cover and I would have to say that you can't judge an album by its title, so let's put the title and concept of ARTPOP aside and look at each of the songs individually…
1. "AURA"
If I had to call one of the songs on ARTPOP abstract art, it would be its opening track, "Aura," which starts off with an intro featuring Arabic-style guitars over which she sings about killing someone: "Left her in the trunk on highway 10 / Put the knife under the hood / If you find it, send it straight to Hollywood." This is followed by some over-the-top, maniacal laughing after which she sings "Aura-a-a-a" several times before thunderous beats strike. I'm not sure what the lyrics during that intro have to do with the rest of the track, but the song is ultimately a fantastic and seductive introduction to the album. "Do you wanna see me naked, lover? / Do you wanna peek underneath the cover? / Do you wanna see the girl who lives behind the aura, behind the aura?" she asks acapella during the chorus. And so the song is ultimately a pleasant if slightly unusual invitation to hear the songs that follow. It ends perfectly when she says the words "art pop."
2. "VENUS"
The second song on the album, "Venus," might not be quite as abstract as "Aura," but it's probably the strangest song on the album. Produced by Lady Gaga and Madeon. its music is rather unpredictable as the beats change style and tempo numerous times with the melody frequently changing as well. To that end, it's the album's least accessible song, almost being too much to process, so perhaps it's a good thing that the lyrics are rather simple, Gaga asking Aphrodite to get with her, pleading for the "goddess of love" to take her to her planet. This song was going to be the second single from ARTPOP at one point but then it was ultimately decided that it wouldn't be, that it would just be a "promotional single," as Wiki calls it, meaning that it was released on iTunes and such but not promoted as a single to radio. Probably because it's not a song that grabs you immediately. Once you've heard it several times, it proves to be a nice grower, but radio stations want songs you'll fall in love with the very first time you hear them. Which is why I'm still surprised that "Applause" was the first single because that one seemed to take several listens for most of us to get addicted to it.
3. "G.U.Y."
"G.U.Y." stands for "girl under you." It begins with Gaga delivering a spoken word intro over radiant synth: "Greetings from Himeros / God of sexual desire / Son of Aphrodite / Lay back, and feast as this audio guides you through new and exciting positions." Suffice to say that this is another sex song, of which there are many on ARTPOP. While she's indicating that she wants to be the girl under you, the rest of the lyrics would seem to paint a picture of a woman on top, a woman who's taking control sexually. Whereas "Venus" almost feels abrasive the first time you listen to it, this song immediately shines like a bright diamond. It was co-produced and co-written by Gaga and Zedd and it's easily one of the best songs either of them has ever done. It immediately sucks you right in with its delicious, fuzzy synthesized bass and tight, thumping beats, not to mention its uber-infectious chorus that hooks you from the very first time you hear it.
4. "SEXXX DREAMS"
Produced by Gaga and DJ White Shadow, "Sexxx Dreams" is easily one of the best songs on the album. The verses would seem to be an internal monologue with Gaga debating with herself. For example, she sings "we're both convicted criminals of thought" then she says "'cause I'm broken." Like "G.U.Y.," this one has a chorus that's love at first listen, which calls to mind highlights from The Fame like "Love Game" and "Just Dance." Such glorious synth and there's a killer bass guitar part here as well. Since she's apparently fantasizing about a woman and mentions lying in bed and touching herself while she thinks of her, it's probably too sexual for radio, which is a shame because it would be a huge single if they would play it.
5. "JEWELS N' DRUGS"
The trap rap-flavored "Jewels n' Drugs" is one of the songs that she unveiled earlier this year during her iTunes Festival performance and it features rap verses by T.I., Too Short and Twista, who appear in that order. Some have said that she's trying too hard to go hip-hop with this one, or that she's just doing it to seek street cred and thus expand her monster fanbase. Others have simply said that the song sucks. I would agree that it feels very abstract, constantly changing gears as it goes between the verses and hooks, but, you know what? I quite like it. I suppose it is a bit odd that there's so little of Gaga on the track, but that doesn't make it any less enjoyable. Not to my ears. And you have to give her credit for actually doing a serious rap song with this track, rather than doing a song like Katy Perry's "Dark Horse," which just features a single rap verse by Juicy J that feels like it doesn't even belong in the song. The rap verses here feel like they belong in the song because they actually *are* the majority of the song. So, I would actually applaud her for going all out here. I also have to mention that I was hugely impressed with Twista's part here, which he delivers mind-blowingly rapid-fire. The only downside to this song is that it does stick out like a sore thumb in the context of ARTPOP because it's the sole track with rap. Oh, and it'll probably bother some people that she sings "don't want your jewels, I want your drugs," but that doesn't phase me.
6. "MANiCURE"
This is a clever one. First, look at the title, the way she's stylized it: "MAN i CURE." Which is perfect because she's singing about taking out a woman for a manicure and… probably something more. "She want me to get with her," ends the irresistible banger of a chorus. During the post chorus she sings, "Looking like a serial killer / Man is a goner." Regardless of how you interpret the lyrics, this song is fantastic. Along with its mammoth, punchy beats, it features loud, blazing rock guitar, including a killer solo at the end. I have a feeling this one will be a single and that it will do quite well.
7. "DO WHAT U WANT"
The throbbing bass and insistent, mid-tempo beats of this gorgeous '80's-flavored tune have Prince written all over them, which I'm sure is deliberate because simply using the letter "U" instead of the word "you" is a Prince trademark. The song is ultimately a tasty — and tasteful — blend of electro-pop and R&B that manages to sound retro and modern all at once. It features a verse and pre-chorus by R. Kelly, who sounds beautifully soulful, and his voice pairs perfectly with Gaga's.
8. "ARTPOP"
"ARTPOP" might be the title track, but it's my least favorite track on the album. I was disappointed with it because it doesn't really explain the title or the concept of the album. During the pre-chorus, she actually sings "my ARTPOP could mean anything." The chorus simply goes, " We could / We could belong together (ARTPOP)." It just feels vague and a bit generic. She's capable of much better than this, as evidenced with songs like "MANiCURE" and "Sexxx Dreams." Also, the beats are rather generic and just kind of drone along at a mid-tempo pace, never doing anything to really catch you. Meanwhile, the chorus feels more like it should be a bridge, like it should be followed by a massive chorus, not be the actual chorus.
9. "SWINE"
This dark EDM tune is both super glitchy *and* magnificently funky. It's an over-the-top electro-fried number with some serious break beat action. And you're either going to love it or hate it. It's just one of those sensationalized songs that either grab you or totally put you off. The lyrics find Gaga singing things like "you're just a pig inside a human body" and "deep down you are just shrew." The chorus simply consists of her repeatedly singing the the title: "Swiiiine!" My interpretation would be that this is a song from the point of view of a dominatrix engaging in some S&M, putting down her partner, but I've read that it's actually about mistreating yourself so much that you end up dead inside.
10. "DONATELLA"
This monstrous electro-song with insane bass and slick beats — co-written and co-produced by Gaga and Zedd — is meant to be a tribute to the fashion icon Donatella Versace. It begins with the sound of someone pouring something — probably champagne — into what I imagine is a glass. And then the beats drop and Gaga speaks the intro: "I am so fab / Check out / I'm blonde / I'm skinny / I'm rich / And I'm a little bit of a bitch." Interestingly, most of the song is written from the point of view of Donatella, who Gaga has proclaiming things like "I'm the upper class!" Honestly, I have to look at the song as satire because otherwise it would make me look down on Donatella. I do realize that it's meant to put her on a pedestal, but having her exclaim "I'm a rich bitch" and things of that nature just makes her seem very conceited. If Donatella is the way Gaga portrays her here, I don't think she's deserving of a tribute. So, I just look at it like Gaga is making fun of Donatella and other socialites and regarding it like that makes it quite amusing. And I have a feeling that Gaga actually intended for it to be open to interpretation like that. Because, surely, she's smart enough to realize that people aren't going to fall in love with Donatella if she's the person she's described as here.
11. "FASHION!"
First of all, "FASHION!" is not to be confused with Gaga's hidden treasure "Fashion" from the Confessions of a Shopaholic soundtrack. This anthemic ode to "looking good and feeling fine" was co-produced and co-written by Gaga, will.i.am, David Guetta and Giorgio Tuinfort. (Although he didn't produce the track, DJ White Shadow also has a writing credit here.) When you have that many cooks in the kitchen, it's often a recipe for disaster, but this song proves to be as focused as it is propulsive and it's mighty propulsive. If you play it loudly, it's like getting punched in the chest each time the beats slam down. But it's not all about the beats. Gaga's enthusiastic vocals are equally charming. Ditto for the piano, which helps make the song stand out among the album's many other impressive tunes. It also has some fantastic bass guitar playing, which gives it a bit of an old school disco vibe. It also calls to mind "Let's Dance" era David Bowie, which I happen to love. The only thing I don't like about the song — and it really annoys me — is a spoken word part in French that I'm assuming is done by will.i.am. As someone who's studied French for years, I can tell you that he does not do a very good job of pronouncing the words, which is probably partially due to the fact that he does this weird nasal-sounding faux French accent. Really hoping a version of this song without his part surfaces. I'd also be very curious to hear the demos for this song. I'm sure there are various versions that exist that were done as each of the different producers were brought on board and worked on it.
12. "MARY JANE HOLLAND"
To my ears, this Madeon and Gaga-produced track sounds an awful lot like vintage Daft Punk and I am totally in love with it. If I understand it correctly, it's about indulging in your fantasies, letting your inhibitions go, which is clearly a theme on the album. "My darkest sin / Russian hookers and cheap gin," she sings during the pre-chorus. The chorus is obviously referring to pot when she sings, "I think we'd have a good time / If you'd meet me and Mary Jane in Holland tonight." Otherwise, perhaps Mary Jane is actually a person and Gaga is proposing a threesome. Either way, it works. And, like other tracks on ARTPOP, she likely wrote it so that it would be left to your own interpretation.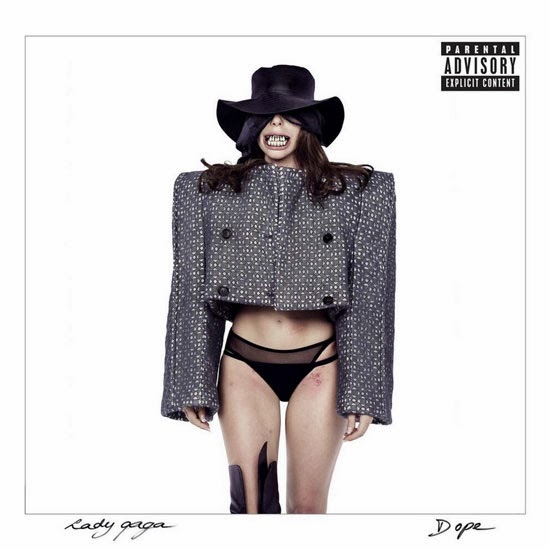 13. "DOPE"
This song was originally called "I Wanna Be With You" when she performed it at iTunes Festival, but for whatever reason or reasons she re-wrote the lyrics and it's now called "Dope." And it's quite the glorious ballad. The first half of the song is largely Gaga's voice — sounding raw, honest and vulnerable — accompanied by simple but beautiful piano and subtle synth. Funky bass in the vein of "You And I" kicks in during the post chorus when she sings the lyric "I need you more than dope" repeatedly. Unfortunately, that bass clashes with the tender piano and vocals and I think the song would have been much better if it was simply Gaga's voice, the piano and the faint synth throughout the song. Really hoping they'll release this as a single and include a stripped down version of the song along with the inevitable remixes.
14. "GYPSY"
"Gypsy" also begins with piano and sounds like a sweet ballad, Gaga's voice sounding especially precious, but synth enters the picture when it arrives at the chorus and then it erupts with huge, vibrant dance beats as the chorus ends, "I don't wanna be alone forever, but I can be / Tonight!" She wrote this song — the album's sole collaboration with RedOne — when she was traveling around the world, constantly touring, and it would seem to be an ode to the road, or to being on the road. It's quite the inspiring number, calling to mind "Marry The Night" and "Edge of Glory" from Born This Way. And I must say that I love the Wizard of Oz references: "Said goodbye to family and friends / And took a road to nowhere on my own / Like Dorothy on a yellow brick / Hope my ruby shoes get me there quick / 'Cause I left everyone I love at home."
15. "APPLAUSE"
What can I say about "Applause" that hasn't already been said? It seems like most of us hated it when it was initially released as the first single from the album, but then it crept inside of us and got us hooked and now we all love it. At least I do. And I really didn't think I was ever going to like it. I thought it was boring compared to her previous work, to be entirely honest. Plus, it was confusing at first because nobody quite knew how to interpret it. Was she being sarcastic or ironic? Or is she simply stating that she lives for the applause? I think it's probably a bit of all of the above. Not that I care now. I kind of like the fact that, like many songs on the album, you can look at it in many different ways. Suffice to say that now I think it's fabulous. In fact, I would have to say that it's the catchiest pop song of the year.
The saying goes, beauty is in the eye of the beholder. Likewise, art is open to interpretation. What one person might think is fine art, another person might think is trash. And two people could look at a work of art and think that it means two totally different things. I think that Lady Gaga wrote many of these songs so that they would be open to interpretation the same way that paintings and other visual art would be. In that sense, this truly is ARTPOP. In other words, what you think the songs mean is often up to you, the listener. And, obviously, you're entitled to form whatever opinions of the songs that you so desire. So, perhaps Gaga intends for these songs to be viewed in the same manner as Warhol's art, like the famous soup can piece hanging on a museum wall, which would seem to be in agreement with what she said about putting art on the soup can. In any case, I have a feeling that many people are going to want to "see" this art, as evidenced by how rapidly the leak of the album spread from Japan to the rest of the world this weekend. Whether you'll love it or hate it, ARTPOP is not only a work of art but a highly anticipated POP album that demands your attention. I just hope that people will listen to it more than once before formulating their opinions because some of these songs might not seem all that captivating at first listen but the more you listen to them, the more they hook you, not unlike the best narcotics. If you like art in your pop, you should grow to love ARTPOP more than dope!