review by Michael McCarthy
photos by Joshua Bernard
Last night Bostonians were given the opportunity to rock their asses off and rock they did, thanks to one of the best, Brit Award-winning, rock 'n' roll bands to ever come out of England, The Darkness.
Just before the band hurried out on stage, a huge black banner with their logo in gold was raised and the audience screamed loudly. Excitement was certainly in the air.
The band kicked off the show with a blazing rendition of "Barbarian," the opening track from their new album Last Of Our Kind, which is arguably their best album to date. The chorus simply consists of the word "Barbarian" being exclaimed followed by Justin hitting some tremendous high notes as he sings something along the lines of "Aaaaaahhhhhhhhh." And, boy, did he hit those high notes last night. He was bursting with tremendous energy, a real bat out of hell.
"This is the last show of our United States of America tour," Justin proclaimed, taking a brief breather in between songs. After people finished cheering, he said, "My voice is fucked so I need you to sing it back so I don't have to."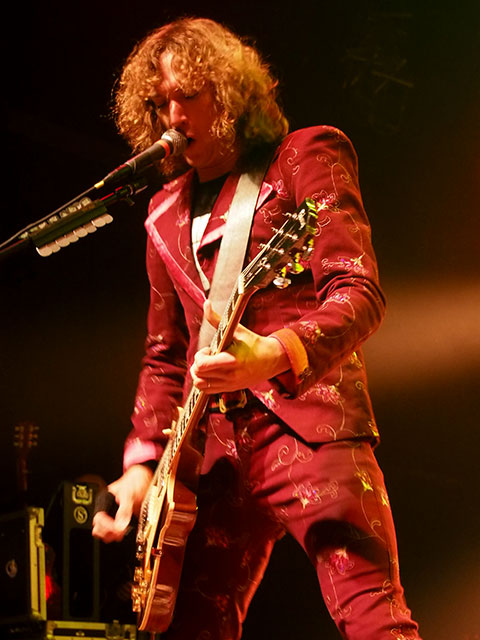 Two songs from their five times platinum debut album, Permission to Land, followed, "Growing On Me" and "Black Shuck," both of which found the bulk of the audience heeding Justin's request as they sang along feverishly. And those who weren't singing were still smiling and moving their heads to the massive drum beats, which came courtesy of the band's killer new drummer, Rufus Taylor, who just so happens to be the son of Queen drummer Roger Taylor.
"This ain't no double entendre / This ain't no euphemism / This is real life / I'm describing a natural disaster / Mud flow," Justin said sarcastically, as per the intro, before the band started playing "Mudslide," a rapid-fire track from the new album.
As the band continued with "Givin' Up" and "Roaring Waters," I found Justin's guitar wizardry as brilliant as his falsetto. I always assumed his brother, Dan Hawkins, played lead on everything, but there were definitely songs where Justin was taking the lead, even playing some of the band's most intricate solos. That said, Dan's playing was mighty impressive as well and he also played some lead in addition to his very strong rhythm riffs, which drove the songs as much as Taylor's drumming. Kudos also go to bassist Frankie Poullain, who Justin introduced in French, giving the audience a laugh.
During "One Way Ticket," a highlight of the night, Justin held out the microphone for the audience to finish bits of the lyrics. "Bought a one way ticket," he'd sing. Then the audience continued: "To hell and back."
I must admit that I was surprised that the majority of the audience knew all the lyrics. I didn't realize there were still so many die-hard fans here in the States. And I had mistakenly thought that most of the people attending would only know the words to the singles from their first album. It was nice to be proved wrong!
A small keyboard was brought out on stage for Justin to play the piano-led "English Country Garden, where you could almost hear an Elton John influence in their sound. I was hoping they would play the piano ballad "Blind Man" after that but instead the band launched into "Every Inch of You," which allowed Frankie's bass noodling to really shine. "I'm in a band with my brother and my two best mates," Justin sang proudly before arrive at the sexed up chorus. I've always thought this one was an interesting song because the verses are about Justin's life growing up and such, not very sexual, really, but then the chorus goes, "Every inch of you / You know I'm gonna work it."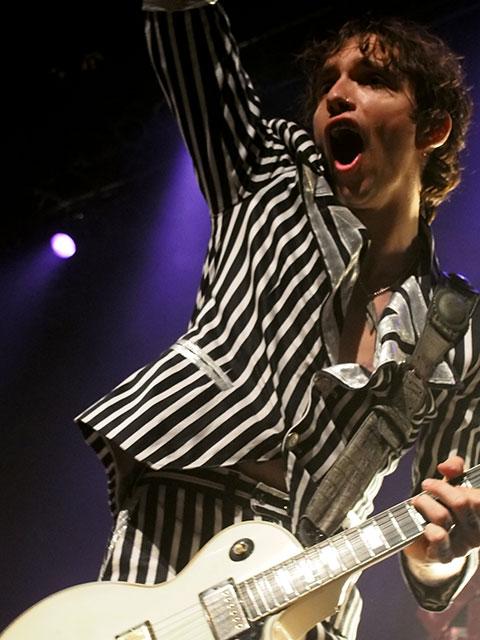 "Rack of Glam," a song I was unfamiliar with followed. It was great, but I couldn't sing along. (Yes, I was singing along last night. You think I'm immune to having a blast at concerts just because I review them? Well, you're entirely wrong!)
"Get Your Hands Off My Woman" and "Stuck in a Rut" followed, the band playing hard and fast, before they finally arrived at the song everyone was waiting for, the song that put them on the map, "I Believe in a Thing Called Love," which Justin sang just as well as on the album in spite of his previous comment about his voice. It was incredible.
And then the band bid the audience farewell and left the stage. They were gone for a bit and I started to wonder if the show was over. But I held out hope that there'd be an encore because the venue hadn't turned on the house lights. Sure enough, they came back and delivered a killer rendition of "Open Fire," one of the strongest tracks on the new record, which I believe was informed by The Cult, at least insofar as the lead guitar goes, and the style suits The Darkness just well. Next was a surprising cover of Radiohead's "Street Spirit (Fade Out)," a song I'd forgotten even existed. I didn't even realize it was a cover until after I got home from the show. They more than did it justice though, putting their own spin on it.
The evening's last song was "Love on the Rocks With No Ice," a bluesy number during which Justin got on the shoulders of someone in the audience and worked his way through the crowd, touching as many people's hands as possible without missing his guitar parts. (We eventually learned that the guy's name is Rick and that he's a firefighter, which had everyone in the house clapping.) On the album, the song is six minutes, but the band stretched it out well beyond that. To that end, they stretched out most of the songs throughout the evening, giving each of them a powerful, blistering ending, as though each of them was their best song and their last song of the night, and it got the audience charged up every time.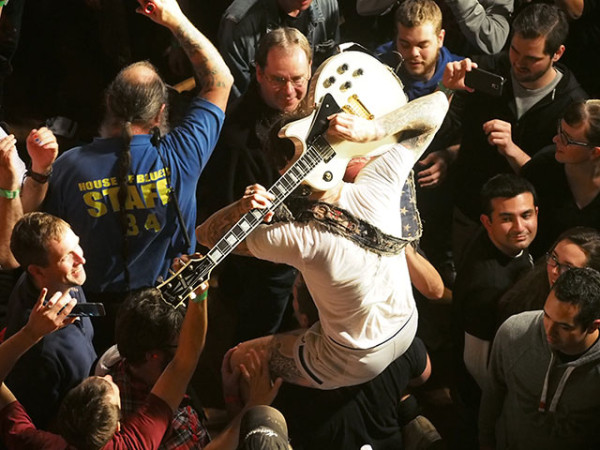 If you've ever been a fan of The Darkness, I recommend you check them out when they arrive in your neck of the woods. I've been to hundreds of concerts and have rarely seen a frontman as lively as Justin, who poured his heart, soul and body into every song of the night. The rest of the band was tremendous, too, of course, but Justin was a fucking dynamo. I do believe everyone left the show feeling inspired by his passion.