Review by Michael McCarthy
Photos by Joshua Bernard (and may not be used elsewhere without permission)
Before I get into my review of Ghost's show at the House of Blues in Boston this past Monday on September 28th, I must praise their opening act, a band called Purson, who hail from London, England.  I'd looked them up on Spotify the day before but before I could actually play anything by them something distracted me and then I never went back and listened.  I think that was a good thing, though, because it made their performance Monday night that much more of a pleasant surprise.  When they walked out on stage, I immediately felt like I had been transported back to the '70's because they were dressed in clothing that looked like it came from 1972.  Once they started playing, it became clear that that was the idea. You see, they're a '70's style psychedelic rock outfit.  It only took as long as the first chorus of their opening song, "Danse Macabre," for them to convert me into a fan; I found my head swirling about in time with their delightfully trippy beats.  They weren't merely psychedelic though.  Some of their songs were more straight-forward rock and others were a bit proggy, especially set closer, "Wanted Man."  Suffice to say they could go from one end of the spectrum to the opposite from song to song.  And they did.  They were rather heavy, too, reminding me of the first Black Sabbath record.  It wasn't hard to understand why Ghost had chosen them to open for every date on their Black To The Future tour.  Both bands owe a debt to Blue Oyster Cult and Iron Butterfly.  It's too bad they weren't selling a Purson album at the show because I would have bought it.  I imagine they'd sound especially good on vinyl.  Suffice to say they were fantastic that night.
After Purson finished their set, Ghost's people set about removing the black tarps from the keyboards and drums, which proved to be on a rather tall riser that took three steps to climb up, then the instruments were sound-checked not once but twice.  Meanwhile, the audience's thirst for the band's musical equivalent of blood only increased.  Not surprisingly, at least two-thirds of those in attendance were wearing Ghost t-shirts.  Most had arrived at the show wearing them.  Others, like myself and my photographer, bought them on the way in.  And they were certainly selling fast.  Very few people left without buying one first.
Before Ghost hit the stage, eerie music was played.  Someone standing next to me, who said he'd seen them three times before, said that it was the score from the Stanley Kubrick movie Eyes Wide Shut.  The first part of that music apparently was not from the movie, as Setlist.fm states that it's "Miserere me, Deus" by Gregorio Allegri, which isn't on the soundtrack.  However, the second part is "Masked Ball" by Jocelyn Pook and this does appear on the soundtrack.  In any case, it was all very spooky and sounded like what you'd expect music in a Satanic church to sound like.  Meanwhile, the audience chanted, "Let's go Satan!" And when the five Nameless Ghouls hit the stage, the large tapestry behind them was unveiled and showed three panels that resembled the stained glass you'd find in a church except that it depicted Satan, whose fingers were touching a girl on one side and a boy on the other; my impression was that Satan was meant to be their creator but that's just my interpretation.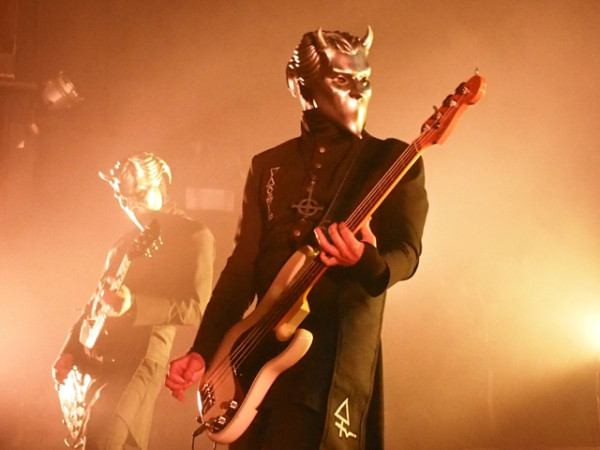 The Nameless Ghouls — all wearing the same silvery, mouth-less masks with horns — were a drummer, a keyboardist, a bass player and two guitarists and they warmed up the fervent crowd for a couple of minutes before Papa Emeritus made his grand appearance. In the dark and the faux smoke, he walked up the steps behind the riser, or perhaps he just used magic to appear there, and the crowd went wild.  Lots of metal horns were thrown in the air.   They opened with "Spirit" followed by their current single, "From The Pinnacle To The Pit," and one thing immediately became clear: they are a hell of a lot heavier live than they are on their albums.  (I've always considered their albums rock or hard rock, but this was pure, grade A, HEAVY METAL.)  It was also clear that the fans worshiped Papa, or at least they were for the duration of the show.  People went nuts as the band continued their set with "Ritual."  Once that song was over, Papa briefly disappeared from the stage only to return with a large incense burner, which got a loud, enthusiastic response from the crowd.  Before they played their next song, "Con Clavi Con Dio," had a couple of things to say.  First, he said "You're a fine looking bunch tonight.  As always, in Boston."  Listening to him speak, he seemed so much nicer than you'd expect from a guy dressed as the anti-Pope.  He even asked the audience not to crowd surf, stating, "There are small people in front who can actually get hurt."
Other observations…
When he wasn't needed, the Nameless Ghoul who played keyboards just stood there with his hands behind his back, still as could be.
While the Nameless Ghouls were all dressed in black with black shoes, they were all wearing white socks.  (You'd think that would look tacky but it actually looked cool.)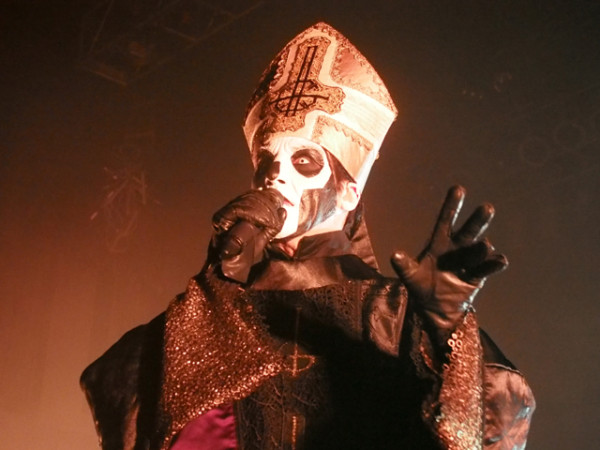 The audience was predominately male, though there were dozens of women there.  They were just outnumbered.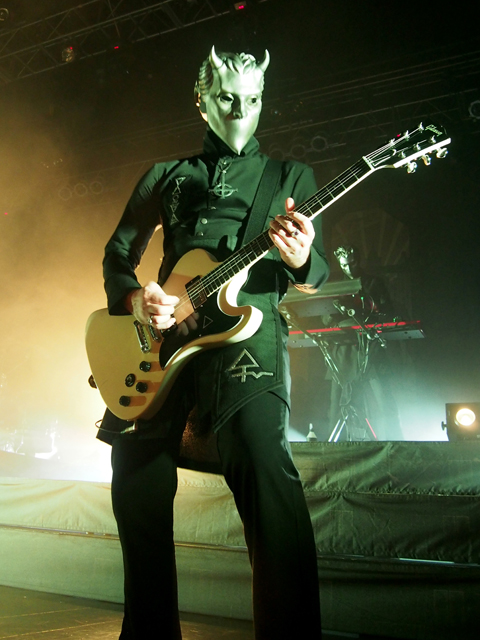 At one point, just before "Stand by Him," Papa said, "If you like ladies, go close to the ladies.  If you like guys, go close to the guys.  This is about eating flesh and drinking blood."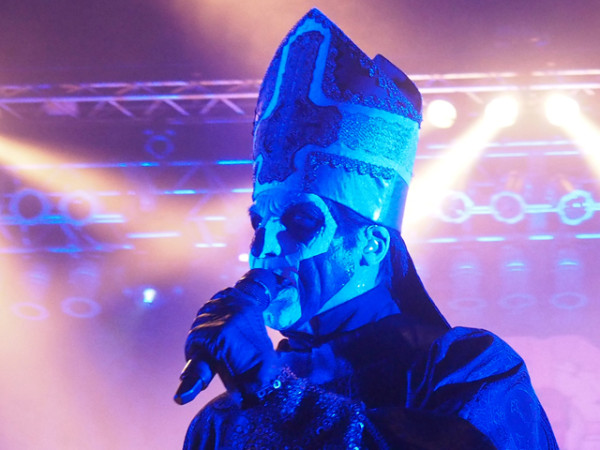 Initially, the guitarists and bassist were playing black and white guitars of various designs.  But at one point, one of the Ghouls switched to an all black guitar with the Omega symbol on it.  (Later, one of the Ghouls switched to a wood grained instrument.)

None of the Ghouls sang background vocals, being that the masks didn't have holes for their mouths and all.  I don't know how they could breathe in there.  The masks have to be something specially designed to keep them cool.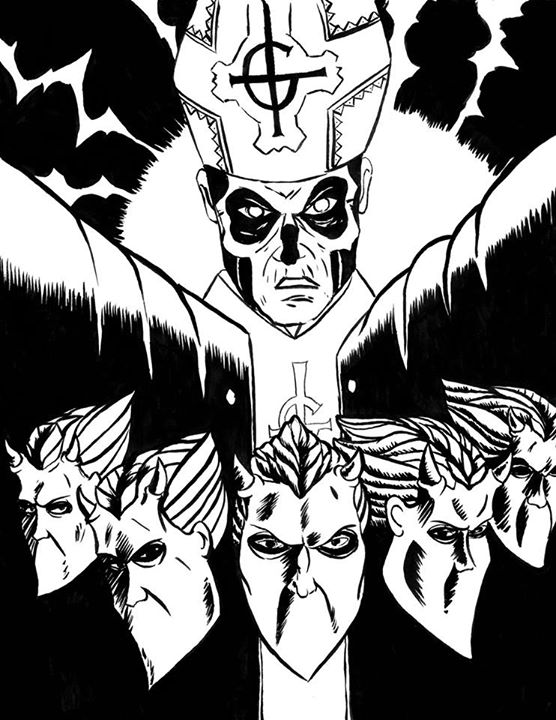 During the later portion of their set, the two guitarists and bassist switched to acoustic guitars and sat down on the riser with candelabras at each side, and "Jigolo Har Megiddo" was performed with just those guitars and Papa's voice.  Before it, Papa said, "It's a song about how it all happens.  A cute girl meets a cute guy and that's how it happens."

The final song before the encore was their cover of Roky Erickson's "If You Have Ghosts."  Before they played it, Papa asked, "If you have ghosts?  You have…" And the audience screamed "EVERYTHING," as per the song's lyrics.

The band was only halfway off the stage when Papa turned to the crowd and asked if we'd like one more.  Of course, everyone shouted, "Yeah!"  So, the Ghouls returned to their instruments and Papa asked the audience to sing along before they performed "Monstrance Clock," which was the final song of the evening.  (Their set was 19 songs long.)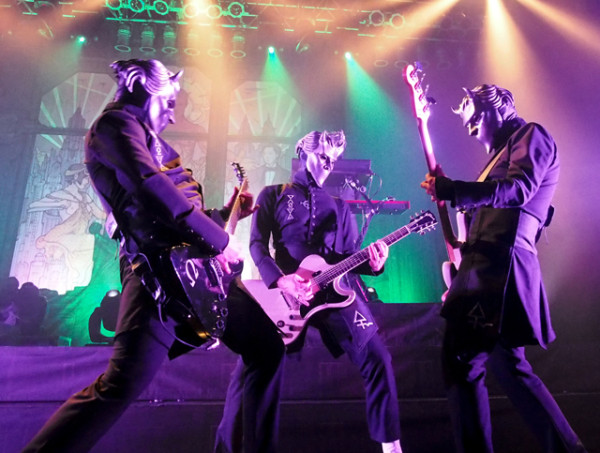 As the crowd exited the club, the song "The Host of Seraphim" by Dead Can Dance was played, as per the band's request.

Suffice to say, it was a spectacular show and I'm psyched to be wearing my shirt today.  (I bought the one with the Meliora album cover on it.)
And we leave you with one last photo… The keytar, which was only used once for a single solo.