review by Michael McCarthy
all photos by Joshua Bernard
Nina Persson's eagerly-awaited 4/14/14 stop in Boston was part of her campaign for her first ever solo album, Animal Heart, thus the tour being dubbed the #animalheart tour by Nina herself on Facebook and Twitter. The Boston date followed shows in Vienna, VA and Philadelphia, PA. The final date of the four city tour was at Baby's All Right in Brooklyn on the 16th. (She begins a European tour in Gothenburg, Sweden on June 1st. Check out the full list of dates on her Facebook: https://www.facebook.com/ninaperssonofficial/app_123966167614127)
Although The Cardigans have been a favorite band of mine for roughly 15 years now, I must admit that I've never managed to catch them live. And so I was very excited about seeing Nina, even sans the band. Besides, I'd been in love with her gorgeous solo album, Animal Heart, since its February release, so I was very eager to hear its often infectious, sometimes haunting songs performed live.
While on record Nina adopts a polished, professional approach, onstage she's more relaxed – in the best way possible – giving her songs a rather whimsical vibe. That much was obvious by the time she was halfway through the spell-binding opening track "Clip Your Wings," which immediately grabbed the audience. And then she sucked them in further, even as things slowed down a bit, during a super synthy rendition of "Burning Bridges For Fuel," which sounded considerably heavier than it does on the album, as many of the songs that night would prove to do.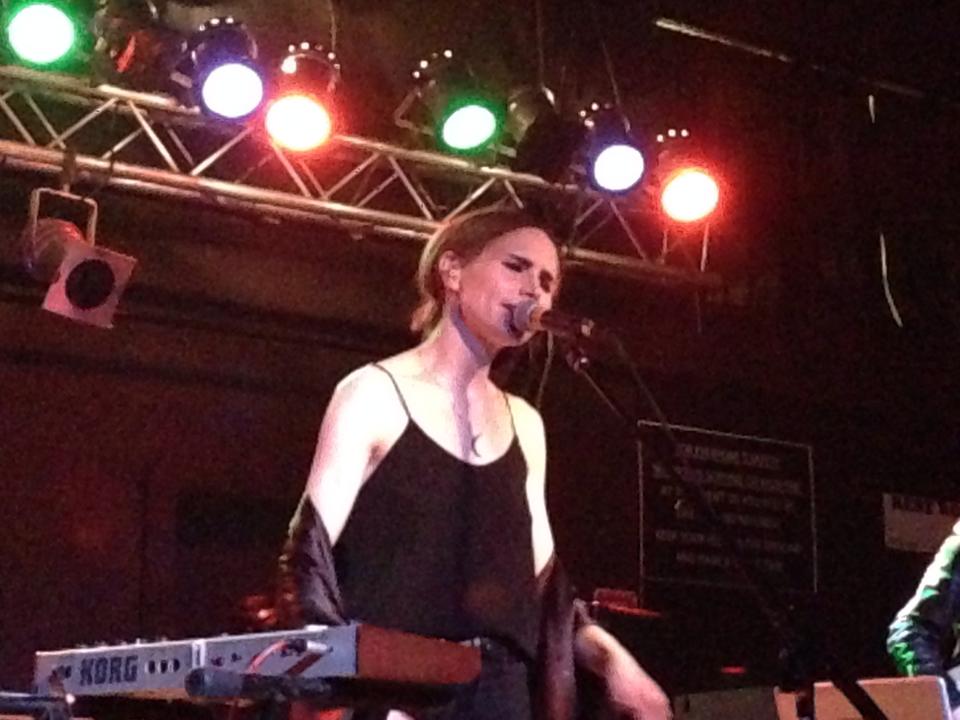 Throughout the show Nina was quite animated. There wasn't much room on the stage for her to move around, but she often danced while she was singing, or at least swayed her arms around while she stood at the mic. This was especially true as she performed the album's uptempo title track, "Animal Heart," with a greater sense of urgency than it has on the record, unleashing boundless energy.
Although the show wasn't sold out, Nina did not seem to mind and played to the audience as though they were the most important people in the world. Sometimes she sported her famous sarcastic grin, others she genuinely smiled, entirely beaming. Also, there was something bewitching about her and not just the full moon on the back of her robe and crescent moon on her necklace.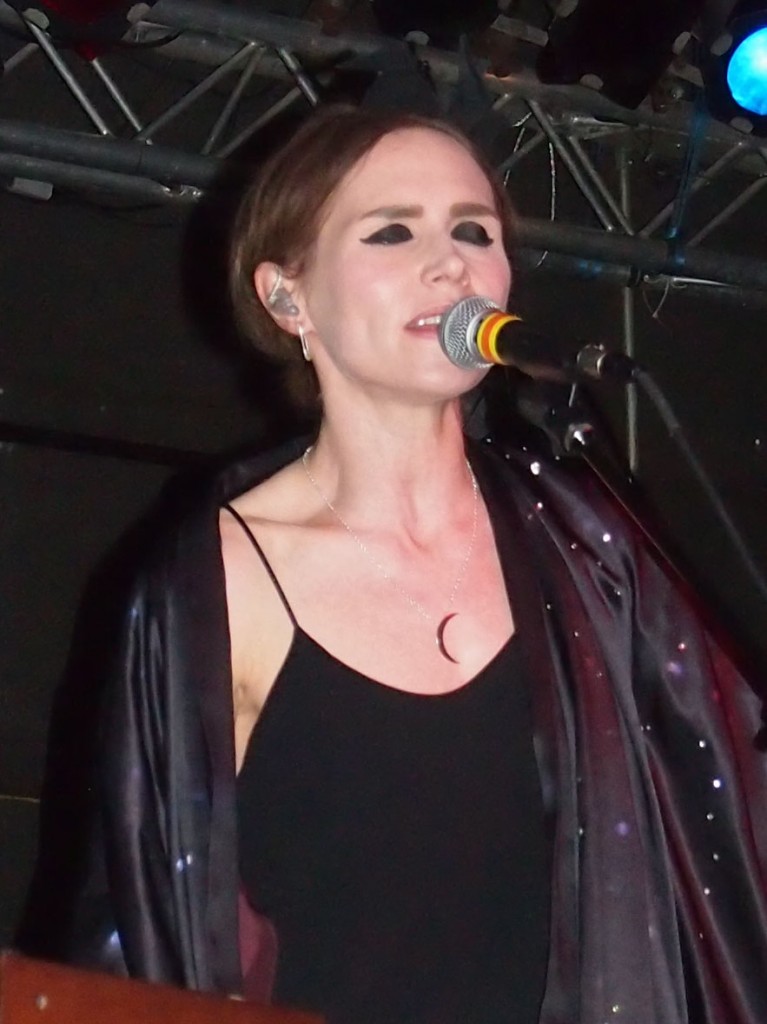 The set's fourth song was a lush rendition of "Frequent Flyer," the opening track from her band A Camp's self-titled debut. "I need some sweet assistance / While I'm stealing / Some of your time / I hope that's fine," she sang endearingly. Her assistance was, of course, her band – she named them Nina's Persons in a jovial aside – which consists of the lovely Johanna Cranitch of the stellar opening act White Prism on keyboards, the impressive multi-instrumentalist Grant Zubritsky on bass, synthesizers, etc, along with the uber-talented David Dawda on guitar (and, occasionally, bass) and the heavy as hell Brian Kantor on drums.
There were many other highlights, the set including wonderful renditions of every song from Animal Heart with the sole exception of the interlude "Digestif," although I suppose they could have played that, too, perhaps as an intro or outro to one of the album's other songs. Also noteworthy, Nina played other A Camp songs in between the Animal Heart material, my favorites being "Bear on the Beach" and the intoxicating "Love Has Left The Room."
While watching Nina attentively as she played "Food For The Beast" before the encores, I was in awe of the seemingly effortless knack to the manner with which she was infusing the songs with such sheer catchiness. Even lesser known songs like the A Camp B-side "Charlie Charlie" had the audience eating out of the palm of her hand.
The encore consisted of gripping performances of A Camp's "Walking The Cow," Animal Heart's "The Grand Destruction Game" and another A Camp B-side, a totally kick ass cover of David Bowie's "Boys Keep Swinging."
For the second and final encore, Animal Heart's closing track, "This is Heavy Metal," Nina simply sang with Johanna accompanying her on keyboards and backing vocals. They sounded beautiful together and it was easily the night's most precious moment.
Perhaps what lingers most, post-show, is the audience's adoration for Nina. Even as the show neared its conclusion and it became obvious that Nina was not going to perform any of The Cardigans songs, the audience stood there cheering and having a great time, even though it was obvious that many weren't familiar with the material on Animal Heart; nobody seemed to mind if they didn't know the new songs. They just stood there smiling and clapping and having a blast, basking in Nina's presence.