Tuesday night – 6/21/16 – I was fortunate to catch Ladyhawke on the opening night of her North American tour, her "first time playing here in ages," at Brighton Music Hall in Allston (Boston), Massachusetts.
First, I must say that I was very impressed with her opening act, Polyvinyl labelmate Psychic Twin, otherwise known as Brooklyn, NY's Erin Fein.  Along with a fierce drum pad percussionist, she delivered roughly 30 minutes of excellent synth pop with sonorous beats, her sound often reminding me of Ladyhawke's first album, though where Ladyhawke's album was bright-eyed and bushy-tailed, Erin's sound was considerably darker and melancholic. Tuesday night Erin's set included the single "Lose Myself" and other selections from her forthcoming album Strange Diary, which is due out on September 9th.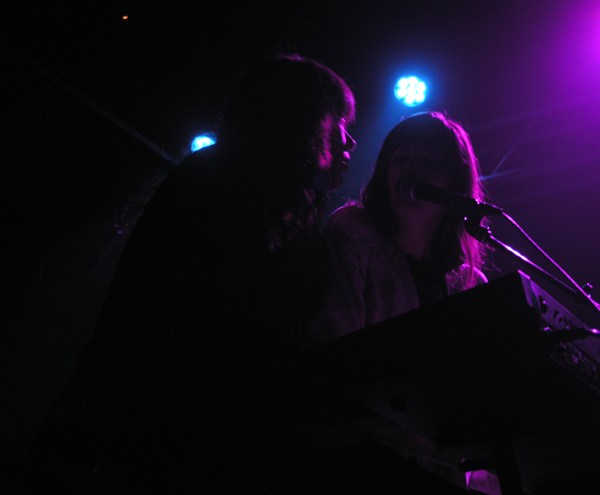 At roughly 5 past 9 P.M. Ladyhawke, also known as New Zealand's Pip Brown, took to the stage with a three member band, opening her set with "Wild Things," the super synthy title track from her recently released third album. On the record, "Wild Things" is arguably the least zestful track, but Tuesday night it sounded perfectly vibrant and somewhat more uptempo. (That's not to say that the song suffers from anything on the album; it just so happens that the rest of the record is extremely vivacious and upbeat, "Wild Things" just happening to be the one song where she slows things down a bit.) The other big difference is that on the album the track fades in slowly, whereas they kicked things off at full volume last night.
From "Wild Things," they immediately launched into "The River," also from Pip's new album. "Something in the river / Has a hold of me," she sang with a gusto that reminded me of Joan Jett. While I was focused on taking photos during this one, I noticed several of the people in front of the stage singing along, a true sign that Wild Things is proving to be a successful album already, especially since the song hasn't been released as a single, though it certainly begs to be. The audience participation continued throughout the night, "Golden Girl" from the new album following before a trio of gems from her self-titled debut: "Another Runaway," "Manipulating Woman," and "Professional Suicide."
Live, Ladyhawke's sound was considerably different than it is on the album. Rather than playing along to loops and synthesizers, for the most part the sound consisted of guitars, bass and drums; Pip herself played guitar on several songs. The guitarist in her band also played some keyboards, but for the most part stuck to the guitar. Ultimately, the sound created by Pip and her band was less in the electro or synth pop vein and more in the pop rock vein. You could even argue that the set was straight ahead rock as she delivered cuts like "Magic," "Back of the Van" and "Love Don't Live Here" with the power of a classic heavy metal band.
While Pip's first album is a true contemporary classic, her second album, Anxiety, was considerably less successful, which might explain why she only performed one song from the record Tuesday night, that being "Blue Eyes," which was surprising because there are three far catchier songs on the album, "Girl Like Me," "Sunday Drive" and "Black and White and Blue." Nothing against "Blue Eyes" though! It's just more of a deep cut, whereas the other songs I've just named were the album's singles, if memory serves me correctly. (For the record, I thought Anxiety was a great album, but I can understand why some were put off by her trading in the synthesizers for guitars.)
From "Blue Eyes," she went straight into a frenetic performance of "Dusk Til Dawn" and into a trio of delightful tracks from Wild Things, "Sweet Fascination," "Let it Roll," and her latest hit, "A Love Song," the latter having damn near everybody in the house singing along. There was a space on the set list between "A Love Song" and the following two tracks, but rather than leaving the stage and coming back for an encore, she just launched right into "Paris is Burning" and closed out the sixteen song set with "My Delirium."
Since Pip's songs tend to be on the short side length-wise, the set only lasted 65 minutes, which seemed a bit brief until I realized how many songs she'd done. One reason why it wasn't longer is that she barely said anything in between songs. Aside from mentioning that she hadn't played the States in ages, about the only thing she said to the audience was thank you. In fact, she didn't even introduce the guys in her band or acknowledge that she was in Boston. There were no solos either, though Pip proved to be a capable guitarist and surely could have injected one into a song or two if she wanted to. To that end, the songs were performed with their original structure and length in tact all night. With a lot of bands, songs wind up extended for another minute when they do them live but Pip made sure that each song left you wanting more. You never stood thinking "is this song ever going to end." You were hit with one song after another without ever having time to think something like that. Ultimately, the way she barreled through her set non-stop just meant that the dancing never quit!