review by Michael McCarthy
all photos by Joshua Bernard
This week I caught Garbage with opener Kristin Kontrol at the House of Blues in Boston on Thursday night (July 28th, 2016). It was something of a dream come true because the last couple of times Garbage passed through Boston they played venues I'm not crazy about – The Paradise and The Orpheum – and both times I kept wishing the show was happening at the House of Blues. I recognize the history of The Paradise and The Orpheum, but The Paradise tends to make me feel claustrophobic and the only seating is on benches upstairs that you can't see the stage from and there's no disabled seating – I'm disabled – unless you count that. The Orpheum is a seated venue and is comfortable in that sense but I don't find the acoustics to be particularly good for a rock concert. Plus, people were smaller when the venue was built, so the seats and rows are a bit too close together for comfort for me. The House of Blues is fantastic because it's spacious, has great A/C and has excellent special seating put aside at every show for the disabled. So, yes, I was very excited to finally see Garbage at my favorite venue.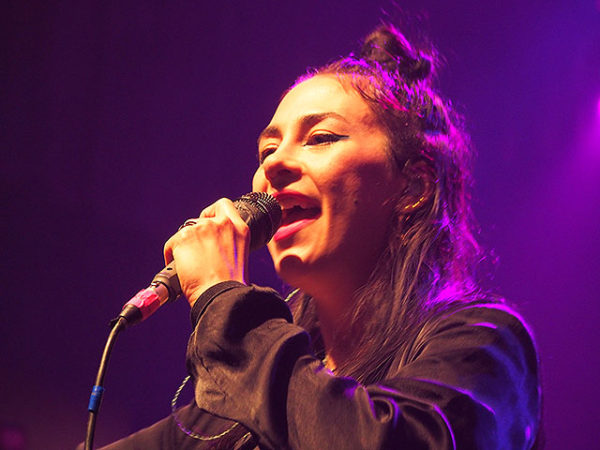 First, though, was opener Kristin Kontrol, who you probably know as Dee Dee from Dum Dum Girls. Kristin is her born first name and Kontrol is, well, something she thought sounded cool. She hit the stage at eight and opened her set with a song that I did not recognize but according to setlist.fm it was called "Baby Are You In." In any case, it was highly infectious and immediately grabbed the audience's full attention and all eyes were on her for the rest of her 30 minute set. She had great energy live, constantly moving about from one side of the stage to the other with all the elegance of a ballerina. The remaining six songs of her set were all taken from her fabulous solo debut, X-Communicate. From the first time I heard the album, I thought it was excellent nighttime music, which is perhaps why it went over so well live as she performed songs like "White Street," "Show Me" and "Smoke Rings." Another reason I was impressed by her performance was that she performed with a live drummer. On the album, there's a big '80's vibe and most of the songs sound like they were made using drum machines from that era. It isn't a bad thing, but the songs sounded so much heavier and crisper with the live drums, which has me hoping she'll release a live EP or do an iTunes Session with them. She closed her set with the excellent "Skin Shed" which had half the venue singing along by the time it was over.
Garbage took to the stage at 9 and kicked things off with a super heavy rendition of "Supervixen," the first song from their self-titled debut, the familiar opening chords rousing the audience. If anyone was getting sleepy from drinking too much booze, they certainly woke the fuck up by the time the song was done. People were bouncing around so much during the next two songs – "I Think I'm Paranoid" and "Stupid Girl" – that the heat they generated seemed to raise the temperature in the venue over 5 degrees. Thankfully, it was still pretty darn cool – like I said, the House of Blues has wonderful A/C.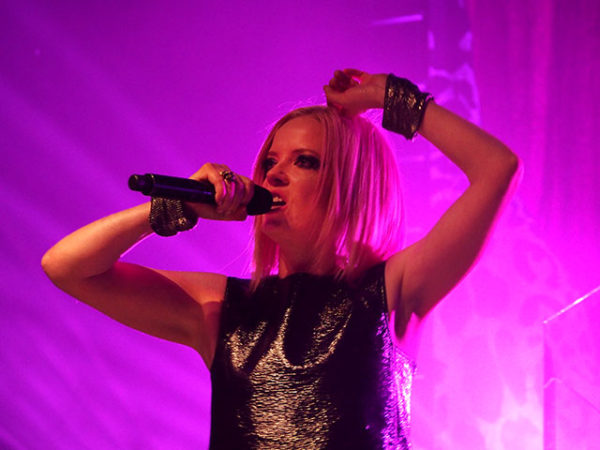 For the next hour and fifty minutes, frontwoman Shirley Manson was worshiped like the rock Goddess that she is, although guitarists/keyboardists Steve Marker and Duke Erikson commanded almost as much attention, their slick riffs and synths stimulating one's brain as much as Shirley's sexed up vocals as they continued with the fierce songs "Automatic Systematic Habit" and "Blood For Poppies," both of which were from the 2012 album Not Your Kind of People. They surprised me with the next song, "The Trick is to Keep Breathing" because it was only a single in Germany and so far they'd been sticking to the worldwide singles. I was quite happy about it, however, as it's always been one of my favorite songs and hails from the album Version 2.0, my favorite Garbage album and one of my top five albums of all time.
There was one thing distracting me throughout the show, if I'm to be entirely honest, and that was the absence of drummer Butch Vig. I hadn't heard anything about him not playing that night – nothing about him being sick, for example – but someone else was pounding the skins all night. Strangely, Shirley didn't introduce the band, which she usually does, so I don't even know his name. This isn't for lack of trying to find out though. On Friday, I tweeted Shirley and Butch, and e-mailed the band's publicist, to ask why Butch wasn't there and who the drummer was but I received no replies at all. Very bizarre. I certainly hope Butch is still in the band. While Shirley will always be the band's M.V.P, as Garbage without her would be like Blondie without Debbie Harry, the band is equal parts Steve, Duke and Butch and it would be disappointing to learn that he's quit or been fired.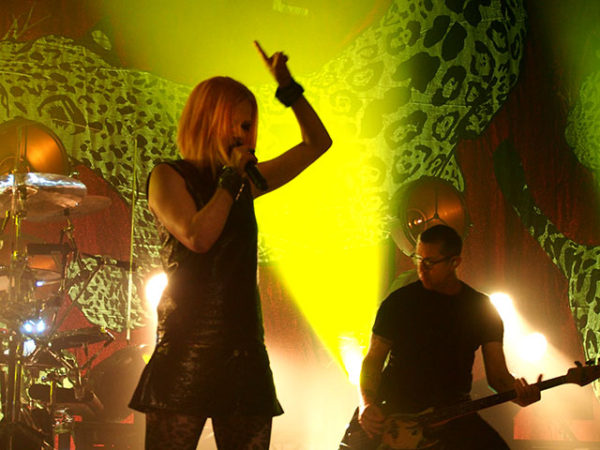 As you may or may not be aware, Garbage has never had an official bass player in the band. For the past several years, however, Eric Avery has performed live with them – as well as on some of the new album – and he's quite the talented cat. I'd go so far as to say that he's one of the best bass players I've ever heard live, so I was quite happy to see him with the band once again. They really ought to make him an actual member of the band at this point.
Shirley was like the Energizer Bunny on steroids throughout the show, never even sounding slightly out of breath. At one point she asked the audience for a hair band, as she was "all sweaty," and of course the audience obliged, and she immediately tied her hair back with the second one she was given; the first one was too small. Otherwise, the band possessed great stamina, never showing any signs of slowing down except, of course, for when they did ballads like "Beloved Freak" and "Bleed Like Me."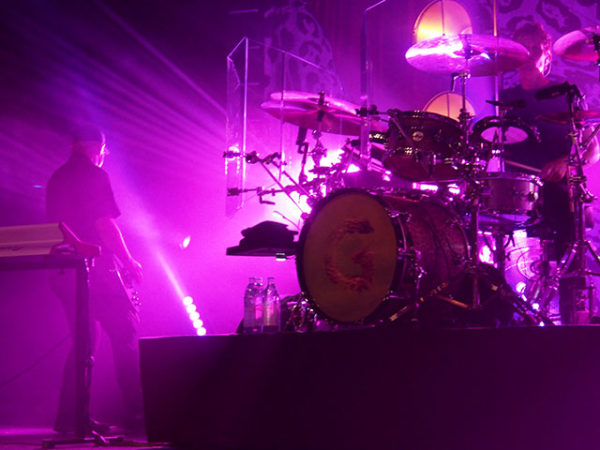 All of Garbage's albums were represented in set, which also included such songs as the vicious "Why Do You Love Me" and the throbbing "Shut Your Mouth," the latter of which was peformed live for the first time in four years. The show wound up being 22 songs long, which was quite a few songs longer than most artists seem to be doing these days. It seems like expecting a band to even play an hour and twenty minutes is asking for too much lately. So, I was surprised and delighted that Garbage did so many songs. I do wish they would have thrown in a few B-sides or at least did more deep cuts instead of playing it extra safe by sticking to the singles, but I understand they'll be doing a 20th anniversary tour for Version 2.0, so I'll get to hear plenty of deep cuts and B-sides at that show, just as they performed such tracks on their 20 Years Queer tour last year in celebration of the anniversary of their first album.
Aside from Butch being absent, the other big surprise of the night was that the band only performed four songs from their new album Strange Little Birds, which struck me as bizarre since that's the album they're touring in support of and usually they perform at least six or seven songs from whatever album they're promoting on a given tour. Perhaps this was because the drummer didn't have time to learn more of the new tracks? In any case, the four new songs they did all sounded exquisite. During the regular part of the set they did "Even Though Our Love is Doomed" and "Blackout" and then the first two songs of the encore were Strange Little Birds' opening tracks, "Sometimes" and "Empty." As for the third song of the encore, you'll just have to go see them for yourselves if you want to know what that is. Well, OK, you could go look up the show on Setlist.fm but what would be the fun in that? You wouldn't want to read every spoiler about your favorite TV show, would you?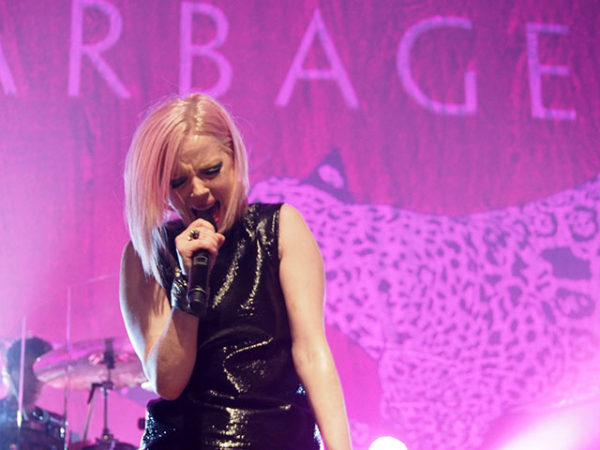 Whether you've seen Garbage several times like me or you've never caught them live, I highly recommend you check them out when they come to your town. Shirley Manson is one of rock and pop's greatest performers of all time and if you only know her from the band's albums then you only know the half of her. She's a veritable dynamo on stage, mesmerizing the audience with her charisma – and seeing her and the band perform live is quite the treat. Even when Butch is missing.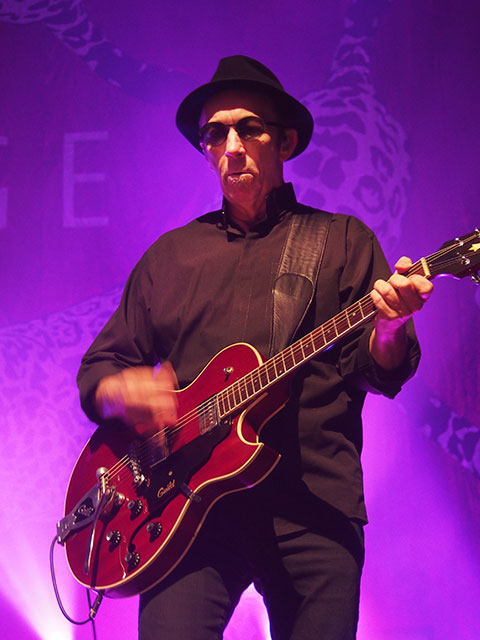 Kristin Kontrol: