ENTOMBED A.D.: BACK TO THE FRONT
Thrash music has been pretty lame as of late, if you ask me.  But perhaps listening to so much black metal and death metal has made thrash feel a bit too safe, too tame and too accessible.  Likewise, there are far too many death metal acts out there who are just churning out albums that follow the formula so well that they're almost as bad as pop music acts that just stick to the formula that works.  To be innovators and really get listener's respect, you have to be willing to break the rules.  Walking the straight and narrow is boring.  There should be a shocking element to death metal but the sameness of it all just makes me yawn sometimes.  To get to my point, Entombed A.D. does not care about any fucking rules.  Musically, their songs tend to be thrash, yet the vocals are a bit too growled to be considered thrash, which is probably why they're usually considered death metal.  But they don't have that organized chaos going on that's so characteristic of death metal.  Their music isn't quite that brutal and the vocals/lyrics are more understandable.  I wouldn't call this death metal lite though.  It's still pretty damn heavy.  Imagine if Metallica's Kill 'Em All had slightly growled vocals and that's what we have here.  An instant classic, to be sure.  If you're a narrow-minded individual who only likes thrash *or* death metal — not both — then this probably isn't your cup o' tea.  But if you like the broad spectrum of metal then this will rock the hell out of — or into — you.
released: 8/5/14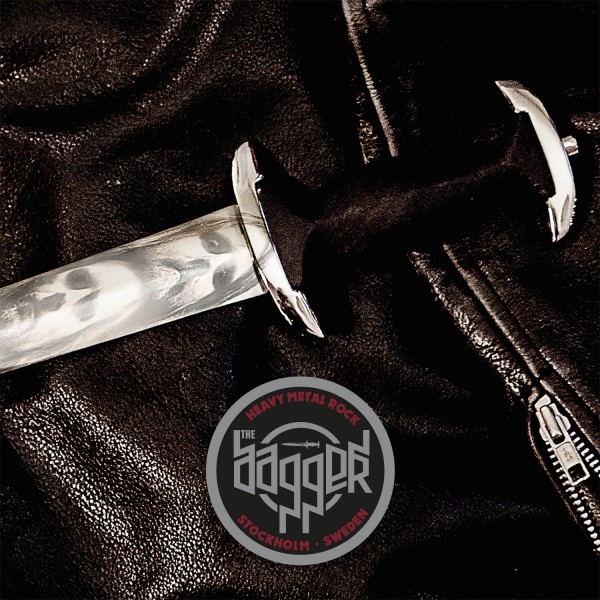 THE DAGGER:
Just listening to the intoxicating opening of "Ahead of You All," the first track on The Dagger's self-titled debut, I knew I was in for a treat.  It's like blissful classic rock style music, but it's also something original and dazzling to behold.  And when the vocals kick in, well, prepare to be mesmerized.  They're like a cross between Tommy Shaw and Rob Halford.  If the Styx of "Renegade" tried to do an album in the Black Sabbath vein, this is what you'd get.  Check out the stellar "Call of 9" and you'll get it.   It also has an air of Motley Crue's Too Fast For Love with a dash of Deep Purple thrown in for good measure.  But I'm comparing them to too many other artists.  You really have to hear these cats for yourself.  They aren't a mix of genres so much as a genre themselves.  If they continue to release albums this brilliant then in fifteen years people will be comparing new acts to them because they are truly innovative.  What also makes them so wonderful is the air of mystery about them.  As they sing about prophecies and the night and rainbows, you feel like you're listening to music by Nostradamus or Alister Crowley.  Maybe the late Ronnie James Dio is feeding them lyrics from beyond the grave?
released: 7/22/14
LES ENFOIRES: BON ANNIVERSAIRE LES ENFOIRES
Les Enfoirés — French for "the bastards" — is a group of French artists who come together every year to perform a concert to benefit the charity Restaurants du Cœur (a.k.a.Les Restos du Cœur).  The interesting thing about Les Enfoirés is that the group is different every year.  Basically, they get a bunch of French stars together, including artists new and old, and do a concert that is then released on CD to raise money for the charity.  I believe they also release the concerts on DVD now, but I'm not positive about that.  In any case, I'm always curious to hear these albums each year because you never know who's going to be on them.  I own a half dozen of them, those featuring Vanessa Paradis, who's my second favorite French artist after Mylène Farmer, but if I had the money I'd buy them all because, the charity aside, the one thing these albums have in common is that they're FUN.  The songs they do are largely French classics but during recent years they've been whipping out a couple of contemporary hits as well.  This year's album features M. Pokora, Tina Arena, Mc*Solaar, Zazie, Jacques Bruel, Bénabar, Lorie, Christophe Willem and Zaz, among others.  The only bad thing about this one is that they do Robin Thicke's "Blurred Lines" and they don't even translate it into French; they just sing it in English.  It's so weird to hear so many French stars with French accents singing that song in English together.  There are a few other English songs as well, but these tracks are all on the second disc, which is almost like a second show, the concert running over two hours in length, so you can easily enjoy the first and main part of the show without listening to the English stuff if it sounds as ridiculous to you as it does to me.
released: 3/14/14
MY BRIGHTEST DIAMOND: NONE MORE THAN YOU
"I could stay here all day, just watching you breathe," sings My Brightest Diamond, otherwise known as singer/songwriter Shara Worden, during this EP's opening track, "Dreaming Awake," which is presented for the first time here, albeit in the form of a Son Lux remix.  It's unusual for an artist to release a track in remix form before releasing the album version or a radio edit of the album version, but My Brightest Diamond has always been a peculiar if mysterious artist, so it's not hugely surprising.  What it is, well, is all kinds of amazing.  Her vocals are gorgeous and ethereal as ever and sure you leave you feel like you're floating through the clouds during an out of body experience.  The EP also features two other new songs, the bouncy and slightly abstract electropop bouncer "Whoever You Are" and "Dreams Don't Look Like," which is, in fact, quite dreamy and incorporates elements of new age and folk music; imagine if Enya was slightly less abstract and more grounded.  Finally the EP concludes with a Mason Jar remix of "Dreaming Awake" that really lets Worden's operatic side shine during the beginning, but eventually it does deliver some heavy and organic beats that become increasingly boisterous and complex as they go on, rendering this version of the song rather epic.  I am dying to hear her new album, This Is My Hand, which comes out on 9/14/14.
released: 7/15/14