Unfortunately, we could not get these Soundcloud tracks to embedd on our site, but the project is invigorating, just bursting with creative energy, so we thought you should know about it anyway… Seriously, this album is going to be to die for.
https://soundcloud.com/frenchstylefurs/all-the-way-down
https://soundcloud.com/frenchstylefurs/world-in-my-bloodstream
https://soundcloud.com/frenchstylefurs/solitary-life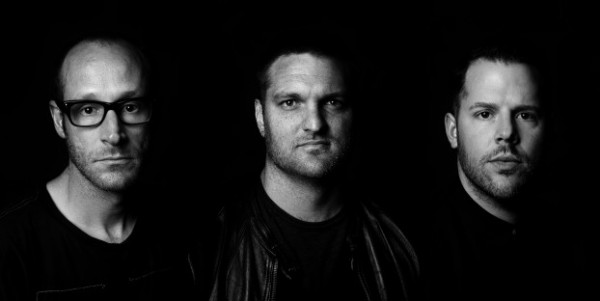 FROM THE PRESS RELEASE:
French Style Furs is Nathan Willett, Matt Maust, & Nathan Warkentin
French Style Furs Is Exotic Bait LP came to fruition through a combination of fate, artistic vision and the spontaneity of three long time friends. During frequent stops in NYC, Cold War Kids reunited with an LA compatriot from We Barbarians. One day during the sessions they passed a nearby Greenpoint storefront called French Style Furs. It was kismet.
Maust and Warkentin began recording bass and drum tracks in the winter of '13. Nathan Willett showed up with a large book of poems written by a 20th century monk. The collaboration that followed was uncharted territory; A recording project that began spontaneously to document a creative urgency.  The inspiration behind the idea to use the poetry of Thomas Merton as the lyrics for the LP came from Willett's fascination with the mystic who wrote on social justice, pacifism and Eastern religion.  These poems opened a door of possibilities for Willett to sing unhinged,  and gave vision and direction to the album.
Is Exotic Bait lent itself to more than just the voices and instruments of its three creators. They invited percussionist Stephen Hodges (Tom Waits, David Lynch), whose rhythms were essential on tracks like the David Byrne-esque "Solitary Life." Vocals from Haley Dekle (Dirty Projectors), Zina, and Marika Dahlin helped to raise the reach of "Man the Master" and "Bloodstream." And horn arrangements from Nick Kinsey and Wyndham Boylan-Garnett (Elvis Perkins in Dearland) fill out the flesh of songs like "Clairvaux Prison."
Producer Nick Launay possessed the group's ideal sensibility to mix the album. His work with PiL, Grinderman, Nick Cave, and Yeah Yeah Yeah's was the final touch. French Style Furs Is Exotic Bait is the final product that can only result from a band that is clearly having fun while pushing itself.
Tracklisting
01. 3 Friends
02. All The Way Down
03. (World In My) Bloodstream
04. Solitary Life
05. Miami U R About 2 B Surprised
06. Ambassadors Of General Electric
07. Turn Or Burn
08. Man The Master
09. Christmas Card
10. Clairvaux Prison
LA Satelliite Residency
06/02 – 10:30pm
06/09 – 10:30pm
06/16 – 10:30pm
06/23 – 10:30pm
Other Shows
07/07 – Mercury Lounge / New York, NY – 8 PM
07/09 – Rough Trade / Brooklyn, NY – 10 PM
Links
Website
Facebook
Twitter
Instagram
Frenchkiss