It seems like just yesterday Travis were riding high on the success of their 1999 album The Man Who, which yielded the massive hit single "Why Does It Always Rain On Me" and sold 2.7 million copies in the U.K. alone, earning them a BRIT Best Album Award. They did relatively well here in the States, too, although they were certainly never as big here as they were in England when they played Glastonbury in '99. Unfortunately, Travis gradually lost much of their fanbase as the years went on and their albums garnered them increasingly negative reviews. (But you have to keep in mind that many critics regarded their debut Good Feeling so highly that anything that came later was going to disappoint them.) And so they went away. For five years. (During which time frontman Fran Healy released a delightful pop rock album called Wreckorder.) But now they're back and, yes, you could say they're better than ever. Or at least as good as they were at the height of their career. All eleven songs on their new album are keepers well worth your downloading dollar(s).
"Happy ever after / Dancing with disaster / Hold me close and listen to the song / Why did we wait so long?" sings Healy during the opening number "Mother." He isn't exactly referring to the time in between Travis albums but he might as well be. And you'll be wondering why they waited so long, too, this album being so full of ripe melodies, gorgeous harmonies, clever lyrics and super hooks. In fact, "Mother" is so fabulous that if you told someone that Brian Wilson wrote it they'd surely believe you.
Healy evokes Lou Reed a bit as "Mother" winds down and more so during the verses of the next track, "Moving." "We're moving on and on and on and on and on," goes the end of the chorus, clearly seeking to elevate your spirits. And it more than likely will.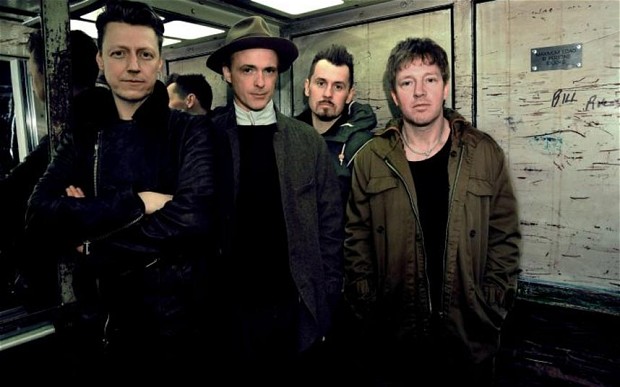 "I will be right by you where you stand," Healy sings during the title track "Where You Stand." If I had to call one song on the album boring, it would be the one. But it's not actually all that boring. It's just one of those songs that would seem to belong to another time. To that end, if you put it in a time capsule and sent it back to the '70's then I'm sure it would be a huge hit, if only on A.M. radio (which was still all the rage back then).
My favorite track on the album is "New Shoes," which is something of a Pro-Tools experiment. Granted, they might not have produced it with Pro-Tools, but if you were around during the band's heyday then you'll know what I mean by that. For those of you who weren't — you lucky young folks — it basically mean that the song is full of electro-flourishes and loops. Suffice to say it's not your typical Travis song. It's highly intoxicating though and it really shines with multiple listens.
If for no other reason, you should check out this album because Coldplay's Chris Martin says that Travis is "the band that invented my band." Although, perhaps I shouldn't have mentioned that? I fear that fact alone might keep some of our readers from investigating this album. (Especially you lucky young folks.) That would be such a pity though. Because it really doesn't matter what you think of Coldplay — Travis is much better anyway.