Once upon a time I published a hair metal zine called ANT, The Only Cool Magazine That Bites. During that time, there was a rock band out of the Boston area that I fell in love with called Ragtime. They weren't exactly a hair band but I think they'd agree that they were fairly in that vein. More like classic rock Aerosmith or Cheap Trick though.
As I covered them for roughtly two years, I became friends with two of the guys in Ragtime in particular, John Russell and Rich Akbar. Truly wonderful human beings. Well, John still sings and he just sang 90% of the lead vocals on a wonderful Christmas album by his band The North Atlantic All Star Band. If you have Amazon Music, you can stream it on there right now. All of the songs are also on Youtube! And can also buy a download on Amazon like I did.
To sum it up, this festive album is totally rocking and infectious. Plus, it's fun, fun and more fun. A must-listen this holiday season.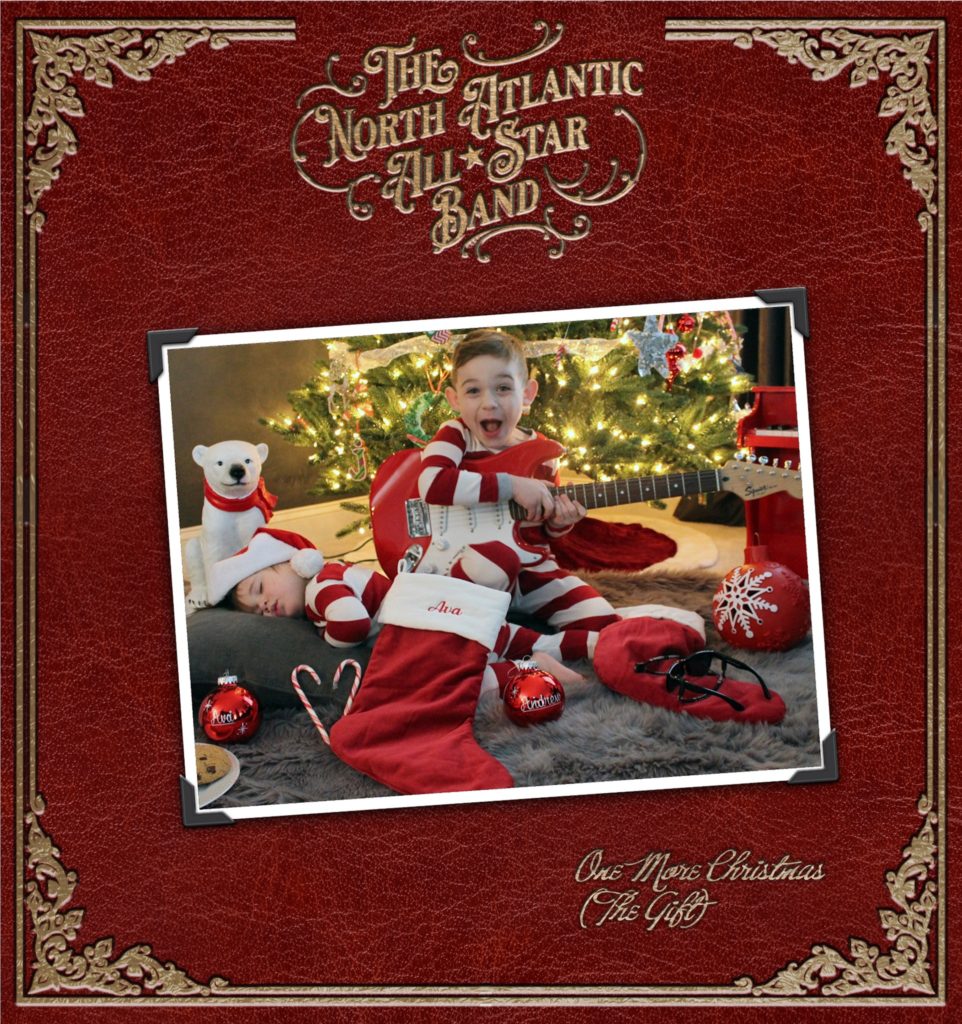 And here's the official information:
The North Atlantic All-Star Band is officially kicking off the holiday season by announcing the release of their first Christmas album, "One More Christmas (The Gift), out digitally today – November 29th. A physical CD and vinyl release will be available in late 2023.
This album started out as a Covid project when John Russell (vocals) and Stephen Banville (guitar) got together to break in Stephen's new home recording studio, Midiron Sound. Before long they had an outline of what they wanted the project to sound like and who should be involved in creating their sound. They began to recruit some of their favorite players in the Boston area to create the core band. David Stefanelli (drums) of RTZ, Peter Wolfe, Sully Erna fame signed on first, followed by Dino Monoxelos (The Ampeg Guy) on bass, Brian Maes (piano) of RTZ, Peter Wolfe, Orion the Hunter, Ernie and the Automatics, and Barry Goudreau's Engine Room), Carl Ayotte (horns, background vocals), and Ananda Nakira (lead and background vocals).
The album currently consists of 8 Christmas classics and 2 original Christmas songs with 1 more original Christmas song to be released next year with the CD and Vinyl release.
Special guest appearances by Lisa Guyer (Mama Kicks), Charlie Farren (Fahrenheit, Joe Perry Project), Mark Cherone (Hurtsmile, Slipkid, Flesh, Superzero), MaryBeth Maes (Barry Goudreau's Engine Room), Michael "Tunes" Antunes (John Cafferty and the Beaver Brown Band), Yamica Peterson Cain, Jojo Rodriguez, Byron Marks, Ceci Ayotte, Gabby Reece, John Romario Reece, along with Andrew and Ava Russell really make this album an All-Star performance!
Produced by John Russell and Stephen Banville, Engineered and Mixed by Stephen Banville @MidironSound, and Mastered by Grammy Award Winner, Bob St. John @PDQStudios
Track Listing:
1. Christmas (Baby Please Come Home)
2. What Christmas Means To Me (Featuring Ananda Nakira)
3. I Saw Mommy Kissing Santa Claus
4. Merry Christmas Baby
5. One Christmas Eve (A Child's Prayer) – Original
6. Let Me Be Your Santa Claus – Original
7. Blue Christmas (Featuring Lisa Guyer and Brian Maes)
8. Please Come Home For Christmas
9. Christmas Is The Time To Say "I Love You"
(Featuring Ananda Nakira, Mark Cherone, Yamica Peterson Cain, Brian Maes, MaryBeth Maes, Charlie Farren, Lisa Guyer, and Michael Antunes on Sax)
10. Run Run Rudolph
This album really embodies the magic of Christmas and is packed with energy, emotion, and soul. Every song truly delivers the true spirit of the holiday season. Enjoy!
(Album design by Marwan Aylouche @ www.Mar1.com. Cover Photo by Barbie Kiberstis @ Barbara Lynn Photography)
Available NOW on Digital:
iTunes – Amazon Music – iHeart Radio – Spotify – Pandora
https://embed.music.apple.com/…/one-more…/1656900700