Skylar Grey is the alias of American singer/songwriter Holly Brook Hafermann. Her first full-length album, 2006's Like Blood Like Honey, was released under the name Holly Brook, but during recent years she underwent a transformation and decided to start going by Skylar Grey. According to Wiki, she chose her new name because "it represents the unknowns in life. People seem to be afraid of the unknowns, but I'm the complete opposite. I dive into the unknown because I feel like that's where all your possibilities come from." As for why she chose to spell Grey with an e instead of an a, she's explained that "it's more masculine. I'm not a very feminine person."
Unless you've been living under a rock for the past few years, chances are you've heard some of Grey's contributions to the music world already. Perhaps most noteworthy is that she wrote the hook to all three versions of "Love the Way You Lie" by Eminem and Rihanna in addition to all of the lyrics and melody to versions II and III of the song. She was also a featured guest singer on Dr. Dre's emotive "I Need a Doctor" and Lupe Fiasco's melancholic "Words I Never Said." Most recently she's received some attention for co-writing Zedd's smash single "Clarity." But the list of songs Grey has written, co-written and performed vocals on is quite long, so I suggest you head on over to Wikipedia after you finish reading this review if you're curious to know more about her.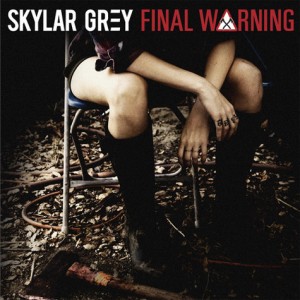 Don't Look Down opens with "Back from the Dead" featuring Big Sean and Travis Barker. The song begins with Grey simply singing along to haunting piano: "I never thought that you and I would ever meet again / I mourn the loss of you sometimes and pray for peace within / the word distraught cannot describe how my heart has been / but where do we begin now that you're back from the dead?" And then a massive hip-hop beat drops along with ghostly whistles and layers and layers of lush electro-tinkering. (She cites Garbage as an influence and her songs are full of nuances that call to mind their exquisite production skills.) To say the song is dark would be an understatement and it's exactly what you'd expect from a young woman who calls herself Skylar Grey.
Next up is the punchy ballad "Final Warning," which finds Grey sounding particularly vulnerable even though she's clearly the one calling the shots as she sings lyrics like "good afternoon dear / how does the rope feel around your neck? / just one more error / could be your fatal step." If there's a theme to the album it would seem to be Grey tearing her lovers — and ex-lovers — to shreds. Yet she sounds fragile throughout much of it, never coming across as the least bit cocky where most artists would sound entirely arrogant if they sang her lyrics.
Much like Lana Del Rey's Born To Die, it's the pairing of artsy but catchy pop lyrics with loud, in-your-face hip-hop beats that makes Don't Look Down feel so fresh and vibrant. But where Lana's album was light and upbeat, Grey's is dark and often creepy. "You may think I'm harmless / you could not be more wrong," she sings during the chorus of "Ticking Time Bomb," another song with a dangerous vibe. This one blends super dark beats that split the difference between dubstep and drum 'n' bass with pretty, airy vocals. It was produced and co-written by Alex Da Kid, who co-wrote and produced approximately half of the album, including the track "Tower (Don't Look Down)," which is currently iTunes free single of the week. (She has a production deal with Da Kid's KIDinaKORNER imprint.) "You're high upon the tower / now don't look down / I will be okay here on the ground," she sings and it's impossible to tell if she's trying to reassure her ex that she'll be fine without him or if she's being sarcastic, especially as the chorus ends, "and you can always call / to say hello from time to time / when you're no longer mine."
One thing is for certain: Grey's lyrics are always brutally honest. If she thinks it, she sings it, basically. Like Eminem, who guests on the surprisingly upbeat "C'mon Let Me Ride," Grey does not believe in censoring herself. Whether she's swearing up a storm or contemplating murder, she lets it all come out and that's certainly part of her charm. That, combined with her precious voice and her ability to write irresistible melodies, should ensure that she has a long and very successful career and I can't wait to hear whatever she does next.