Ysa Ferrer is an artist who half of our readers have likely never heard of while the other half are undoubtedly quite familiar with her. If you live in the States — where we're based — then you're probably not familiar with her. But if you live in Europe, she's practically a household name at this point. But that wasn't always the case. She's not what you'd call an overnight sensation.
Ysa was born to Spanish parents in Algeria but wound up in Paris as a teenager where she dabbled in DJing and acting. But music was her true passion and she was always making demos and trying to get a record deal. This finally happened in 1995 when she signed with Universal Music France. They released two albums, D'essences naturelles in 1995 (not so good) and Kamikaze in 1998 (brilliant). The first album didn't fare so well, but Kamikaze delivered a hit in the form of "Mes rêves." Unfortunately, it wasn't enough of a hit for Universal to sign her for a third album. Fortunately, she did get deals to release a few other singles for other labels. She released the lovely "Mourir pour elles" on EMI Records and the highly infectious "Made in Japan" on East-West France. Neither song flopped, but once again her hits weren't big enough hits for them to sign her for an album. But she didn't give up and released a new dance version of Goran Bregovic's song "Ederlezi," which she'd previously covered on Kamikaze. This version of the song was a top 20 hit in Sweden and a massive hit in eastern Europe, Germany and Russia especially going gaga for it. During this time, Ysa became a huge gay icon, thanks to songs like "To Bi or Not to Bi." Satisfied with all of this, Ysa soldiered on, founding her own label, Lovarium Productions, in 2007. Since then, she's released three fabulous albums, 2008's Imaginaire pur and 2010's Ultra Ferrer and, now, her new 2014 album Sanguine.
As my longtime readers are aware, I know some French but I'm far from fluent. I knew sang was blood, but I wasn't sure what Sanguine meant. According to my French English dictionary it can mean bloody or fiery. According to Google translate, it means blood or blood chalk (whatever that is). But I think she means bloodthirsty. I could be mistaken though. Suffice to say it's something to do with blood. In any case, Ysa writes all of her songs, music and lyrics, so one might consider her often risque lyrics a reason to like her music. But, to me, that's secondary to what the music actually sounds like. Subsequently, I'm basically approaching this review the same way I approach the Asian music I review for otakudx.com. I just look at the voice as an instrument and don't worry about understanding the lyrics. Occasionally, I'll look up translations of really popular K-Pop songs where the translations are easy to find, but most of the time I just write about the melodies and harmonizing and music, not concerning myself with the fact that I can't understand the language it's in.
This video is NSFW…

Sanguine opens with "J'explose en couleur." I don't think you need me to translate that one for you. If so, well, it means "I explode in color." And, true to its title, it's a very colorful song. It also finds Ysa veering in a different direction because it's more of a pop rock song than most of her recent material. Typically, she does dance pop (and she does it very well), so opening her new album with this was a risk but her entire career is about taking risks, so it's hardly shocking. (She actually sings the line "nothing to lose" in English here.) What it is, is very invigorating, bursting with kinetic energy. And it's a perfect opening song because it grabs hold of you and makes you pay attention, ensuring you actively listen to the album rather than passively listen to it as background music while you snort amphetamines and study criminal law or something.
Sure to be a single, "Pop" follows and proves to be one of the catchiest pop songs you're sure to hear this year as she sings about, well, the fact that she sings pop. More than that, she tells the boys to be wary of her. (That much I understood.) Like "J'explose en couleur," it's all about hard pop rock beats and vibrant guitars. Rather than making another dance record, my guess is that Ysa set out to make a heavy one this time around. Which is perfectly fine with me. It's her sweet, charming voice that makes me love her, so I'm on board regardless of what genre she's playing with at any time.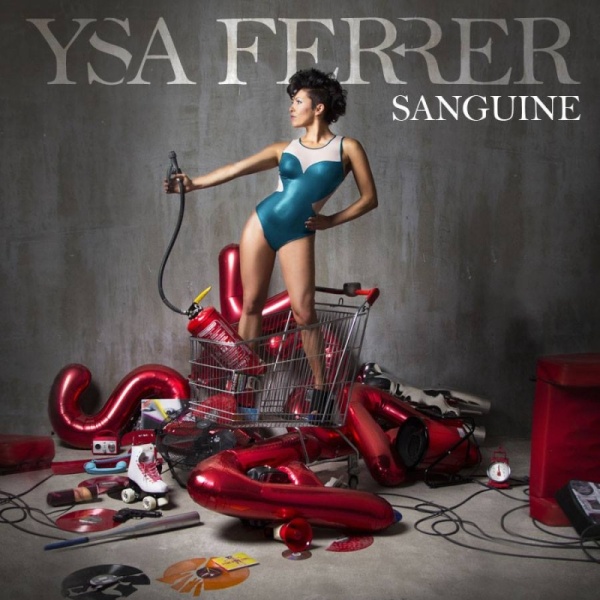 "Folle de vouloir continuer" follows, my translation of the title being "I madly want to continue." But whether she's talking about her career or a relationship — or both — I'm not sure. (Could be something else entirely, too) It's quite the beautiful song though, beginning and ending as a piano ballad with Ysa singing indelicately, her voice showing a vulnerability one isn't used to hearing in her songs. But it goes all out with loud guitars and heavy, almost danceable beats in the middle, turning it into something rather epic.
In my opinion, the best song on the album is "God Save The Queen," a magnificent bilingual song with lots of English and, more importantly, a killer melody. Oh, and it also packs Ysa's trademark bouncy dance beats. That said, it's not the fact that it's danceable that makes me like it so much. It's just the overall vibe of the song, which has potent strings, keyboards and assorted electro-flourishes along with those hefty beats. I also love the chorus, especially at the end: "God save the Queen / I'll fucking everything / Cause I'm the Queen / I'll fucking, I'll fucking, I'll fucking everything." Obviously, something is lost in translation there because nobody who speaks English fluently would say "I'll fucking everying." They'd say "I'm fucking everything." Or "I'll fuck everything." Or "I'll fuck up everything." You get the idea. But who cares if her English isn't perfect? Hearing her sing "I'll fucking" over and over is priceless and that's just the cherry on top of a veritable hot fudge sundae of a song.
Perhaps with her last couple of albums you could accuse Ysa of writing the same song twice, but that's not the case with Sanguine. Here, she tries lots of different things. Take "No Time To Cook," for example. It's an electropop masterpiece with hints — just hints — of dubstep mixed in with more traditional electro-sounding loops and such. "No time to cook, wash, dust," etc, she sing-speaks, calling to mind the Kylie and Towa Tei collaboration "German Bold Italic." But she sings the chorus normally and it's as uplifting as the verses are mundane: "No time to waste / Look beyond the sky / We'll fill the universe with kaleidoscope eyes." Now that's the Ysa her fans know and love, bursting with magnificent colors and positive energy. And, speaking of Kylie, Ysa has often been called "the French Kylie Minogue" and it's easy to understand why when you listen to this album, which has shades of Kylie's electro-pop masterpiece X all over it. But it's OK to be inspired by other artists if you in turn are inspiring and inspiring is what Ysa does best.
She wants your blood and you'll happily give it to her.