Once in a while a band comes along that's so good you wonder how you ever lived without them. I remember feeling that way when I discovered Motley Crue and Guns 'N' Roses as a kid, or The Killers and Franz Ferdinand a decade ago. During more recent years, I stopped getting that feeling. I would often wonder if I was just harder to please, being an aging music junkie, or if the bands coming out during recent years just weren't as exciting. Well, I finally experienced that feeling again last week when I heard X Ambassadors debut album, VHS, for the first time.
The X Ambassadors hail from Ithaca, New York and they've been one of New York's most buzzed about bands for years now; they released their self-titled debut EP — when they were simply called Ambassadors — back in 2009. Two other EPs followed, Love Songs Drug Songs and The Reason. After the release of their first EP they caught the attention of London music producer Alex Da Kid, who signed them to his KIDinaKORNER record label via Interscope Records and they released the band's following two EPs along with VHS, which is their first full-length release.
There are four members in the band: Sam Harris, Casey Harris, Noah Feldshuh, and Adam Levin. Sam Harris is the lead vocalist and his very accessible voice is nothing short of incredible. As soon as you hear it for the first time, a refreshing feeling washes over you. The obvious singer to compare him to is Bono, but he also calls to mind Imagine Dragons' Dan Reynolds. To that end, the eighth song on VHS, "Fear," features Imagine Dragons, but X Ambassadors are hardly attempting to clone them. They're too talented to waste their time trying to sound like anyone else. Granted, every band has influences, but X Ambassadors is one of those groups that will be influencing other bands much more than they've been influenced by them.
The album opens with a little spoken word bit called "Y2K Time Capsule (Interlude)" and it's 26 seconds of unnecessary gibberish. The album has four more of these things and they really don't seem to serve any purpose. One wonders why the record label let them include them. Although I suppose it's a testament to their independence. It just makes you wonder if their egos are swelling already for them to think they can interrupt the flow of the album five times with chatter that's likely only amusing to them. But the album is 20 tracks long, so you still get 15 brilliant songs out of the deal, which at least makes the interludes somewhat tolerable. So, let's talk about those songs now…
"Renegades," the band's current single, is the first one up and it's a smash. With sonorous drum beats, hand claps and just the right amount of guitar and bass, it gets you well-charged up. "All hail the underdogs / All hail the new kids," sings Sam Harris, who clearly aims to inspire people with this track, which is all about giving power to the renegades. It's one of the best songs The Killers never wrote.
Sam would seem to be channeling another Sam (Smith) as he begins singing the ballad "Unsteady" acapella. "Hold on, hold on, hold onto me, 'cause I'm a little unsteady," he sings, earning the listener's sympathy before the loud beats begin pounding away. Where "Renegades" is all confidence, "Unsteady" is about being afraid and feeling weak and alone; pleads are made to his mother and father. Clearly, this is a band that can tackle any sort of song they're inspired to and make it look easy.
Another standout is "Fear," the song featuring Imagine Dragons, which has all sorts of jittery percussion going on. Instead of the monstrous beats that populate the rest of the album, you have African-sounding beats and a brass solo. But it's lively and fresh and it gives the album some diversity, less all the catchy, big beats songs start to sound the same.
"Nervous" is classic, fluttery drum 'n' bass, especially during the verses, sounding like it could've been produced by Roni Size or Goldie back in the '90's. It reminds me of David Bowie's criminally under-rated drum 'n' bass album, Earthling. "I get nervous when I'm happy / I get nervous / What comes up must come down," Sam sings during the frenzied chorus, sounding like he could use a couple of Ativan.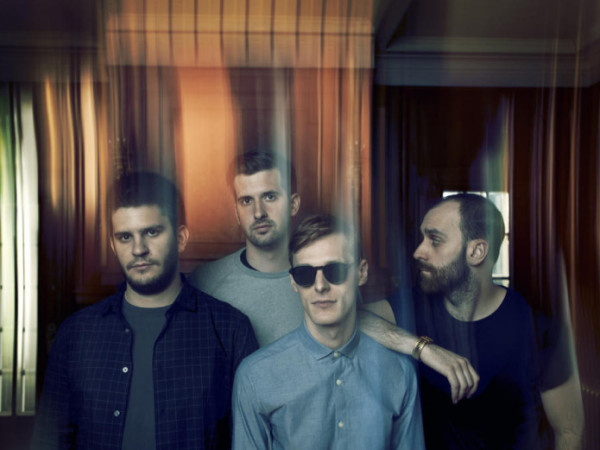 Jamie N Commons guests on "Low Life," which finds the band feeling less than confident. The guitars have a bluesy feel and dominate the mix more than they do on most of the songs on VHS. "I can't help myself from falling / I'm nothing but a low life / Thinkin 'bout my own life," Sam sings, his voice sounding tired, like he's been beaten down by life or self-deprecation to such a point that he barely has the energy or ambition to sing. But that's the whole point, as that's the kind of singing the lyrics and melody demand.
Listening to VHS, it sounds obvious that a lot of hard work was put into the album. (Blood, sweat and tears and all that jazz.) It's a precious mix of moods and music where you never know what the next song is going to sound like, at least not until you've listened to it a dozen times like me. The band's greatest strength may be their ability to come up with these diverse songs, though their not-so-secret weapon is clearly Sam's instantly familiar voice, which captures your heart and soul throughout the album.
I'm quite certain that X Ambassadors will be even more popular than Imagine Dragons and Bastille by this time next year, VHS having so many excellent songs that seem destined to top the charts. Get into them now before they're all over pop radio and don't seem quite so cool anymore.