New Crown is the long awaited third album from the gritty, classic rock lovin' band Wolfmother. Technically, a third album was recorded prior to this one but frontman Andrew Stockdale felt it had a new vibe and decided to release it as a solo album. It was called Keep Moving and I gave it a very positive review. Compared to Wolfmother, I would just say that it's somewhat lighter, more like The Doors than Zeppelin, the latter being who they often seem to be channeling on the Wolfmother records. But, as much as I liked Keep Moving, I was hoping Stockdale would see it fit to resume Wolfmother because there aren't many acts today who make heavy music in the classic rock vein, and fewer still who do it so expertly.
I must start off my review by stating that New Crown is an album that takes some effort, requiring a few spins to really grow on you, whereas the first two Wolfmother albums were immediately catchy. But I promise you, it's worth spending time with because once it does grow on you, it sticks in a big way.
The album opens with "How Many Times," a song that is just over-flowing with contagious energy. I dare you to listen to this one and try to sit still. I often find myself nodding my head to the beat. Even before the album truly became a winner in my eyes — er, ears — I couldn't resist this number's slick grooves. And Wolfmother's winning formula is present here in a big way, as the song has thick, deep bass amd raw guitars with lots of impressive soloing alongside rather frenzied drumming. Add to that Stockdale's high octane, Robert Plant-esque vocals and you've achieved classic rock bliss. The only problem with this song is that the vocals are slightly buried in the mix. Once you get used to it, it's not so frustrating. But when you're first trying to get into the album, that's the main obstacle that renders it slightly inaccessible.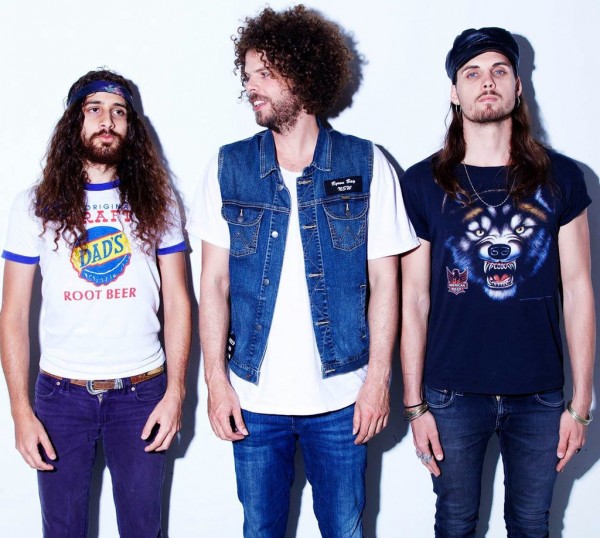 Mean riffs continue on "Enemy Is In Your Mind," the second track on the album. "The enemy is in your mind, Stockdale sings as though he's delivering a deep message. Which he could be. At least it sounds like he thinks he is. And that's enough to sell it to me. "Here we go again / Taking you for a ride / Here we go again / The enemy is in your mind," goes the chorus. One thing is for certain: this is a smash anthem that should go over very well live.
The slow grinder "Heavy Weight" is another tune that should sound wonderful live, but the production here is especially poor. The guitars sound dull, the drums sound like tin cans and the bass is often buried in the mix. I guess that shouldn't surprise me, since the band allegedly recorded this album quickly using GarageBand. Which is fine if you're an actual garage band or if you're a new artist trying to self-record a demo. But Wolfmother won a Grammy for "Woman" off of their first record and their second record was equally charming. They set a high standard for themselves, quality-wise, and they fail to live up to it here and on many of New Crown's other tracks. That's the primary reason this album takes a few listens to dazzle you. You need time to adjust to the fact that the production is weak.
On "I Ain't Got No," Wolfmother sound like they're trying to be an actual garage band. It's as thought they're covering some obscure B-side by The Strokes. And it's one of the better produced tracks on the album, especially since Stockdale's voice is loud and clear in the mix here. But it kind of sticks out like a sore thumb on an album of what is essentially classic rock. But, hey, when a song is this good, who cares if it doesn't quite fit with the rest of the album? Besides, after a few spins, it does start to feel like it belongs here, sticking out less and less with each listen.
I suppose this one is best described as a mixed bag. You've got some great songs, and the album is quite the grower, but most listeners might not have the patience to put up with the often miserable production long enough to let it prove rewarding. As I said above, I think it's worth listening to it a few times, to give it a proper chance, but with today's short attention spans I should think the half-assed production is going to prevent this self-released work from getting much critical acclaim or commercial success.
Buy New Crown on bandcamp: http://wolfmother.bandcamp.com/