Tweak Bird is brothers Ashton Leech and Caleb Benjamin, who first came together as a musical duo in Los Angeles in 2006. But they grew up in Jackson County, Illinois on a 20 acre family compound built using "repurposed" and scrap wood their father brought home from his work as a carpenter. Their father taught the brothers to build but he also gave them a musical education, passing down Black Sabbath mixtapes along with King Crimson records and viewings of Pink Floyd's The Wall starting when the boys were under 10 years old. The brothers began releasing music in Carbondale, Illinois in 1994, but failed to keep a band together. In 2005, they moved to Los Angeles where they again tried to form a band but couldn't find the right combination of musicians. Ashton eventually took up drums and Caleb began playing guitar and bass. After a year of playing with tunings and effects pedals, Caleb bought his first baritone guitar. In 2006 the brothers played their first show as a two piece. Their group was currently unnamed, but they sarcastically called themselves Tweak Bird after seeing that all of the other bands on the bill had names that included a spirit animal, a fine jewel or the color black. Needless to say they kept the name. They've since headlined shows in the States and Europe in addition to opening for Tool, Melvins, Black Mountain, Best Coast and Ted Leo and the Pharmacists.
"I found a face in the dessert," begins "Weird Oasis," the opening track on Tweak Bird's new album, Any Ol' Way. It's a noteworthy lyric because it immediately calls to mind The Doors, whose influence is felt all over the 11 track record. "I walk for days and nights," sings Caleb, his vocals extra trippy. The instrument that stands out the most on the track is the chugging bass guitar, both thick and sweet. At 1:52, the track feels more like an intro than a fully-realized song, but it's a nice and groovy trip nevertheless and more than adequately prepares the listener for the voyage ahead.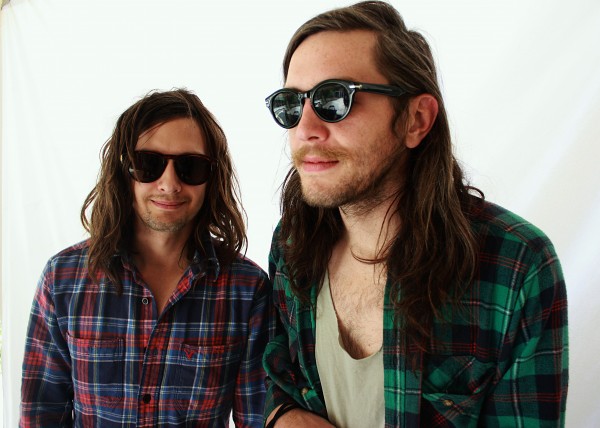 "Run for you life," Caleb sings during "Greens," where the duo's fondness for fuzzy baritone guitar and sludgy drums is evident and in a most infectious way. It's almost as though someone took a Queens of the Stone Age song and slowed it down 80%.
The Black Sabbath influence is especially evident during "She Preach," which blends psychedelic trippyness with vocals that sound like a young Ozzy on a high dose of qualudes. The track ends with loud horns that come out of nowhere yet end up defining the song.
Elsewhere, "Mild Manor" packs the most energy on the album and comes across like one would expect a cover of "Helter Skelter" by The Dandy Warhols to sound like. The problem is that it's severely lacking in the vocal department, essentially being an instrumental. But it's sure to quench the thirst of any Sabbath fans who check out the album in hopes of hearing something in that vein, sounding like an out-take from the very first Sabbath album.
Later, "Inspiration Point" is like a lost Iron Butterfly track. It still has the duo's sludgy vibe, but it also makes one think of flowers and beads and peace and love.
Although I've pointed out some of my favorite tracks, Any Ol' Way certainly isn't an album about singles. None of these songs were written to be catchy, much less played on the radio. Instead, they would seem to exist to set a mood. The record is all about the trip, the groovy ride, the psychedelic voyage, not a destination. Where you wind up after listening to this record is entirely up to you. They don't try to steer you in any one direction. They just want to ensure that you have a good time — a mellow ride — getting there. If I had to describe this album with one word it would be intoxicating because, man, listening to it sure makes you feel like you're on something.