When Stars released Set Yourself on Fire ten years ago they were a rough around the edges indie rock band with flourishes of pop melodies thrown in for good measure. But ten years of making albums and growing up have changed them and transformed their sound in the process. Now they're more of an indie pop band with a mere hint of rock. Furthermore, they more or less go the way of disco on their new album, No One Is Lost. In fact, the album was recorded above a disused gay disco club in Montreal to help the band get into the mood they wanted to put forth on the record. And less anyone try to argue that they weren't attempting to go disco on the album, you have the album cover, which shows a couple of girls having fun at a roller skating rink with the band's name and the album title in bright neon pink. Hot fun in the '70's.
I should mention again that the club they recorded the album over is defunct. Because while they album does have its fair share of disco songs, the lyrics here are not all about the good times. On the contrary, most of the lyrics are a bit melancholic. The message here would seem to be that we're all going to die tomorrow so we might as well have fun tonight. It's especially clear on the songs co-lead vocalist Torquil Campbell sings; those sung by Amy Millan sound more pop simply by nature of her pretty voice, his voice generally giving off a crestfallen vibe.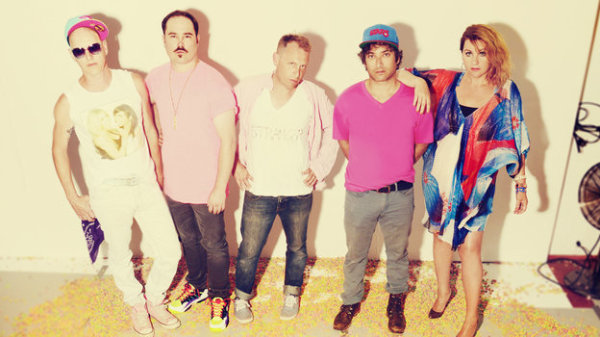 In my opinion, the album opens with one of its weakest tracks, "From The Night," which clocks in at 6:30 and feels like an out-take from Arcade Fire's Reflektor album. "From the night, here's a message to all of you sleeping / Every dream in your head as you lie in your bed is worth keeping," Torquil sings just before the chorus kicks in and finds he and Millan singing, "I don't care if we never come back from the night," which seems to imply that we should live fast and die young. Admittedly, it's a catchy enough chorus, but during the verses the beats feel wishy washy, like they weren't making enough of an effort, as if they just found a random beat on an iPhone ap and used that instead of coming up with something wholly original.
The next song, "This Is the Last Time," features lead vocals by Millan and would seem to be a kiss-off to a lover she's leaving. "This is the last time / That you're ever gonna see my face," she sings with an air of "fuck you" to her voice. If it's not thrilling, it's amusing and the song overall is quite fetching with its up-tempo beats and hook-laced chorus. And, unlike "From The Night," it does not overstay its welcome, clocking in at a mere 2:47.
"Turn it Up" is an interesting if downtrodden number about returning to school in September. "Always forget the heat of summer," is sung in between each of the lyrics of the first verse. I'm assuming Millan is singing this part, since the voice is clearly female, but it sounds as though she's deliberately trying to sound like a child, so there's always the chance that they actually did have a kid sing that part. In any case, this song is definitely not disco, giving off a distinct shoegaze vibe with its mid-tempo beat and fuzzy guitars.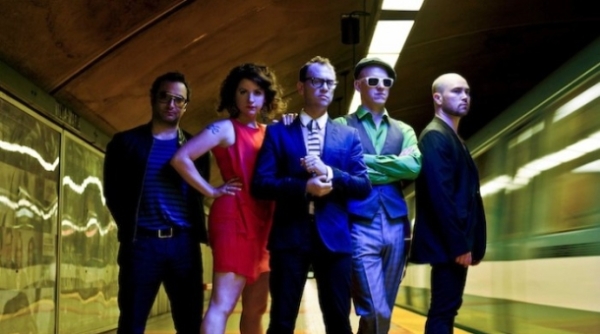 There's a lovely '80's pop-inspired bassline during "Are You OK?," a song addressing a rather conflicted love interest. "Is it you who turns all the good to nothing good / I refuse to," Millan sings. "You don't want my kiss, but you want my kids / Is that anyway, is that any way to live?" Millan then sings about how the guy is hiding something, how he has a story that he won't tell. Clearly, she just wants to unburden him so they can be happy together, which gives the song an interesting vibe because she's trying to be positive but the guy is dragging in her down, stressing her out. One thing is for certain though: it's a bloody infectious tune.
The band goes synth pop on the ballad "Look Away," which finds Millan and Torquil dueting. At first it's a rather subtle tune of the mellow variety, but as it progresses it grows rather intense. And I wanted to root for it as it grew in that manner, but I just couldn't. I wish it would have stayed low-key with its synthy chill-out vibe instead of morphing into an indie rock beast.
"No One Is Lost" closes the album and finds Torquil singing "Put your hands up if you know you're going home" while Millan sings "No one is lost." It would seem to be about the night winding down and everyone safely going home, as if it's saying, nobody OD'd tonight, we're all fine, time to go home.
Ultimately, No One Is Lost starts off encouraging you to live a little, to get out and party, but then it provokes you to think if not change your entire outlook on life. And, eventually, it says that we're all good and should go home and get some rest. Not a bad concept at all. But, yes, it is a bit too melancholic for its own good overall, though I'd still give it a solid B if we gave out letter grades around here. Besides, it wouldn't be a proper Stars album if it didn't make you think. Would you have preferred they'd done an album of bubble gum dance pop like half of the other bands on the planet seem to be doing right now? I should think not.