It seems like most rock fans gave up on Saliva when vocalist Josey Scott left the band. But I was actually kind of glad he left. While I'd loved the first couple of Saliva albums, nothing they'd done since had really grabbed me. Somehow a hair band element had crept into the band and replaced much of their modern rock sound and all of their latter day albums sounded like the same bad record rehashed with less and less passion with each failed attempt. So, when I heard that Josey left, I just felt like maybe a new vocalist could breathe new life into the band and return them to the form they were in when they debuted. Of course, it did occur to me that Josey might have been the most talented cat in the band and that they might get even worse without him, but, hey, they departure happened and I had to choose between feeling optimistic or pessimistic about it and I chose to be optimistic. And I'm pleased to tell you that I was right. The band's new vocalist, Bobby Amaru, has totally delivered the goods, Rise Up being their best album since 2002's Back Into Your System.
The album opens with the title track and lead single, "Rise Up," a propulsive and enthusiastic number that quickly demonstrates that the band has just the right kick ass attitude to land their punches. Before it even hits the turbo-charged chorus, Paul Crosby's intense drumming has pulverized you and your speakers — in the best way possible. And by the time the song is over, Bobby Amaru will have more than impressed you: he rocks your fucking socks off.
The album was produced by Bobby Huff (Papa Roach, 3 Doors Down) and he gives it a constant sheen, rendering it an absolute dazzler throughout. His touch is especially present on "She Sure Can Hide Crazy," during which Wayne Swinny's guitars screech, swirl and do other impressive stunts; the combination of Huff's tight, polished production values and Swinny's trademark, brutal guitars is a match made in heaven.
"No One But Me" has a bit of a grunge vibe, calling to mind early Alice In Chains while still sounding very much like classic Saliva circa 2002. Boy, was that a long time ago. Even if you liked Saliva's recent output, you've got to admit that the band hasn't sounded this vital in over ten years. No way. More than just vibrant, these new songs sound entirely vital.
"Yesterday's just a memory / Something I could never change," Amaru sings passionately during the mid-tempo ballad "Lost." It's not slow enough for an audience to bring out their lighters — or iPhones — but its lyrics are emotive. "Yeah, today I found myself, lost for the last time," goes the inspiring chorus. If you've been wishing for another "Rest in Pieces" for years now, well, this gem delivers.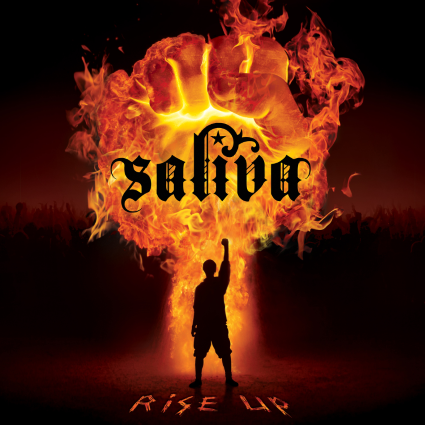 The band evokes their fellow Southern rockers Jackyl during the thunderous and amusing "Redneck Freakshow." Usually redneck is used as a derogatory term these days, but not so here. On the contrary, it's a celebratory song about something any self-respecting hard rock band has to sing about at least one time per album: partying.
Elsewhere, "Choke" opens with a very nice bass riff from Dave Novotny, whose work has never been better. "Swallow it down / While I'm laughing my ass off now," Amaru sings during the song that tells liars and hypocrites what they can do. I can easily hear this one on modern rock radio and hope it's released as a single. Then again, it's not hard to imagine any of these 12 songs taking radio by storm because Rise Up is all killer, no filler.